Aug 22-24, Listvyanka and Irkutsk
Irkutsk was founded in 1651, and has had a fairly distinguished history since, including both a gold rush and a very destructive fire in the 1880s. About two hours away from Irkutsk, on lake Baikal, is the resort town of Listvyanka. In Irkutsk, Listvyanka is famous because it is on the lake. The lake is beautiful.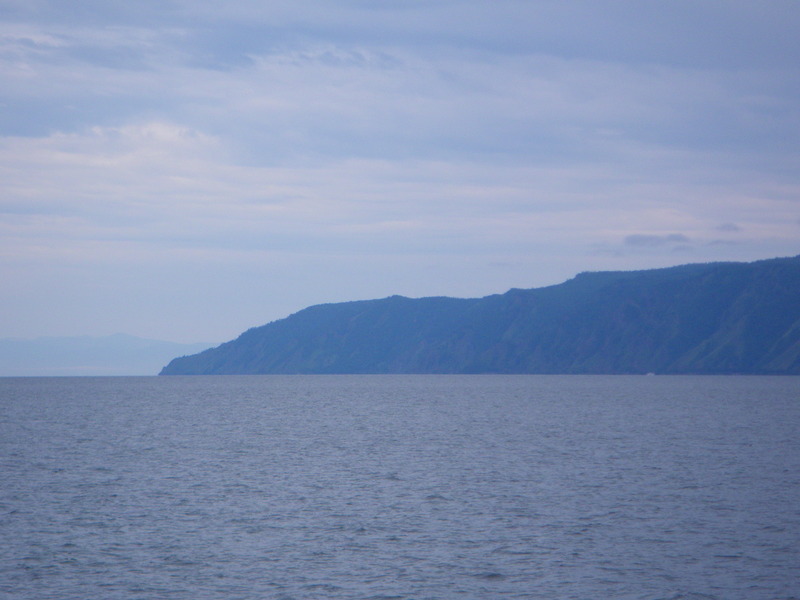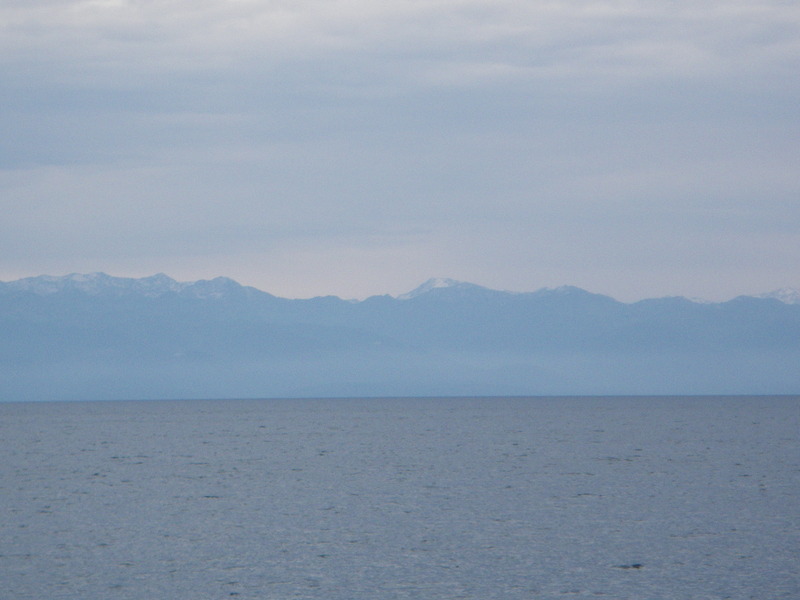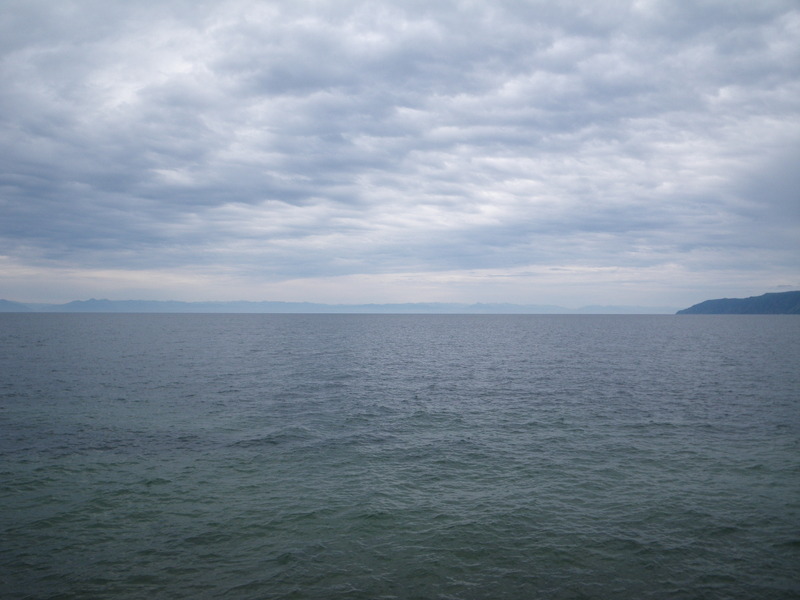 Log cabins and wooden houses
I was told that many russian families have a dacha, a simple wooden cabin for vacations, often without electricity or running water. I believe the dachas and other buildings in Listvyanka were somewhat more elaborate.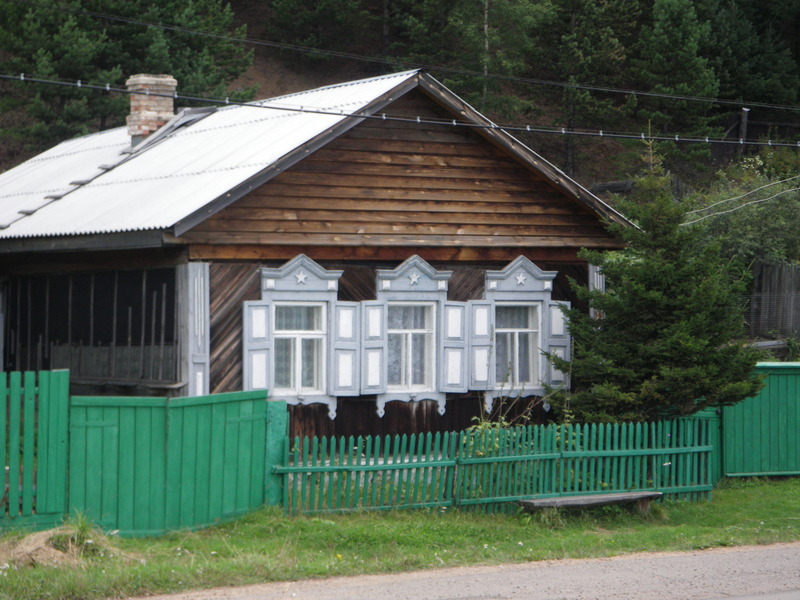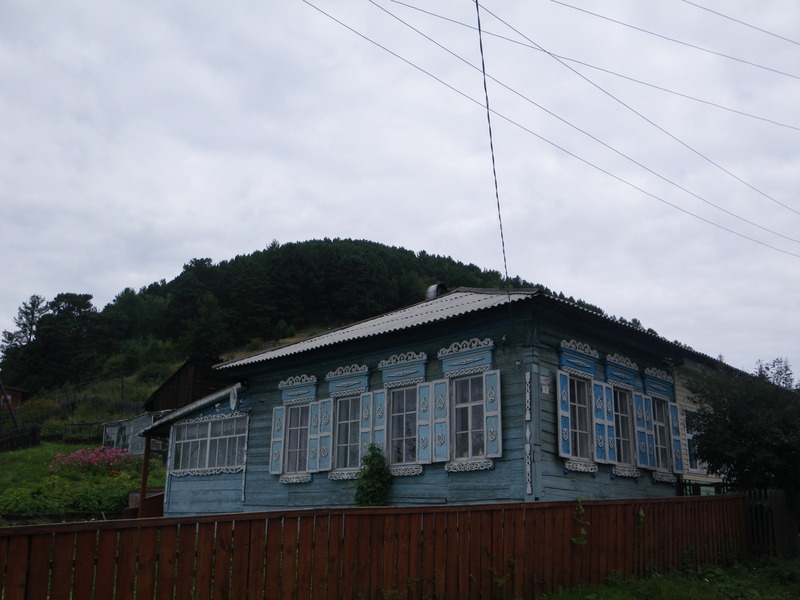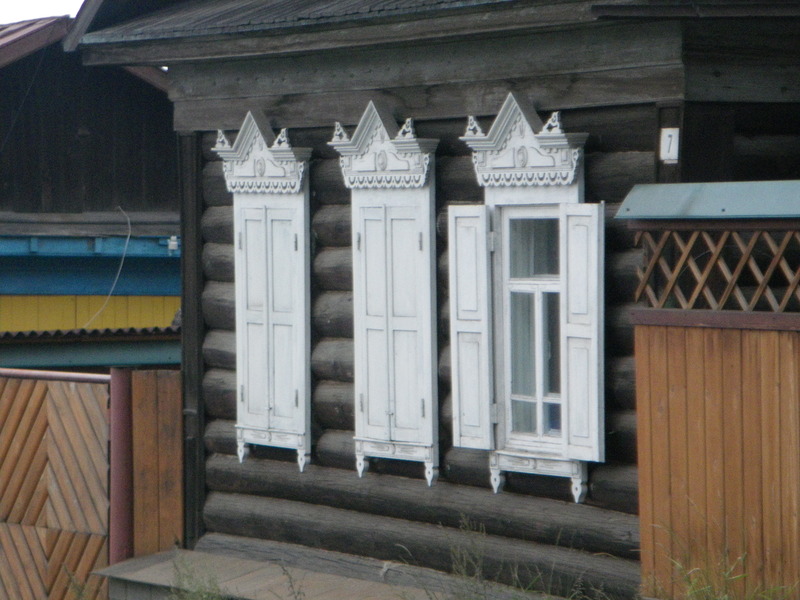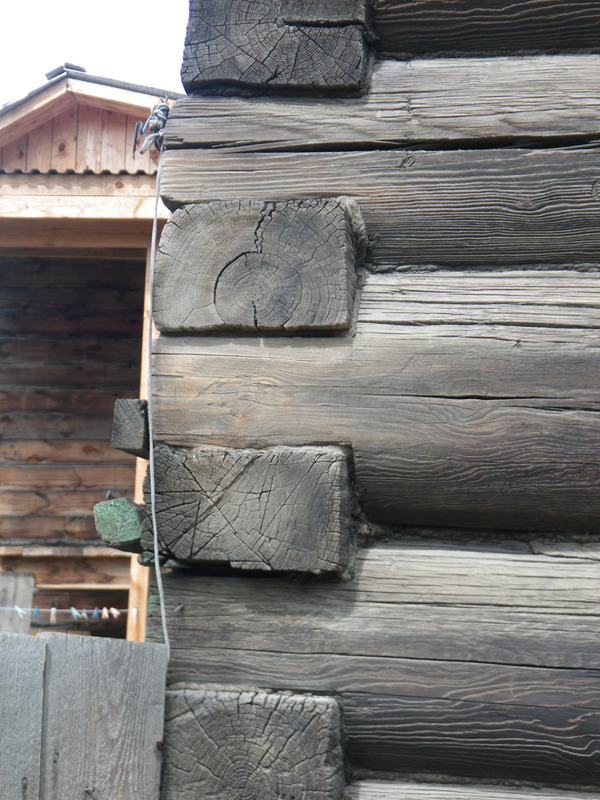 Irkutsk
This style of wooden, sometimes log houses, with decorated and painted windows and shutters is typical of this part of Siberia. The next few pictures are from Irkutsk.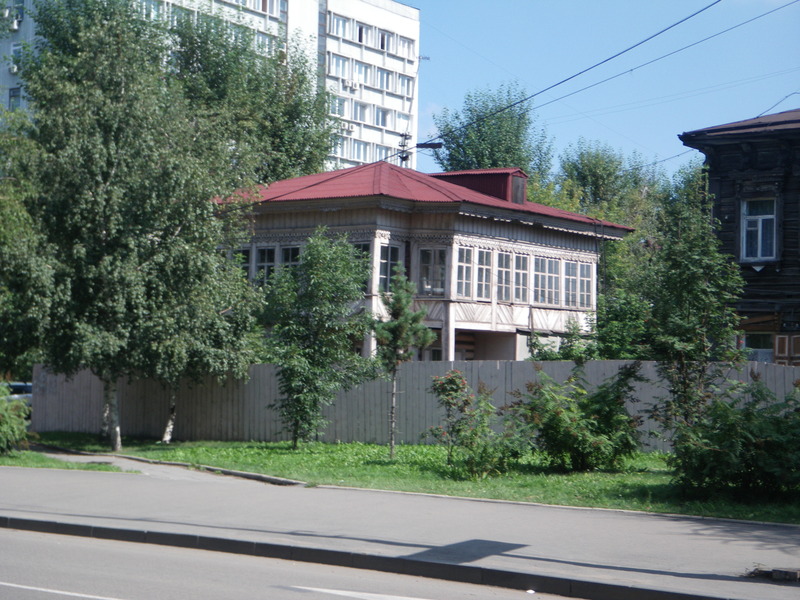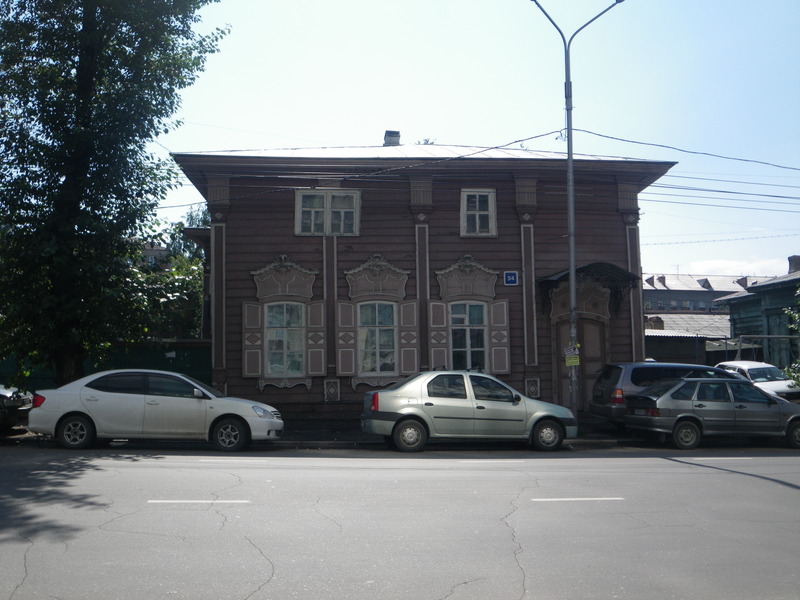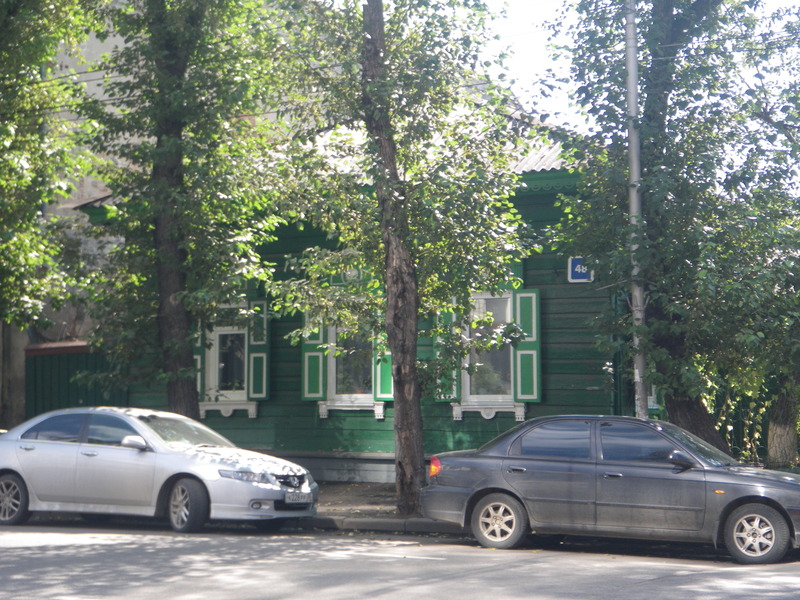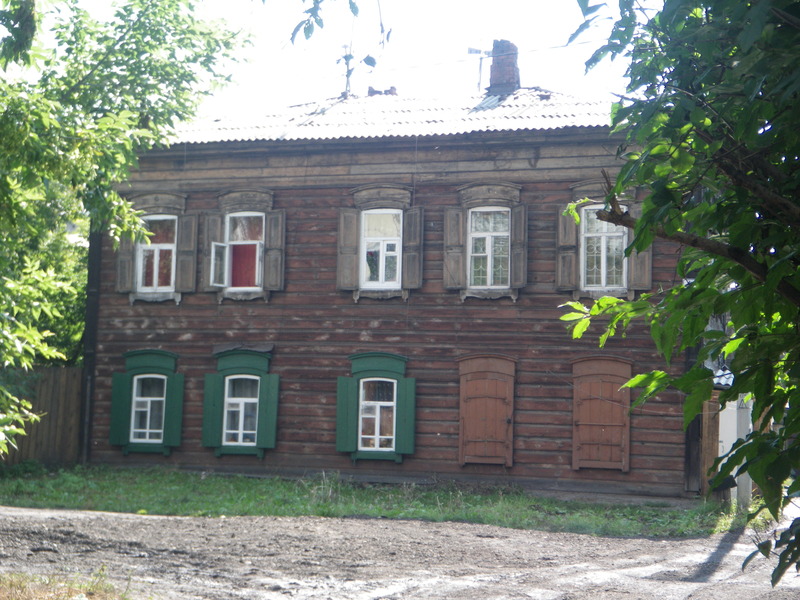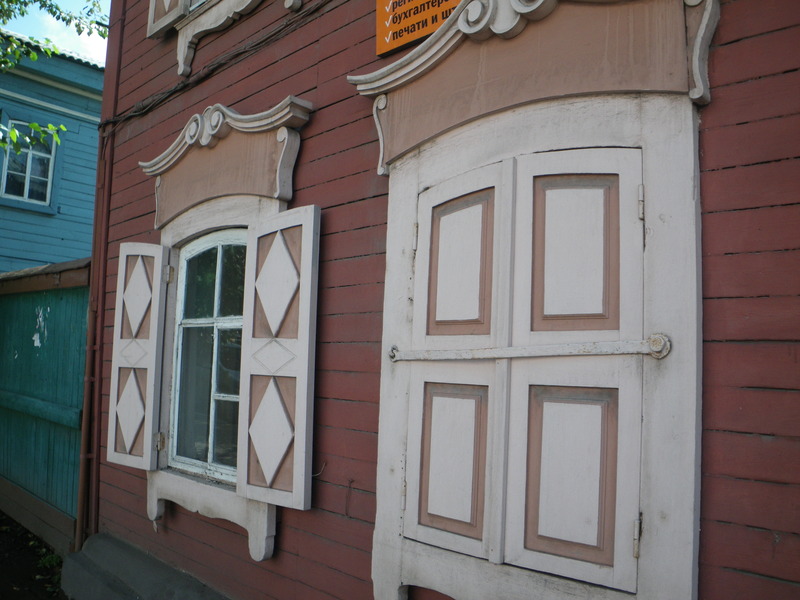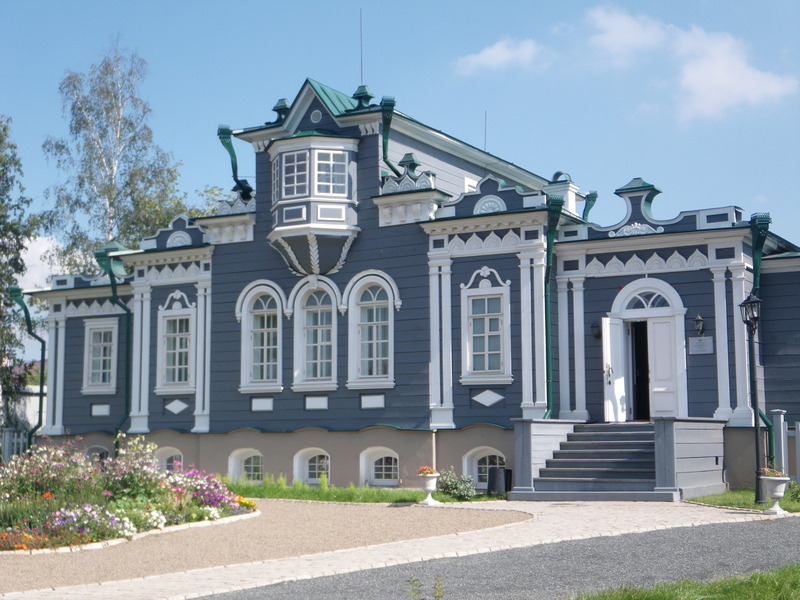 The last picture above is a house of one of the Decembrists, the nobles who were exiled to Siberia by tsar Nicholas I after their revolt in 1825. This particular house is now a museum, and belonged to P.S. Trubetskoy, who settled in Irkutsk with his family after the end of his sentence. The house has a beautiful garden.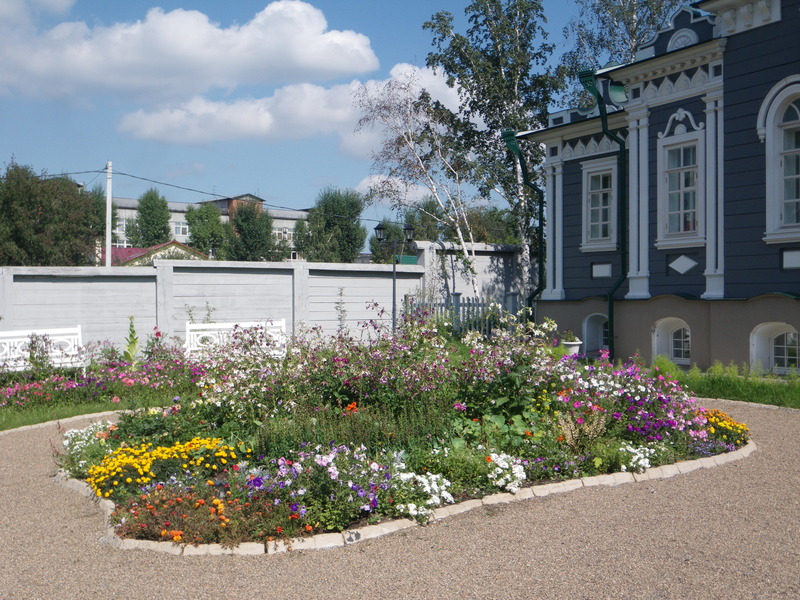 Irkutsk has a shopping street, churches, and classical-looking buildings. It even has streetcars (trams), and really, it looks like a European city. This is a little odd because Irkutsk is about as close to the middle of Asia as I am going to get on this trip.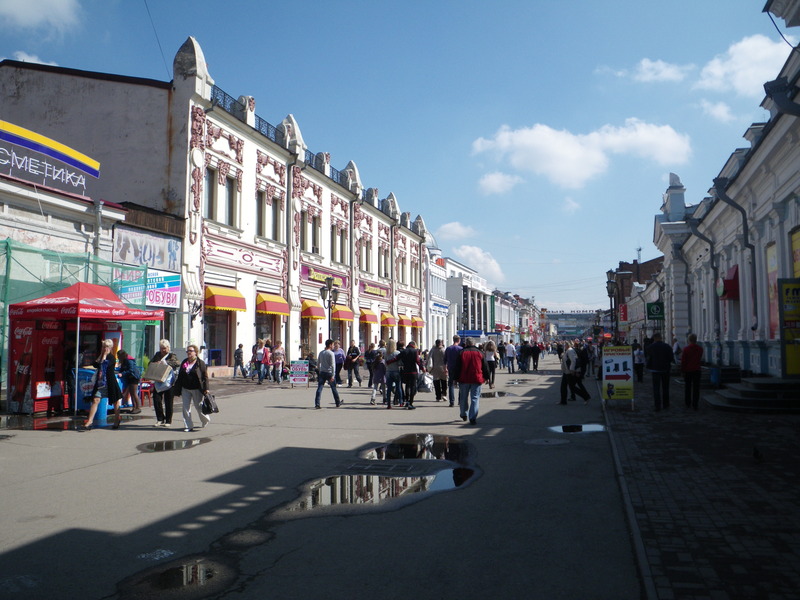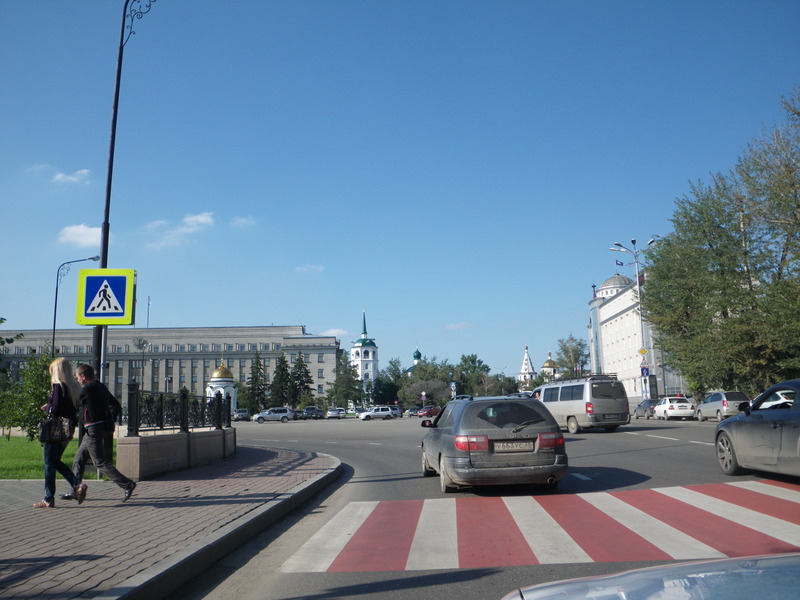 Listvyanka
Listvyanka has a church dedicated to St. Nicholas, patron saint of sailors (among others), so I went to pay my respects.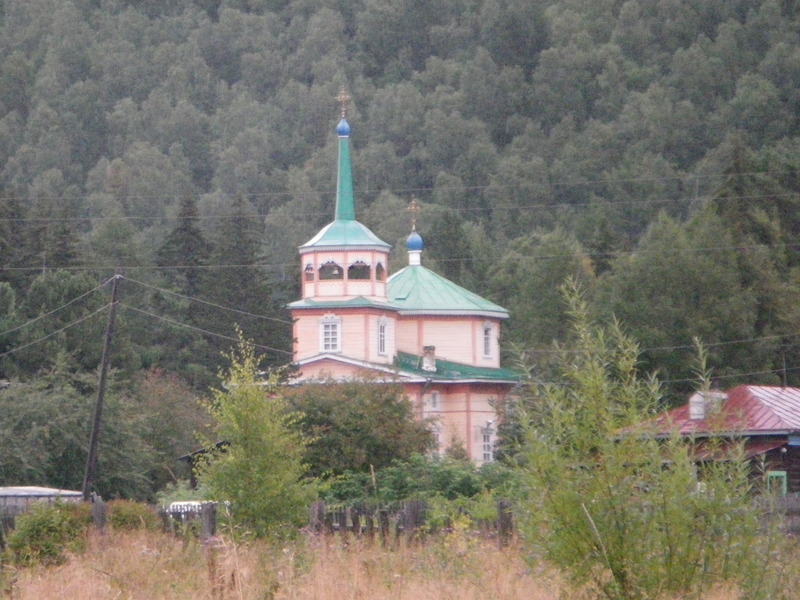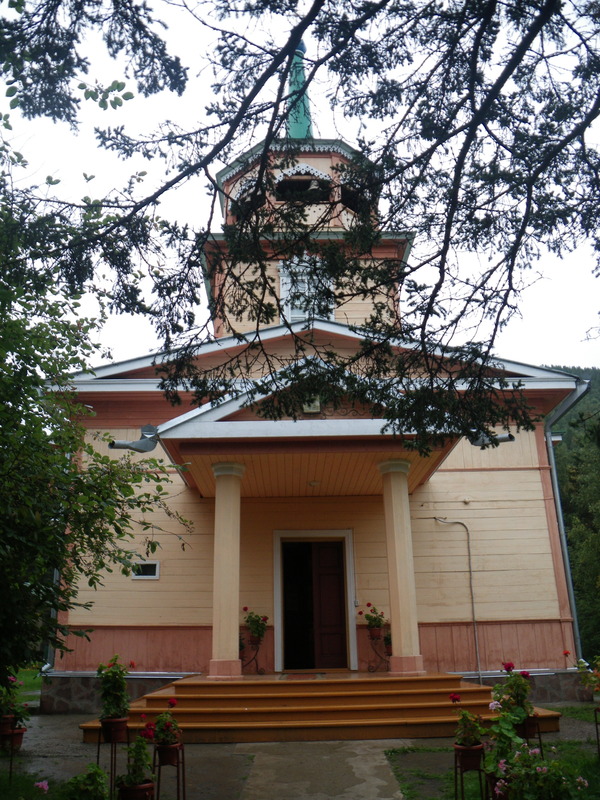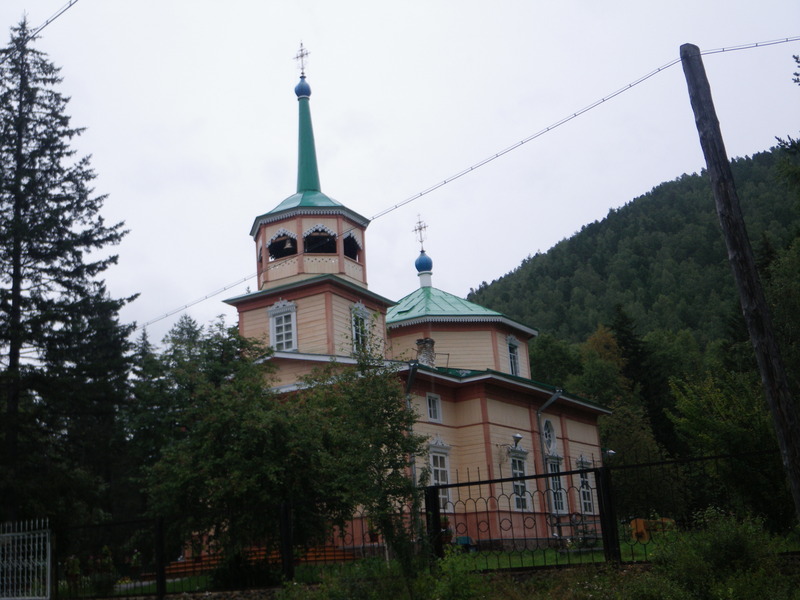 Unfortunately, pictures were not allowed inside. To my surprise, the inside was wider than it was long -- I am used to churches that are longer than wide. The inside was painted in a very light blue, and had many religious paintings and golden decorations on the walls.
Listvyanka also has some playful architecture.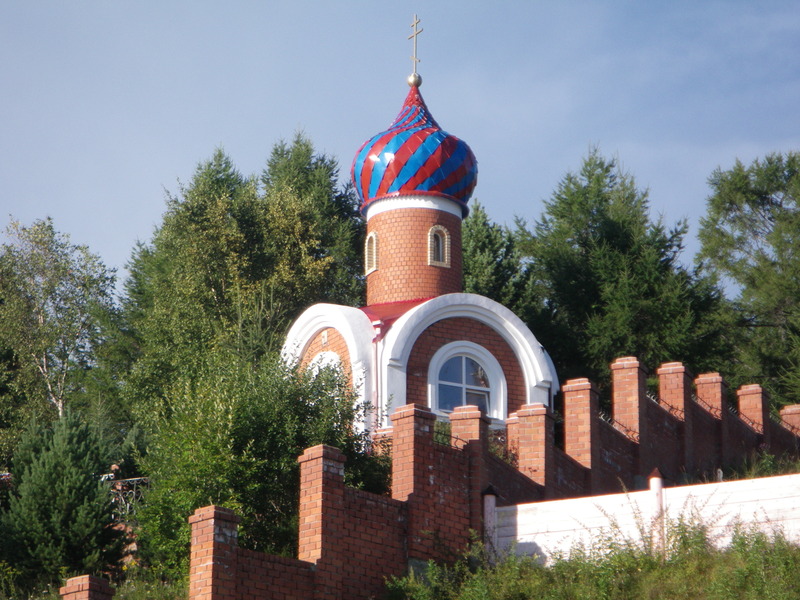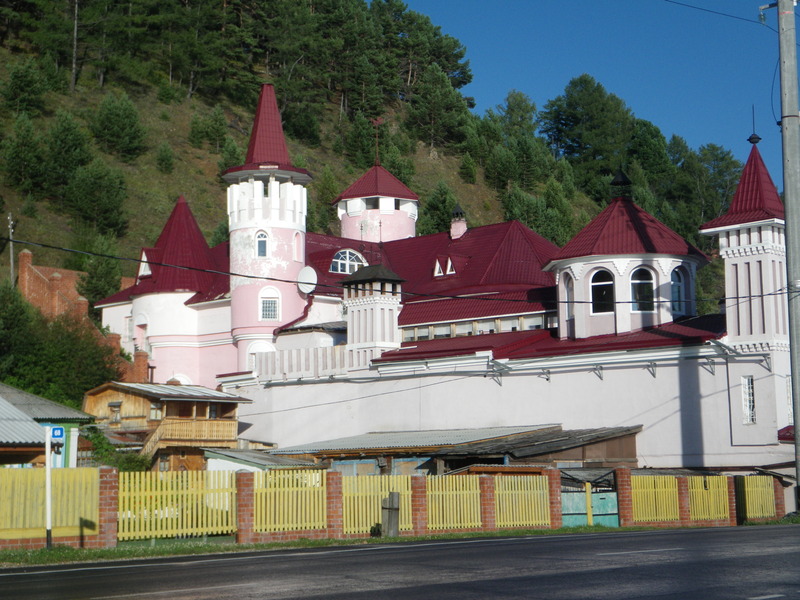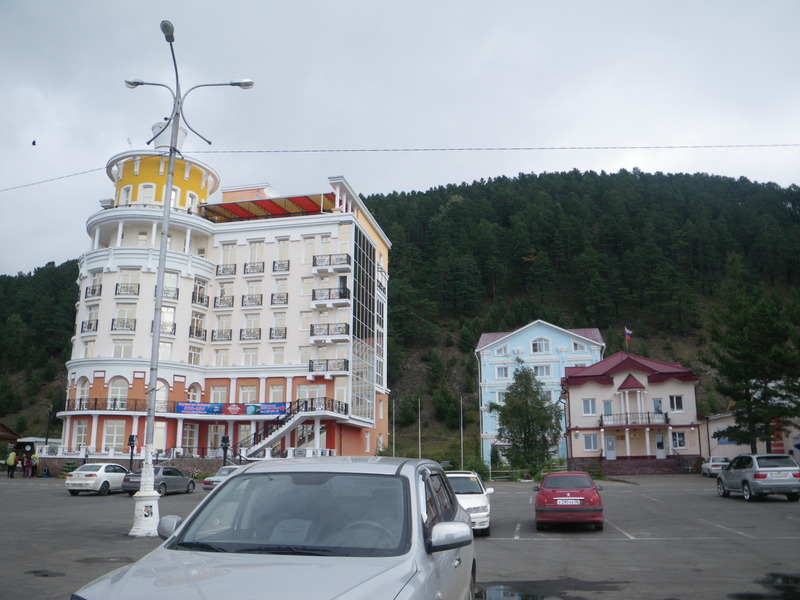 Lake Baikal
But the best thing about Listvyanka are the views of the lake and the mountains across the lake, especially when I climbed a hill behind the town, but even from the shore. Because the weather was rather unstable as I was there, some of the mountains had fresh snow. I was told this was rather worse weather than usual for August.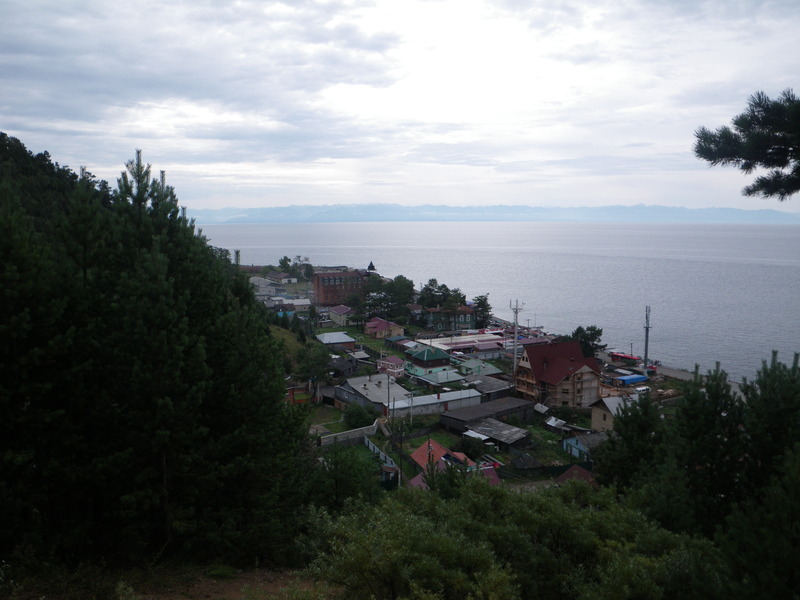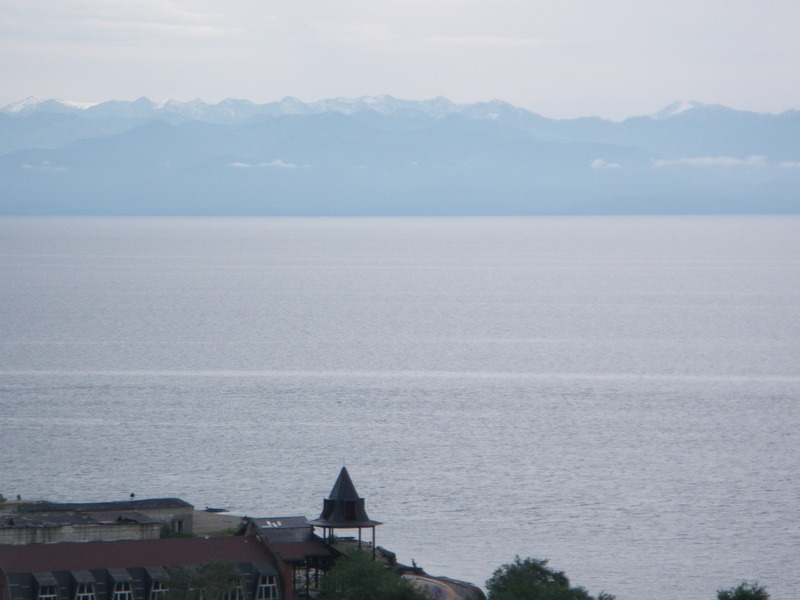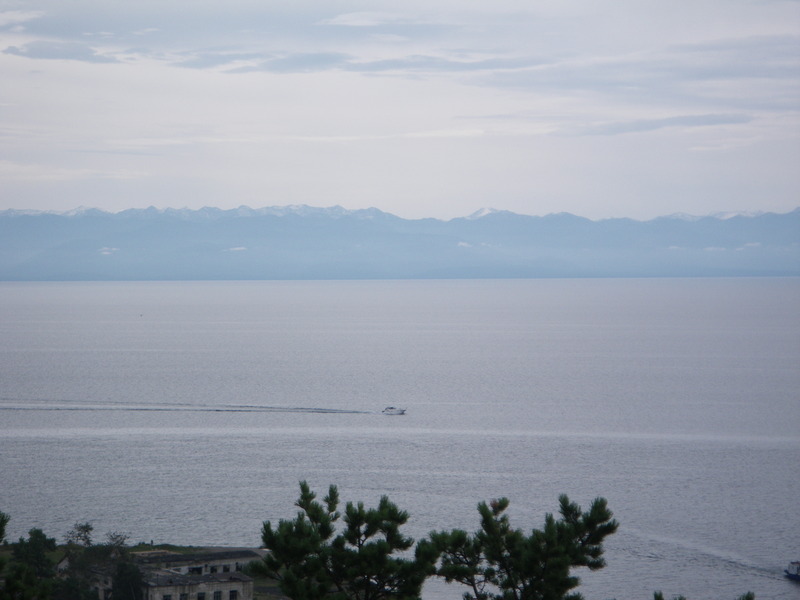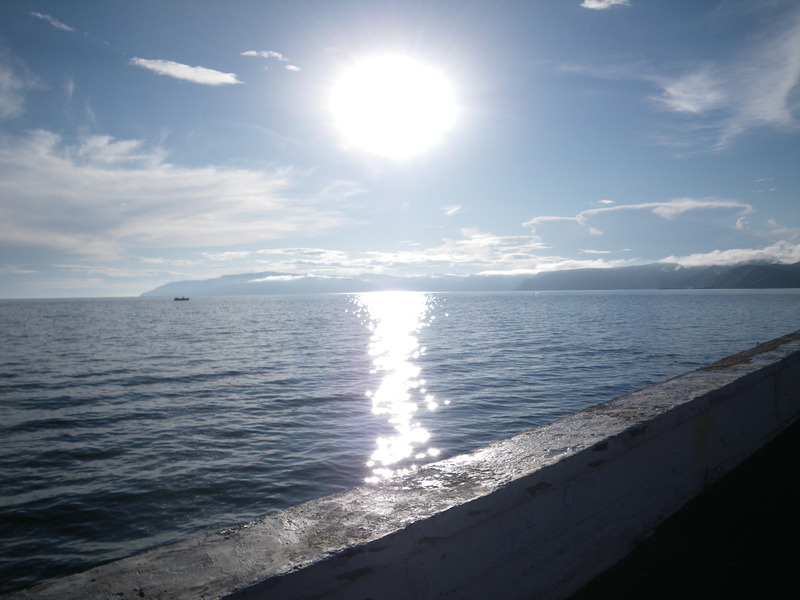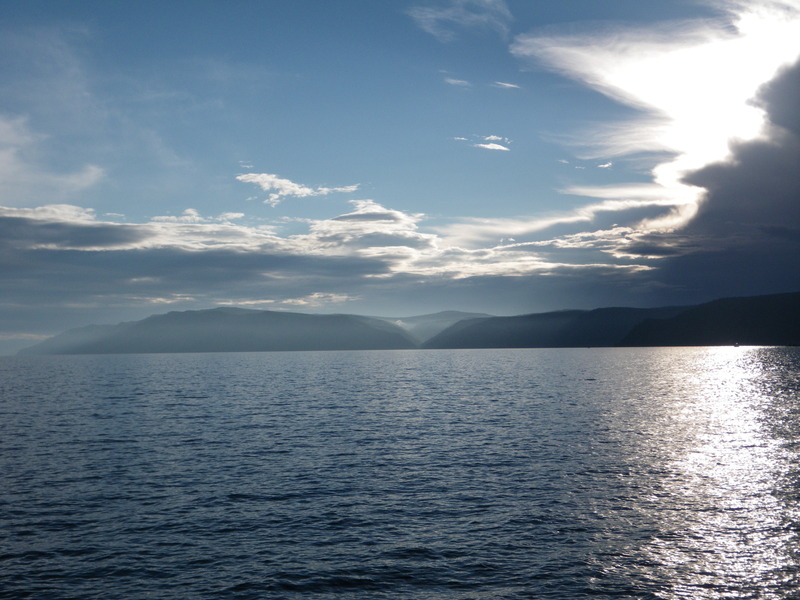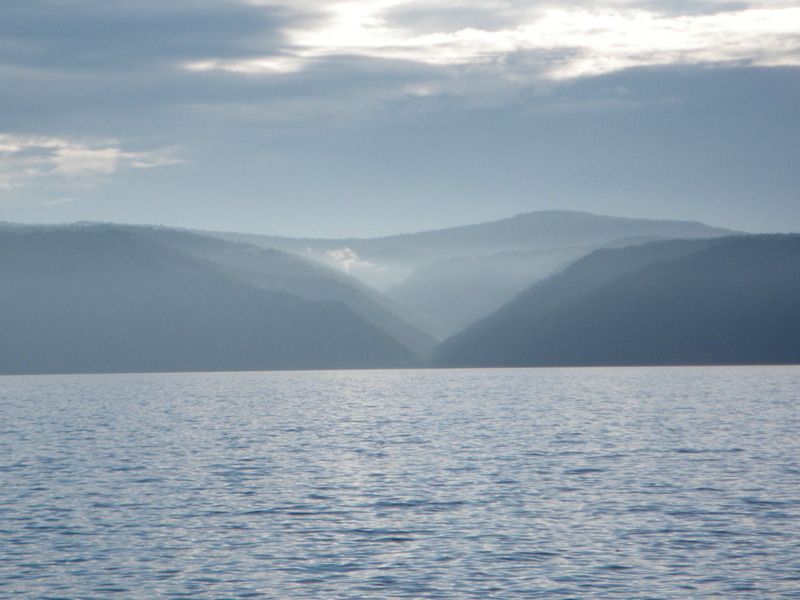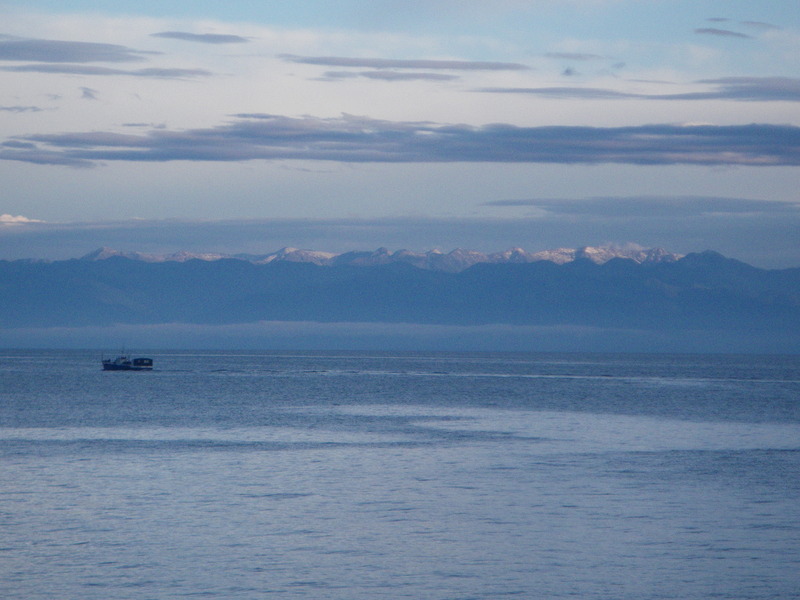 The nature in Listvyanka is also quite nice. I found (and ate) some wild kreshovnik and wild rose hips. I also found lots of beautiful wildflowers, but did not eat most of them. I also found some birches and a cat, who seemed friendly enough. I ate a twig from the birch (it was tasteless), but I most certainly did not eat the cat.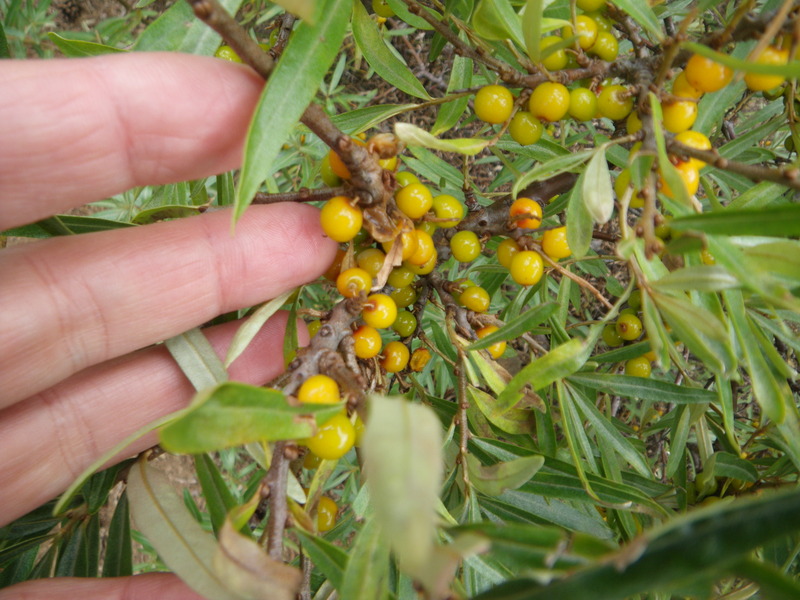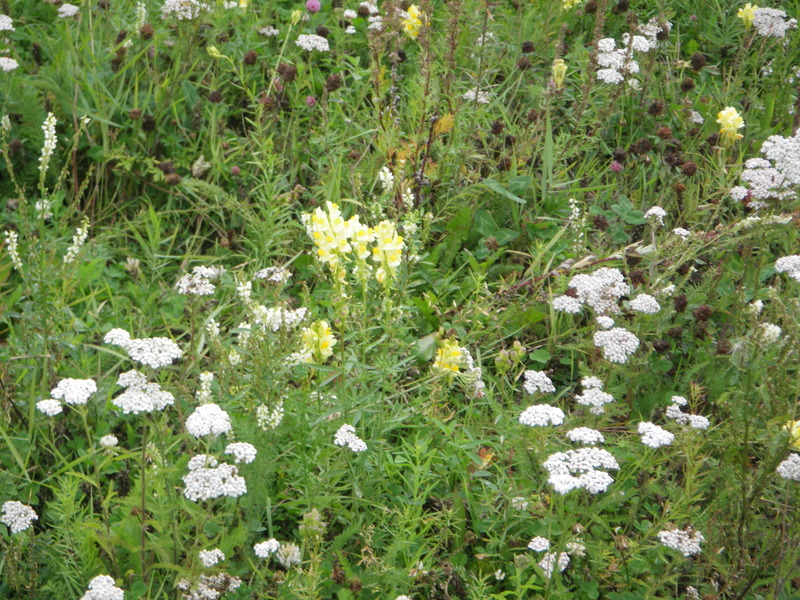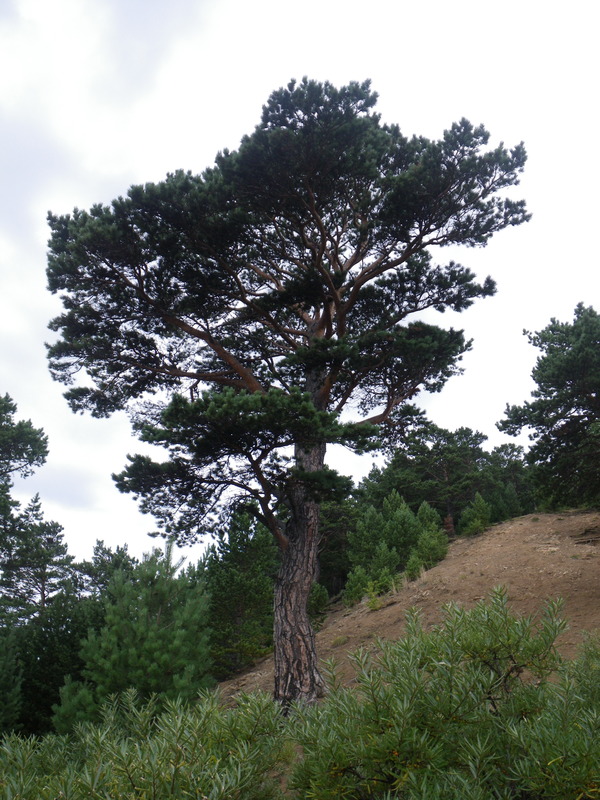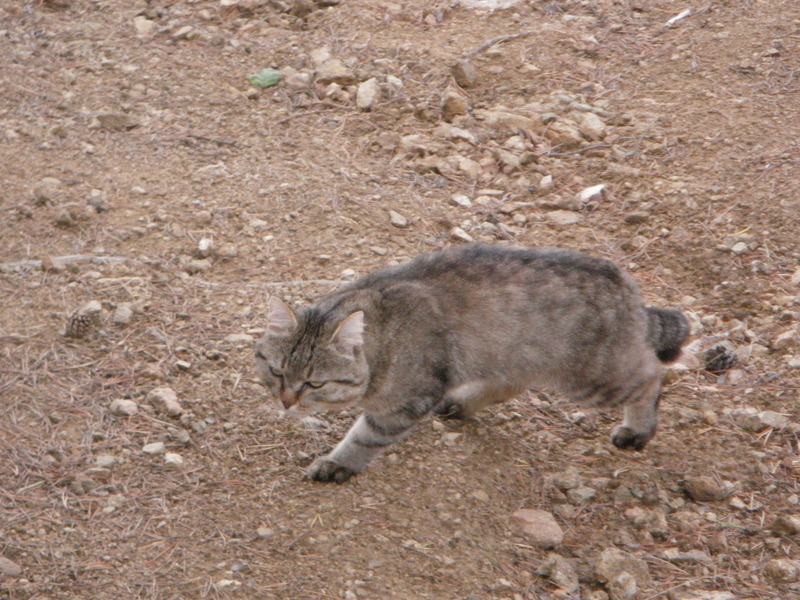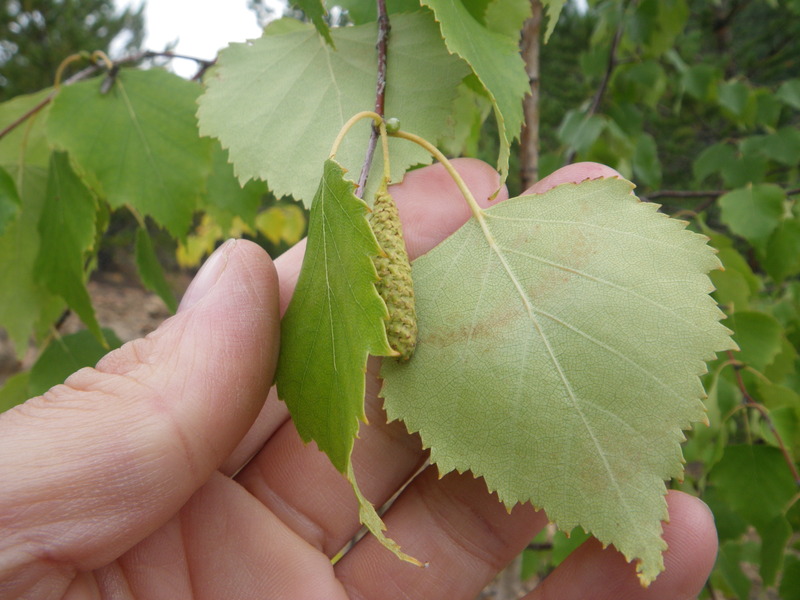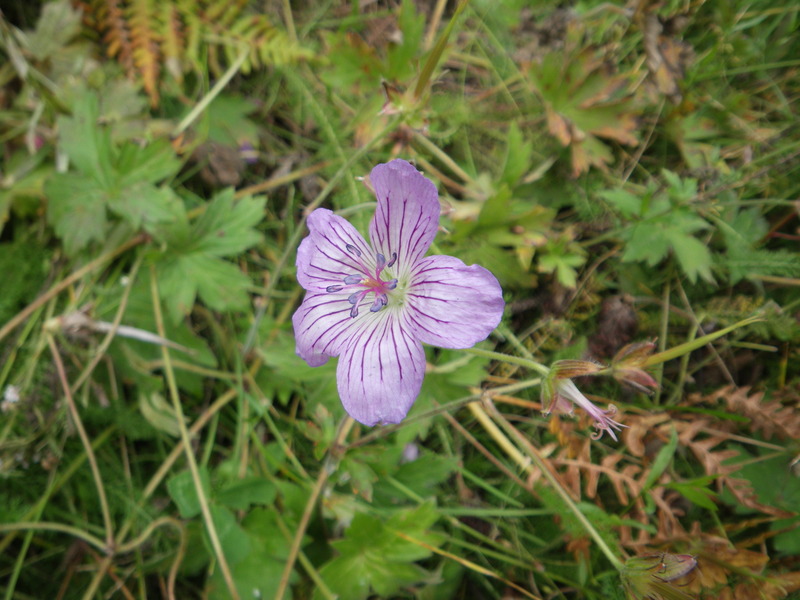 Lake Baikal has a native fish called Omul. It is quite good. There is a little fish market in Listvyanka, where they sell Omul both fresh and smoked.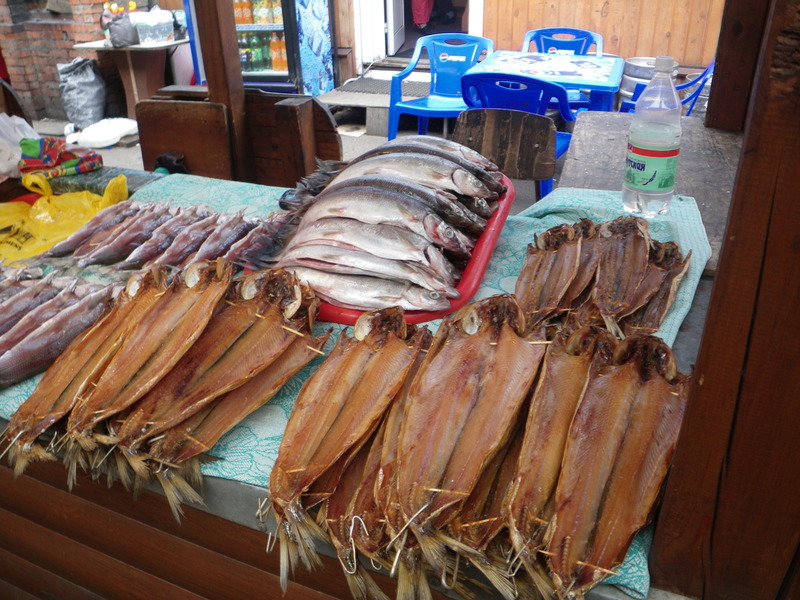 Along the shore of the lake, I found a hovercraft, and also a shipwreck that had been painted to resemble a fish.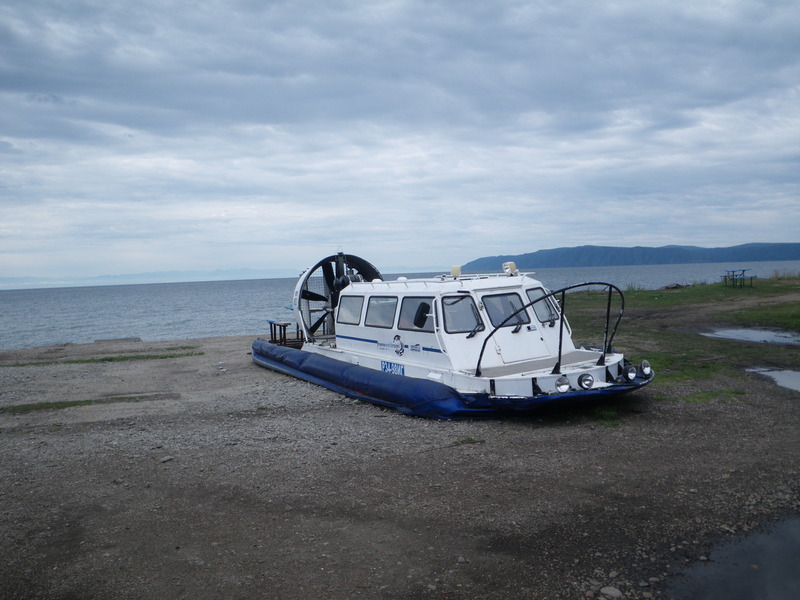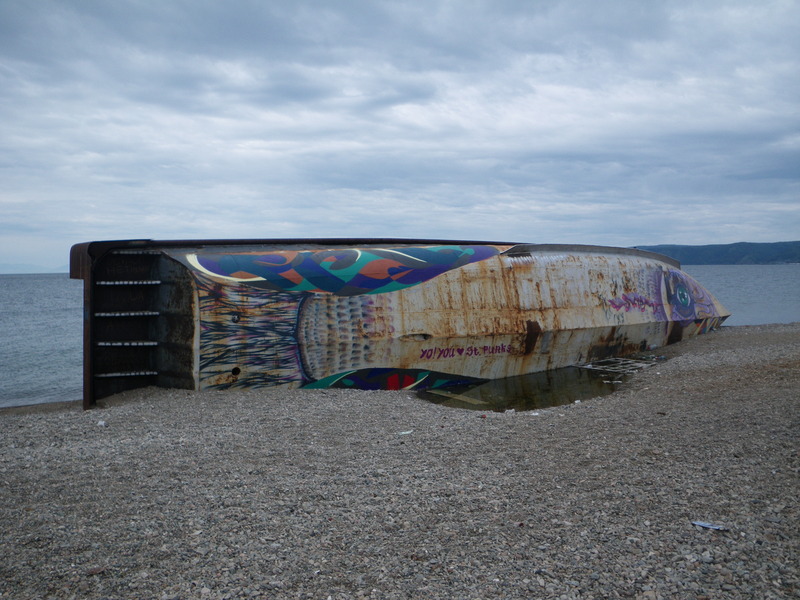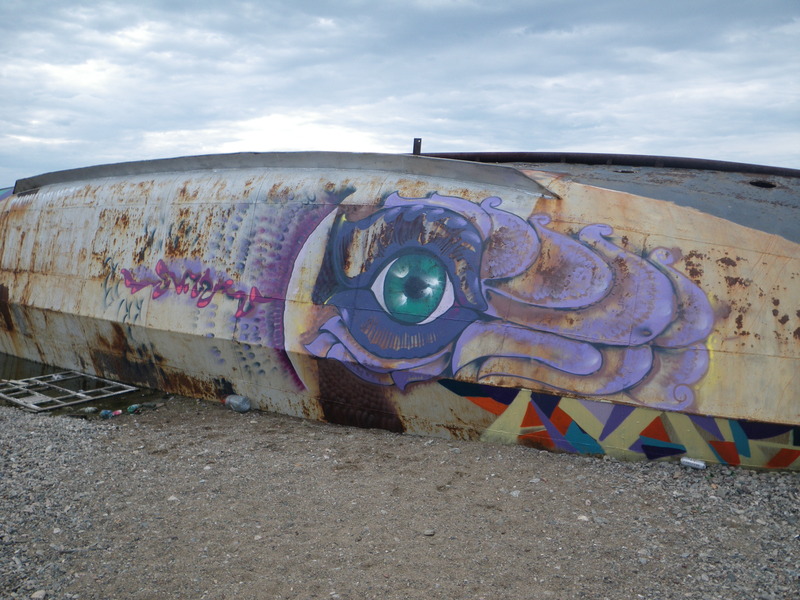 Listvyanka to Irkutsk
Returning from Listvyanka to Irkutsk, I decided to take the hydrofoil, which follows the Angara river (the only river that drains lake Baikal) to Irkutsk. The South shore of the Angara was generally undeveloped, except at the source of the river, Port Baikal. Once upon a time, Port Baikal was on the Trans-Siberian line from Moscow to Vladivostok. Due to a dam on the river, that train line has been re-routed, and Port Baikal is now a sleepy little town.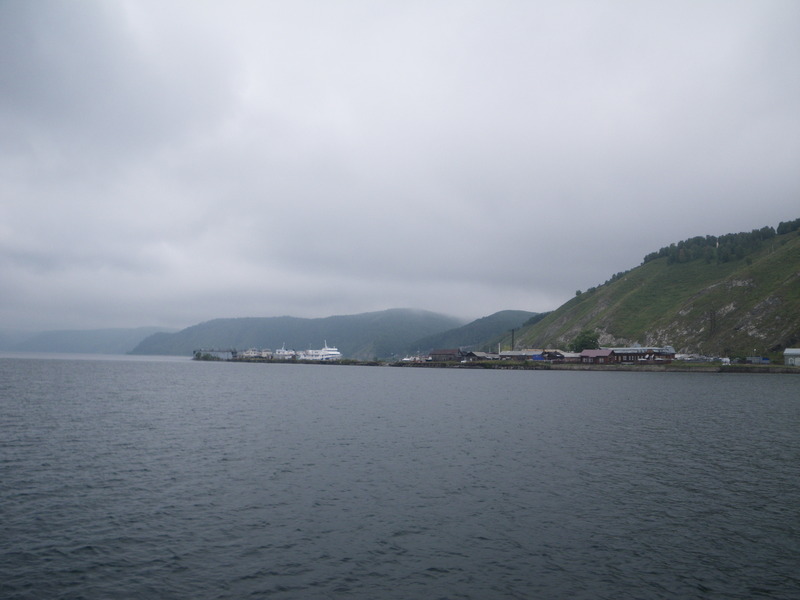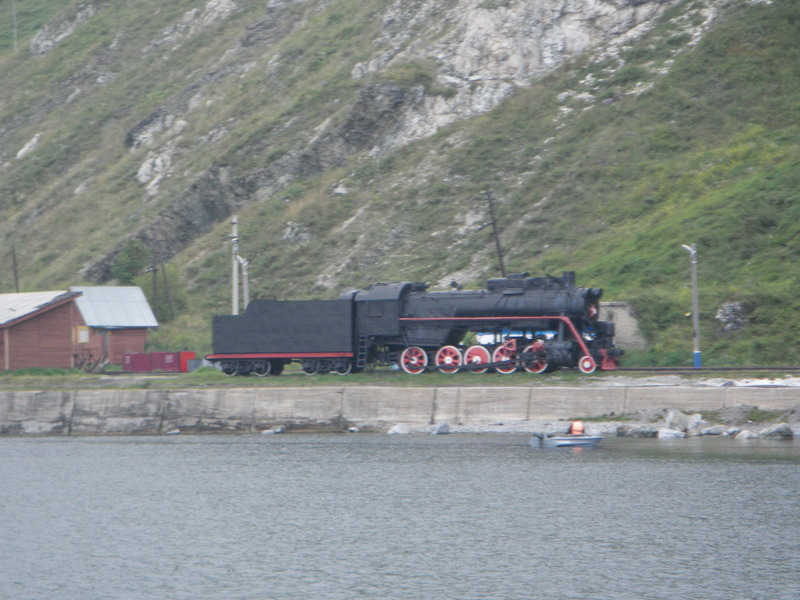 The ride down the Angara was beautiful and exhilarating.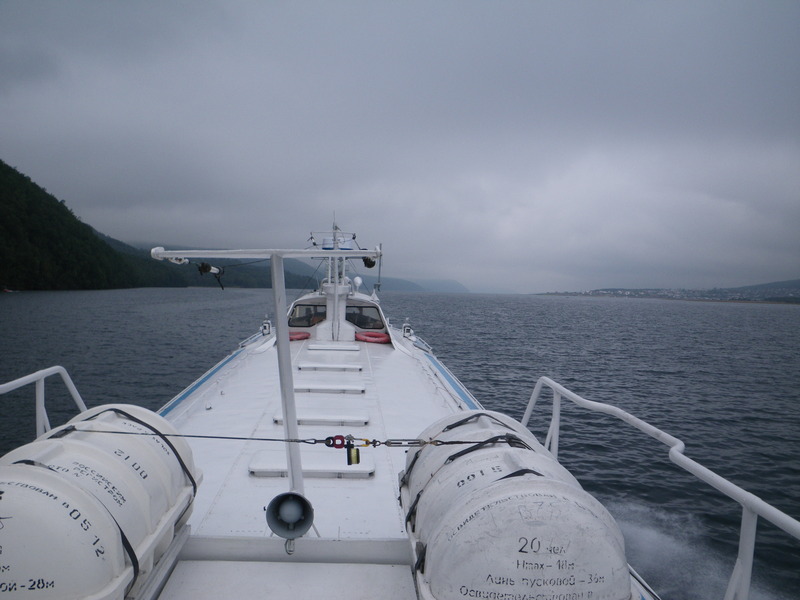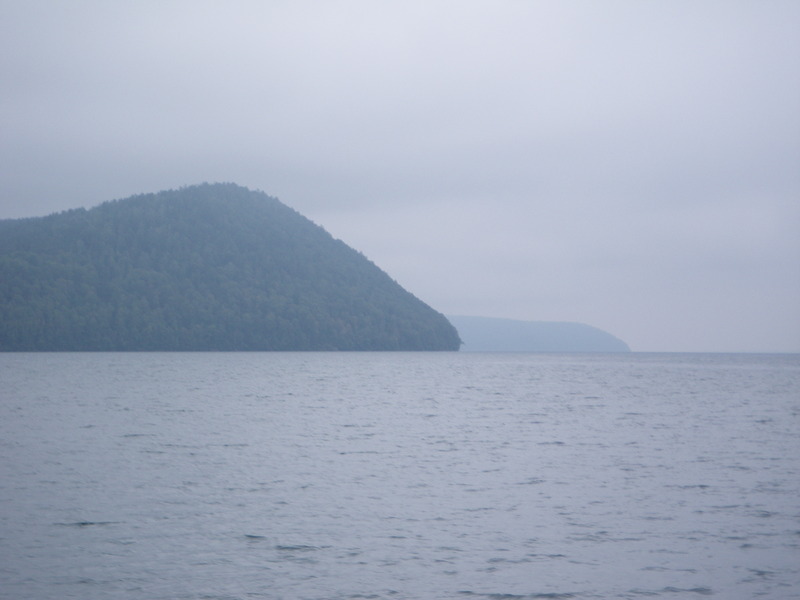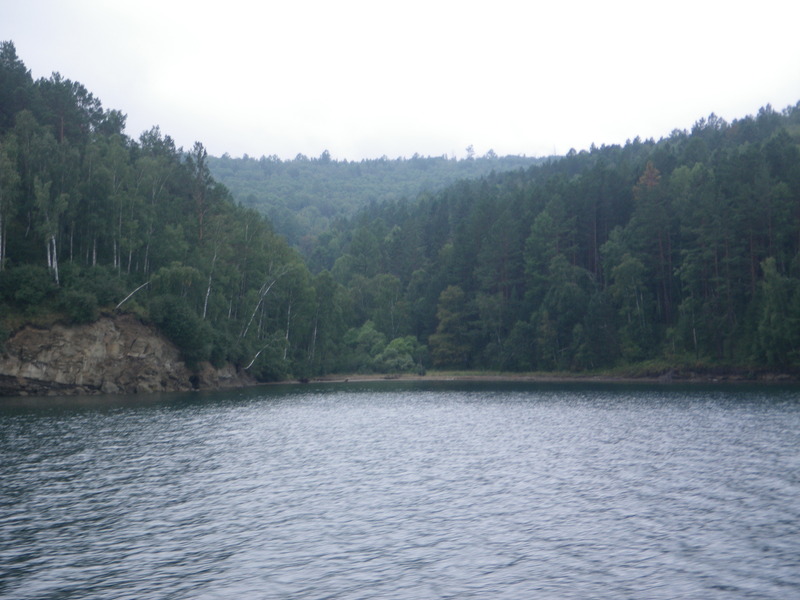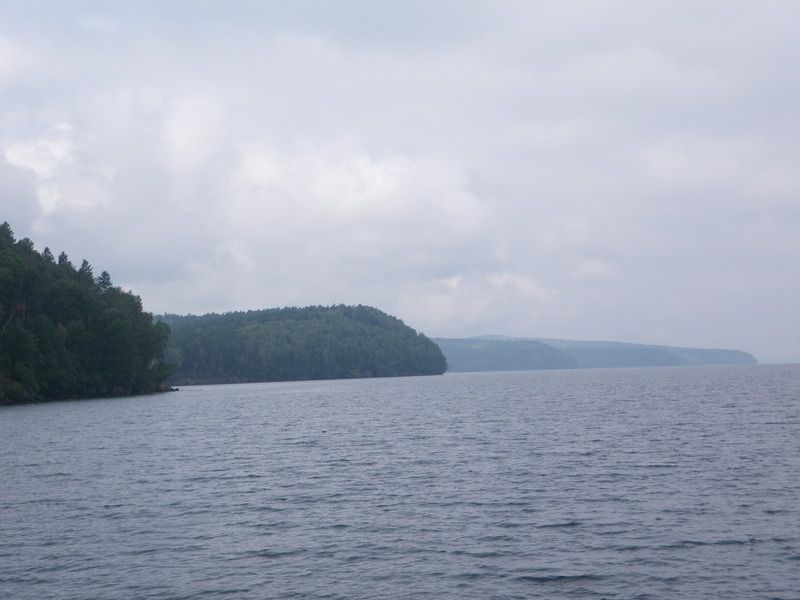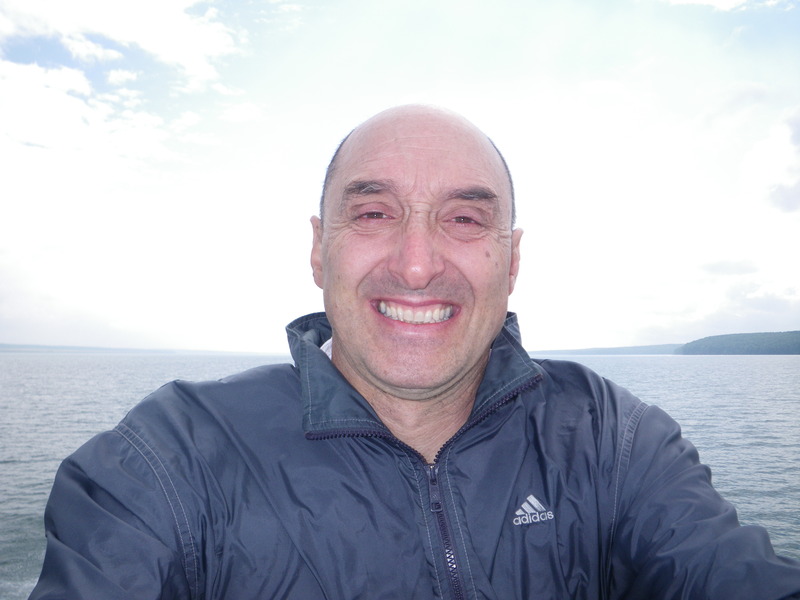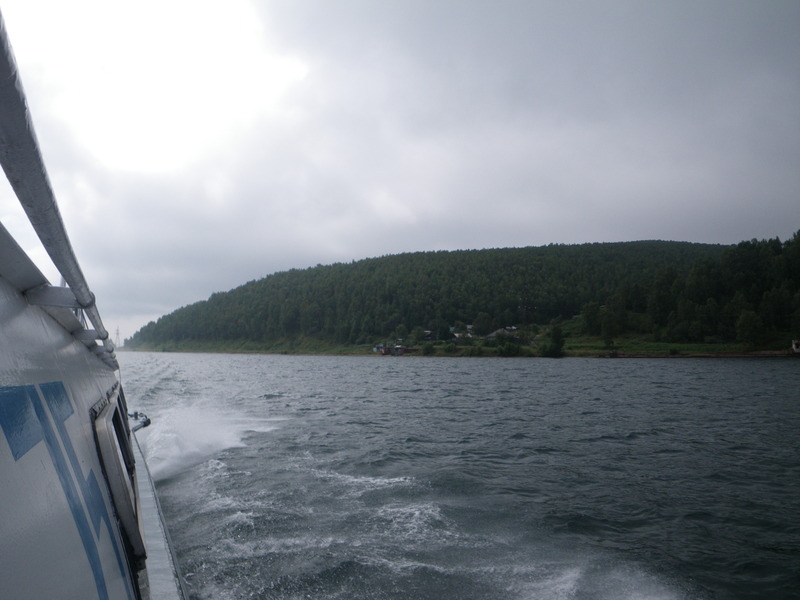 People
In Listvyanka and Irkutsk I met a number of people. At the guesthouse where I was staying, there were several Dutch people. Holland is a small country, but it seems to produce lots of travelers. There were also people from Germany and England, and a couple from Trinidad who had just finished working in Japan for 5 years.
Along the shores of lake Baikal I met three Russians who had driven 2000km from Novosibirsk to see the lake, and were going to camp for a week. They kept inviting me to share their coffee, tea, or at least vodka!! Since I only drink water, I fear I must have disappointed them. I met a group from the Check republic who had camped on Olkhon island, the largest island in lake Baikal, and were going to take a ferry to Port Baikal and hike south and camp for two days. I met a photographer from Kransoyarsk who had hitch-hiked to Irkutsk in about a day and a half. He was going to Olkhon island to take pictures of some of his friends, who were playing in two bands in a concert on the island. And I met people from Irkutsk, some who had traveled extensively and others who wanted to at some point in the future.
Cyrillic
I am learning the Cyrillic script. The S looks like a roman C, R looks like a roman P, V looks like a roman B, and U looks like a roman Y. I kept seeing signs like this, which I always interpreted to mean "cyber cafe", but then would always realize mean Souvenirs.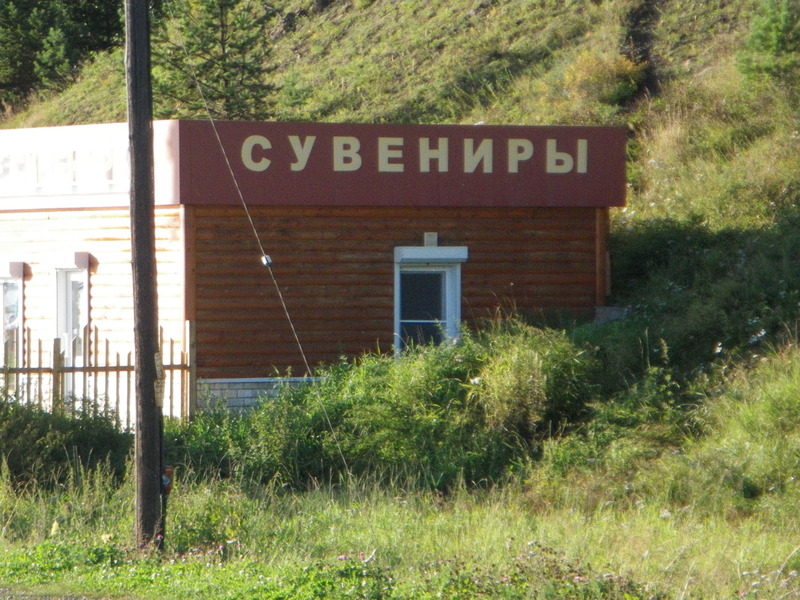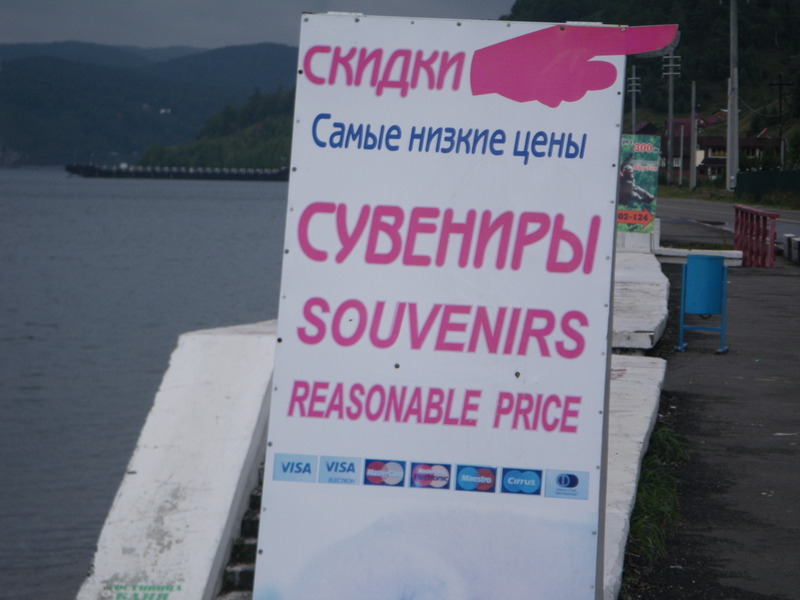 Into the Sky
One evening, as I was walking along lake Baikal, someone released a small hot-air balloon with a candle inside.