Jul 16, Roebourne to Sandfire roadhouse
In the morning in Roebourne, I was greeted by a parrot.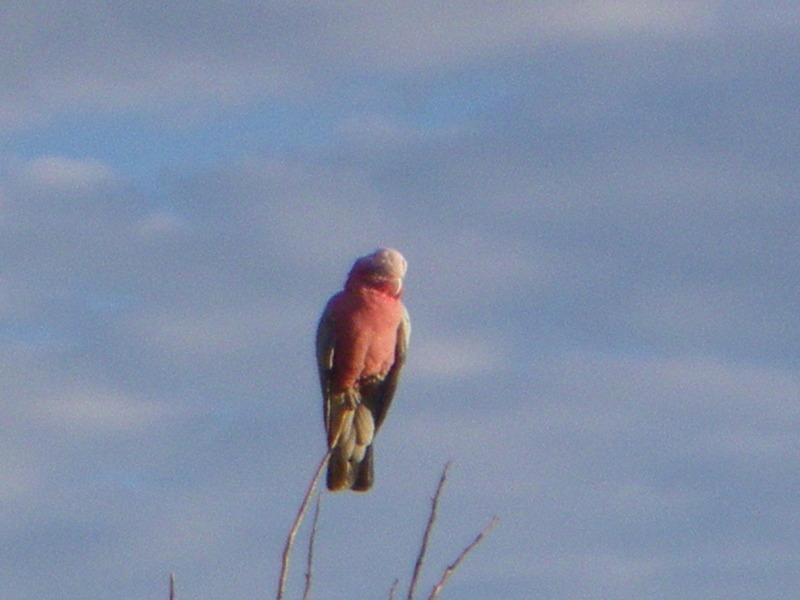 From Roebourne to Port Hedland the traffic increased gradually, until there were a lot of road trains. There are also lots of actual railroads around Port Hedland, and even train cars were filled with ore, presumably iron ore.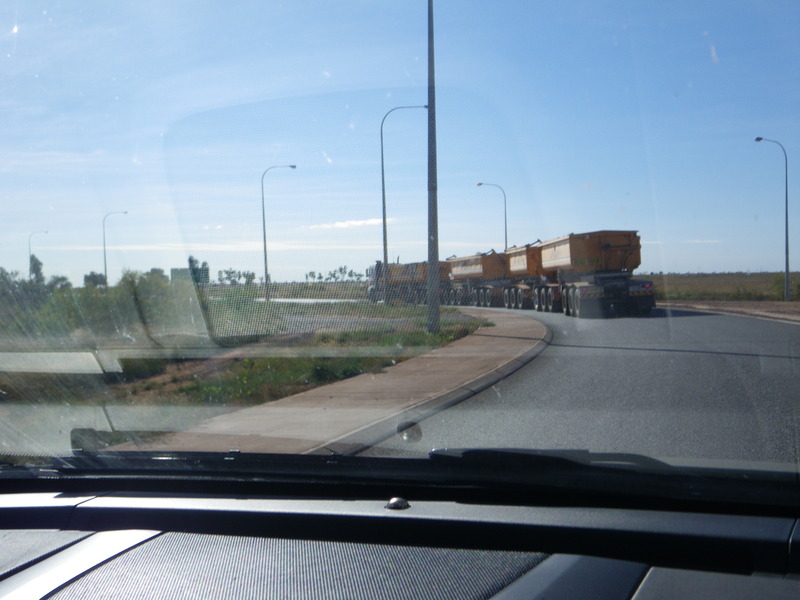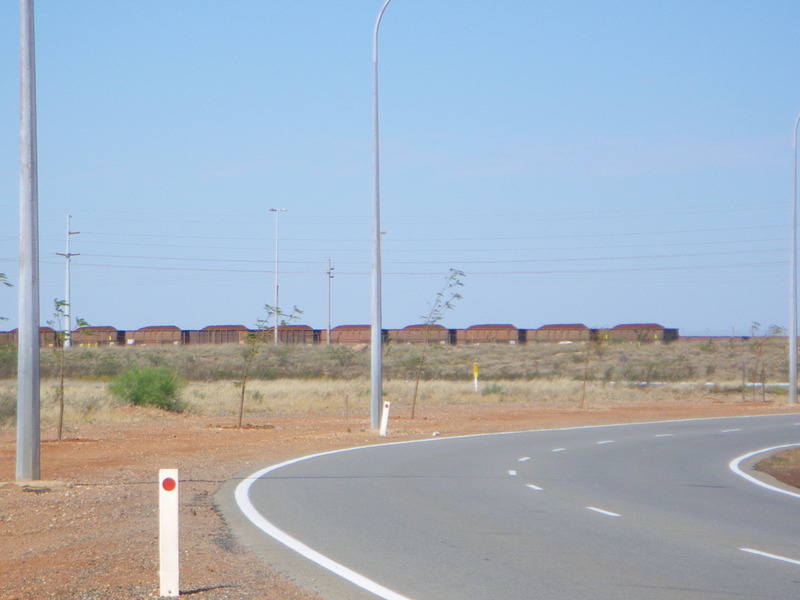 Rio Tinto has a big presence here, including this plant which produces salt from salt pans. The picture shows a salt pan in the foreground, and the extracted salt in the background. It is nice to know that the saltwater was evaporated using only solar energy.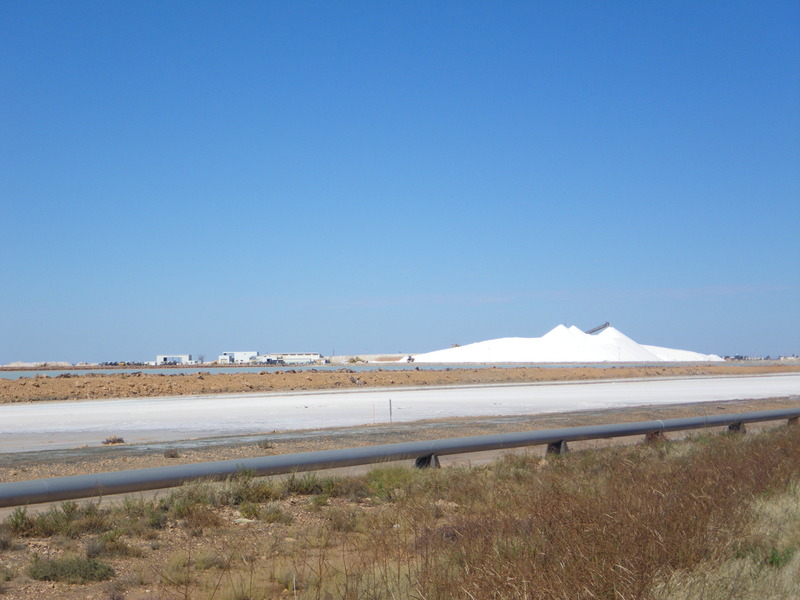 I visited the tourist office in Port Hedland, and asked, if there was only one thing I would visit in Port Hedland, what would they recommend? It was suggested I go down to the harbor and watch the big ships come in and out.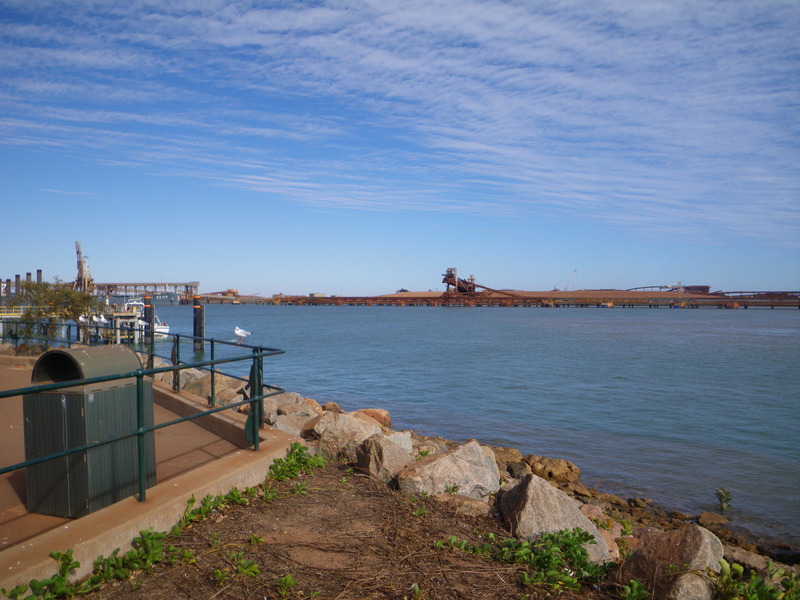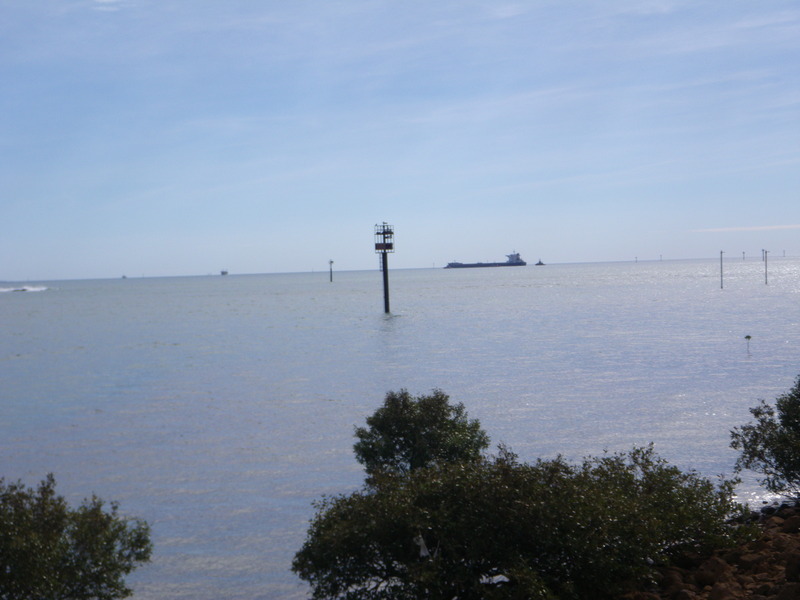 The second suggestion I got was to go watch the ore trains come in to Port Hedland.
Instead, I made my way to the beach and found some nice sand dunes and views. I think if Port Hedland ever gets tired of shipping ore, they might find they are a reasonable destination for tourists, though of course there are many beautiful beaches in Australia.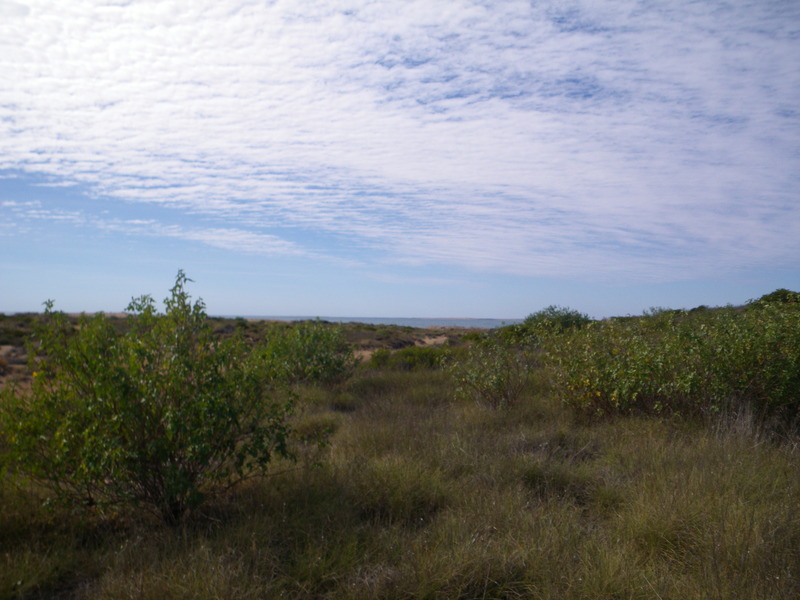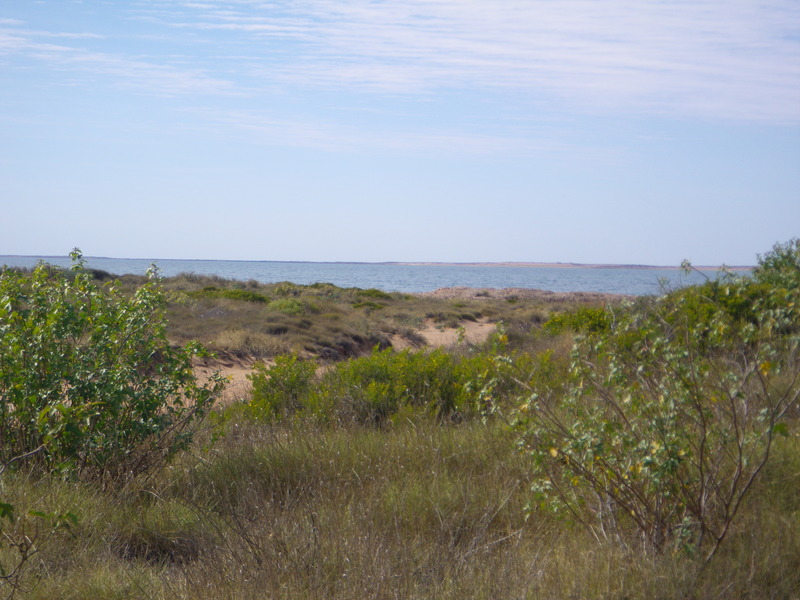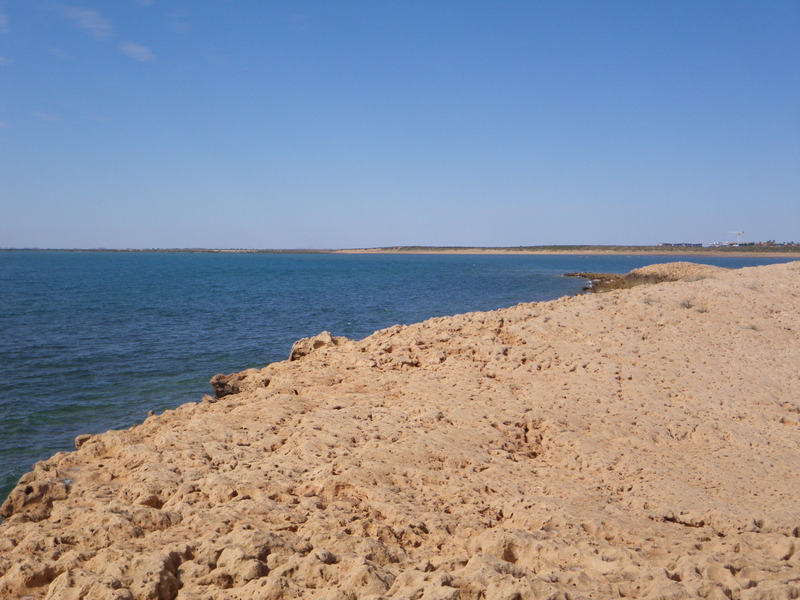 At the point where I was, the shoreline was rocky, with both slabs of flat rock, and what looked very much like an old coral reef.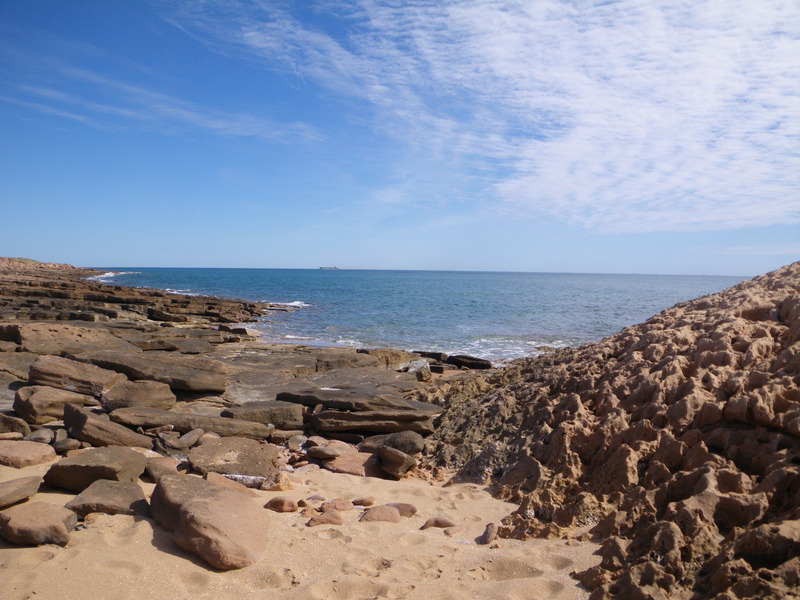 I am sure a geologist would have interesting things to say about this combination. Without being a geologist, I would guess that the rock that looked like coral must have indeed been coral at some point in the past, and for some reason, is now above water.
In Port Hedland there are many people who look like construction workers, and many vehicles with yellow reflective tape on them. I suspect both the people and the vehicles have something to do with mining.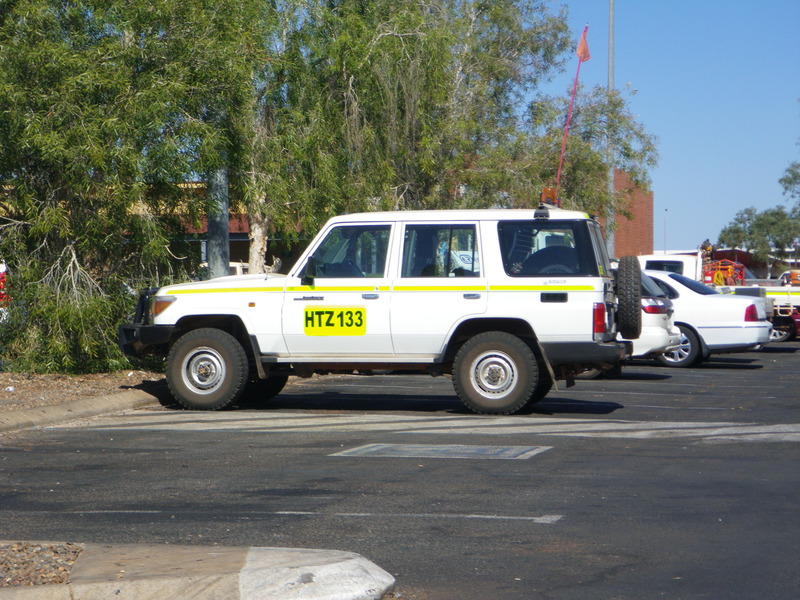 After Port Hedland, the map says that the road goes through the Great Sandy Desert. It is quite great, but I didn't notice it being any sandier than the other places I've been, and it didn't look like a desert any more than most of the landscape between Carnarvon and here. The difference is the Pilbara mountains have shrunk to very small hills, and there are no more rivers and no more towns.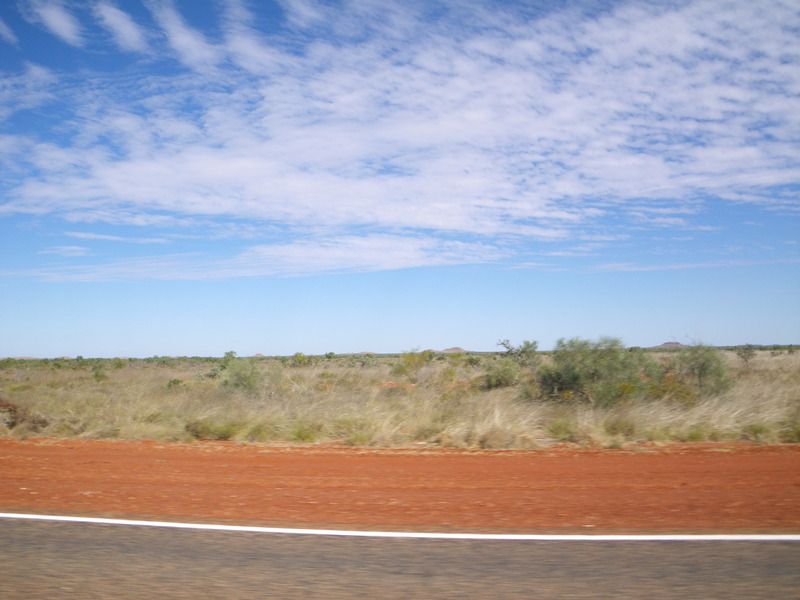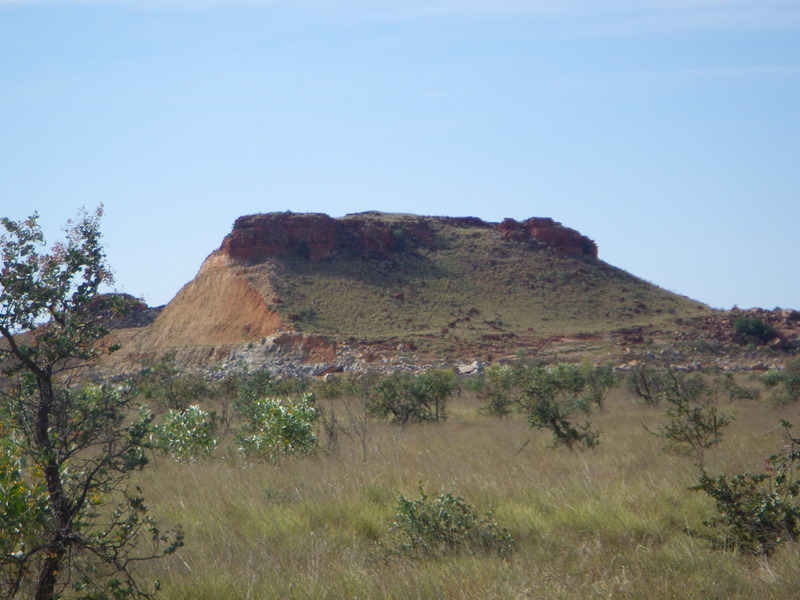 Instead, along the roadside there are many beautiful flowering trees. Since the leaves have parallel veins like Koa, I believe these to be acacia trees (Koa is an acacia). I think Australians call them Wattle.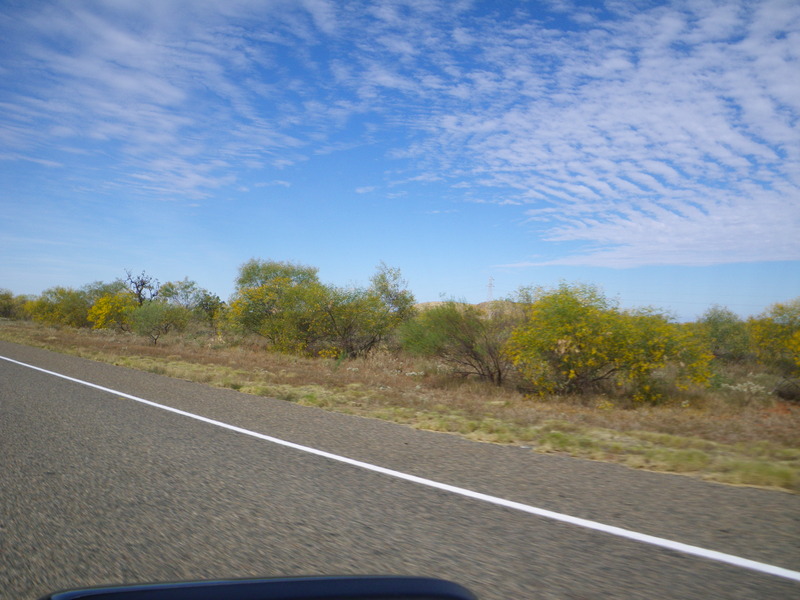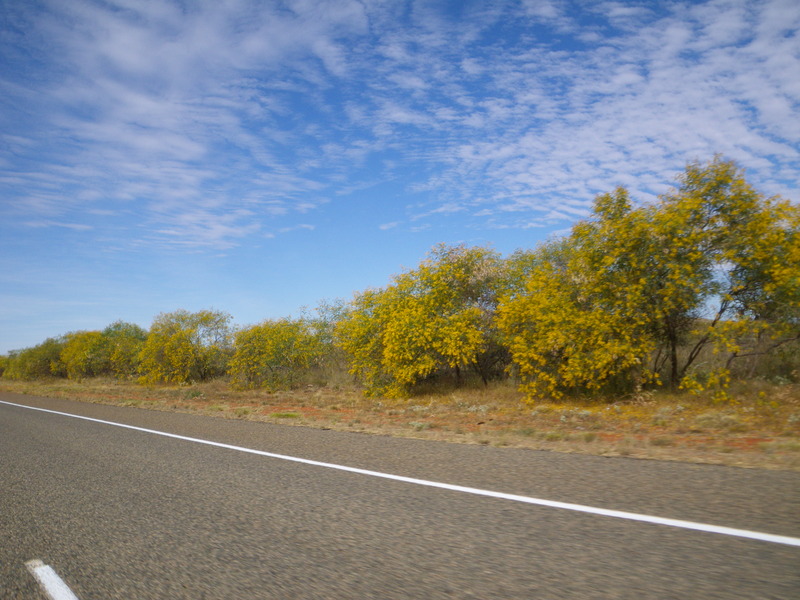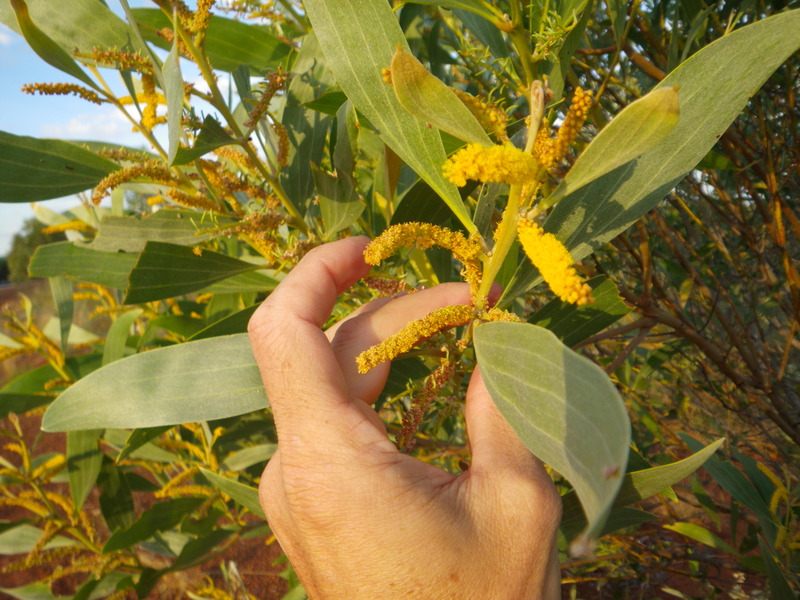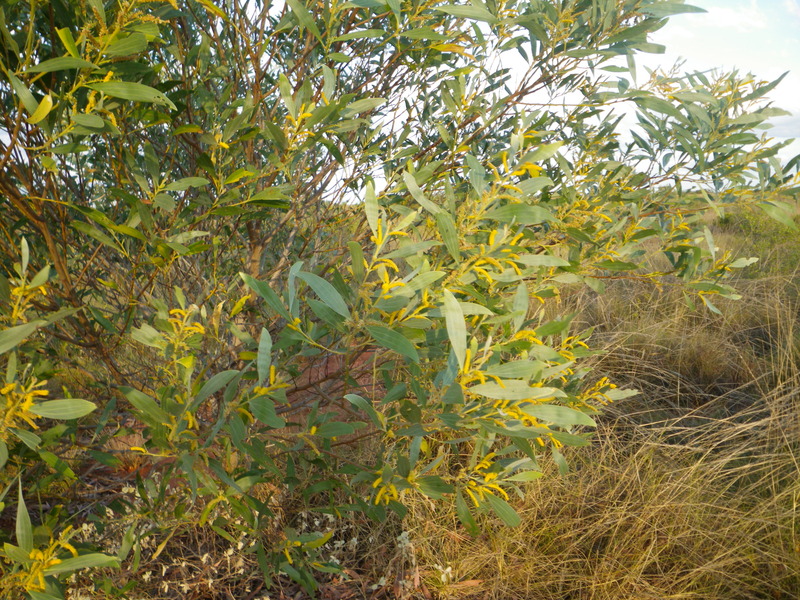 There are also a very few roadhouses, and many termite mounds and wide open views. This is Pardoo roadhouse.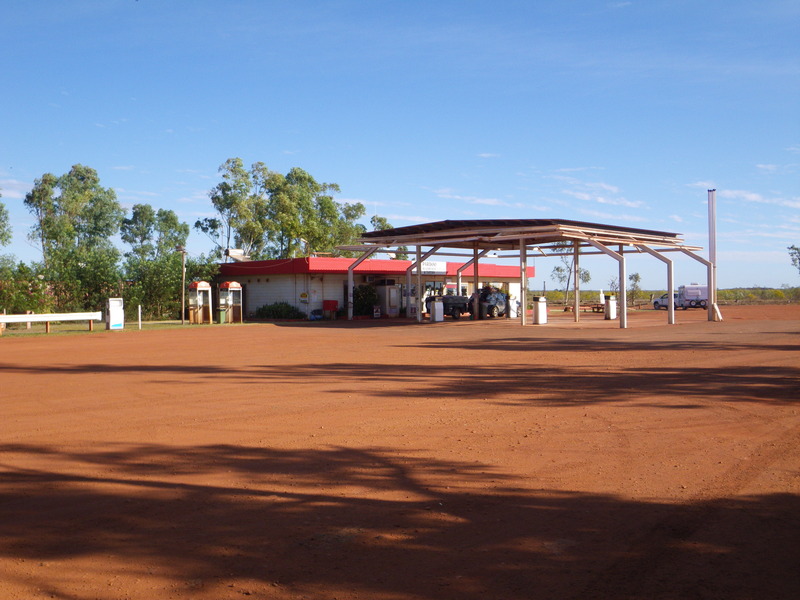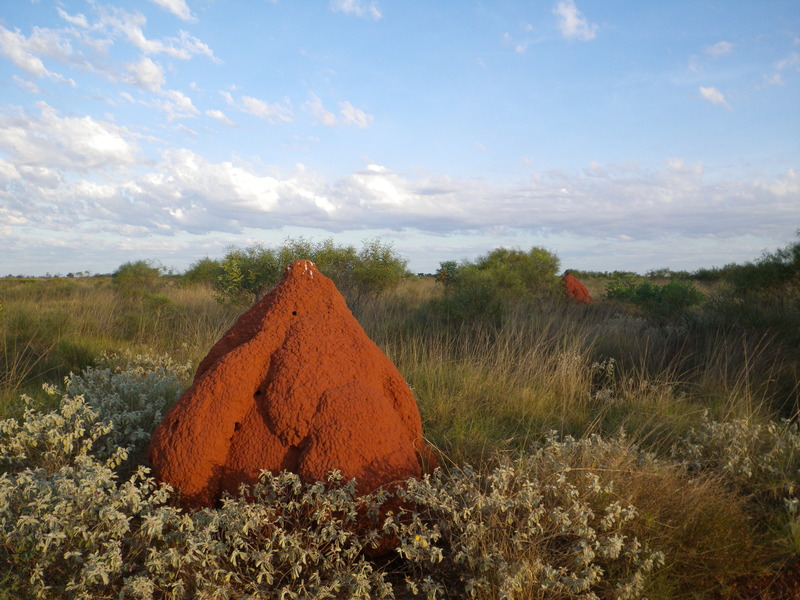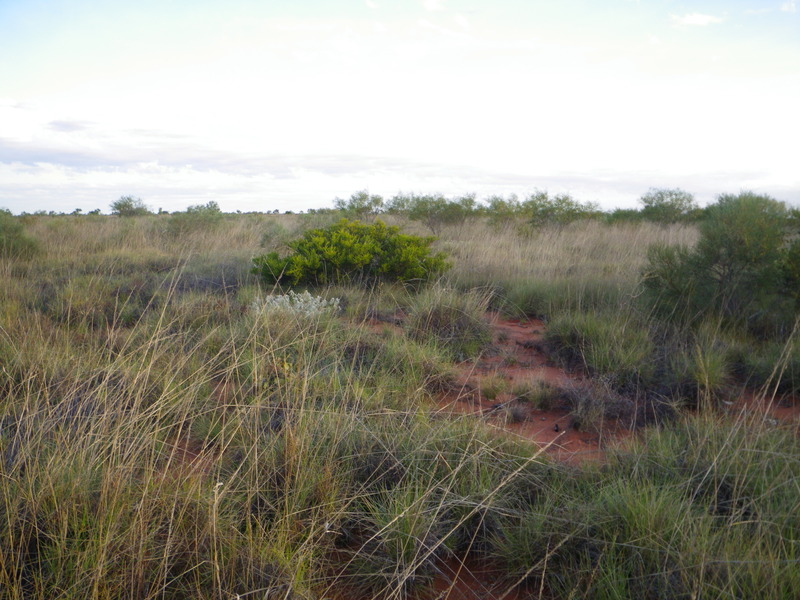 I have heard that driving at night is dangerous because of the possibility of hitting cangaroos, which are active at night. And I have seen plenty of dead cangaroos, and even dead cattle, by the roadside. I have also seen plenty of live sheep and cattle. But so far, no live, wild cangaroos.
To avoid driving at night, at sunset I was near Sandfire roadhouse, and I decided to stop. As well as rooms, the roadhouse has ducks and peacocks, an ostrich and a camel. The ostrich and the camel are confined, but the ducks and peacocks are not. I found some cangaroos (I was told they were wallabies) mingling with the ducks and peacocks. Finally, some live, (almost) wild cangaroos!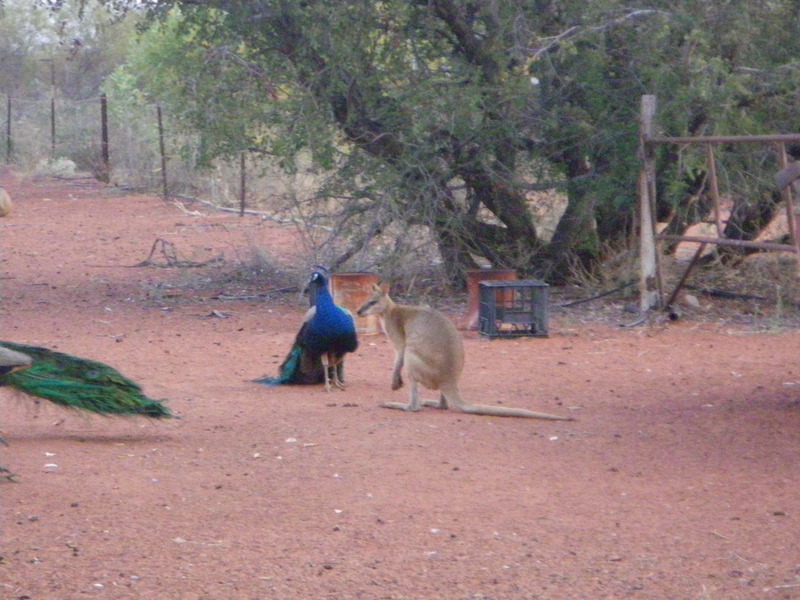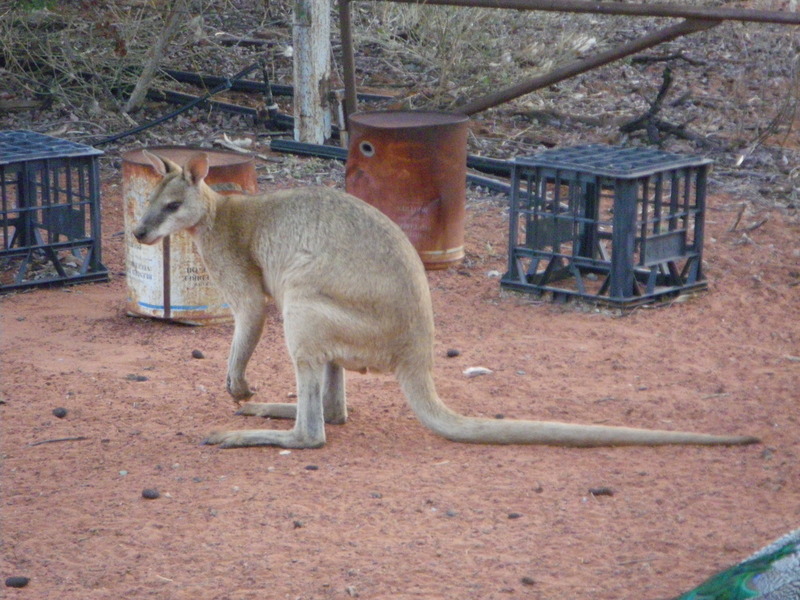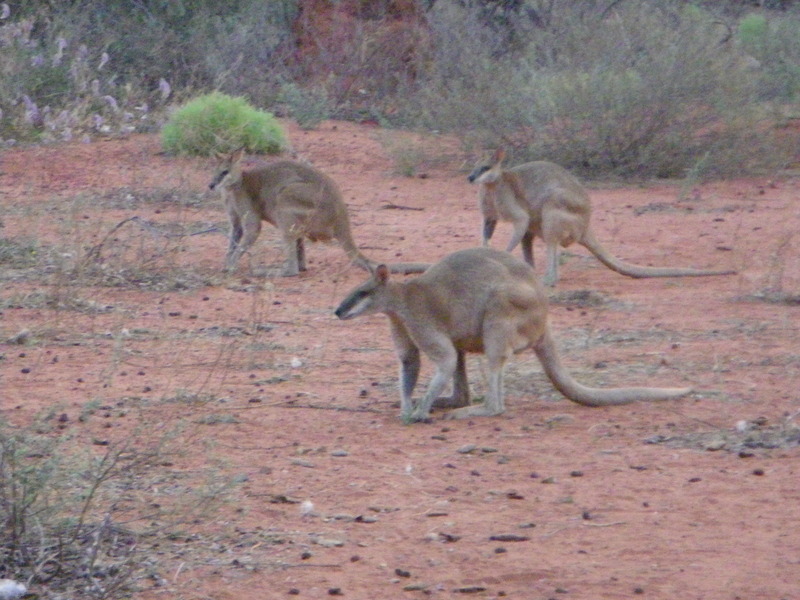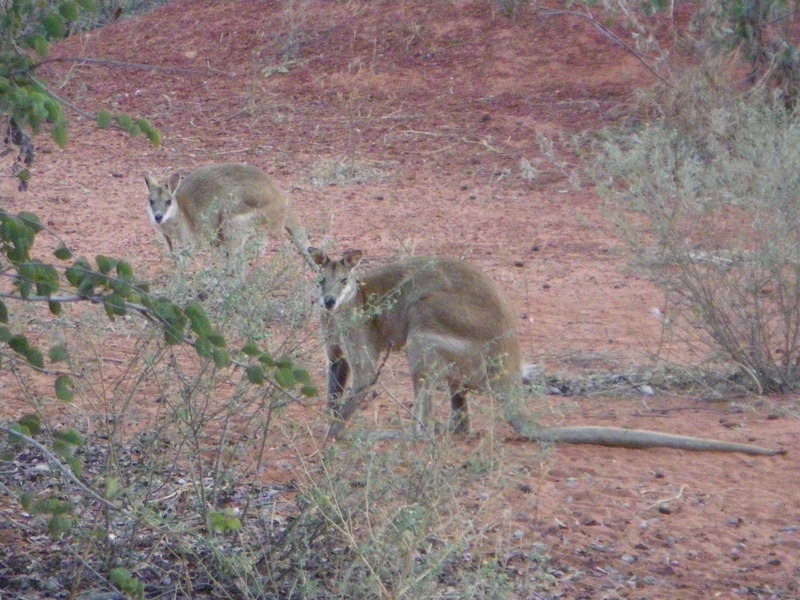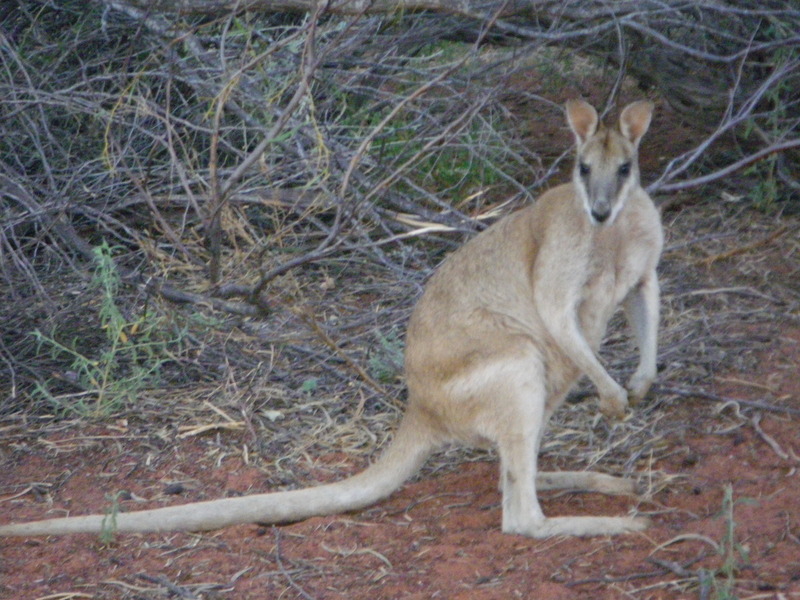 The cangaroos were a little shy of me, so I guess they are indeed wild.
I also found my first boab tree.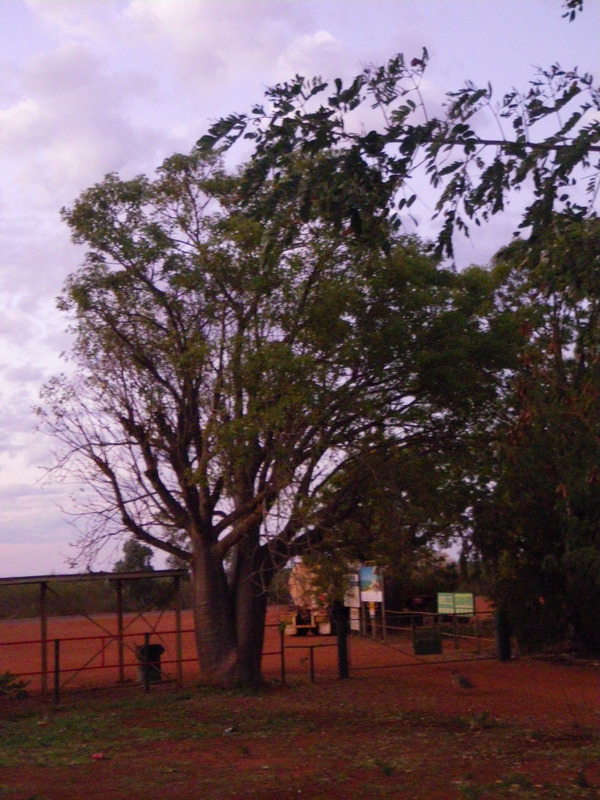 From King's park in Perth, I understand that the natural range of these trees, which are related to African Baobab, is in the Kimberley mountains. We are still several hundred kilomoters from the Kimberley mountains. So I don't know if this one is at the edge of its range, or was planted. Either way, it was nice to see.