July 22, Kakadu national park
Yurmikmik and Boulder Creek
I started the day by going on a little hike in a place called Yurmikmik. The name of the hike is Boulder Creek, and I was interested in it because I understood it to have a monsoon forest. Not quite sure what a monsoon forest is, I thought I might go look.
Along the way, there were some stern warnings.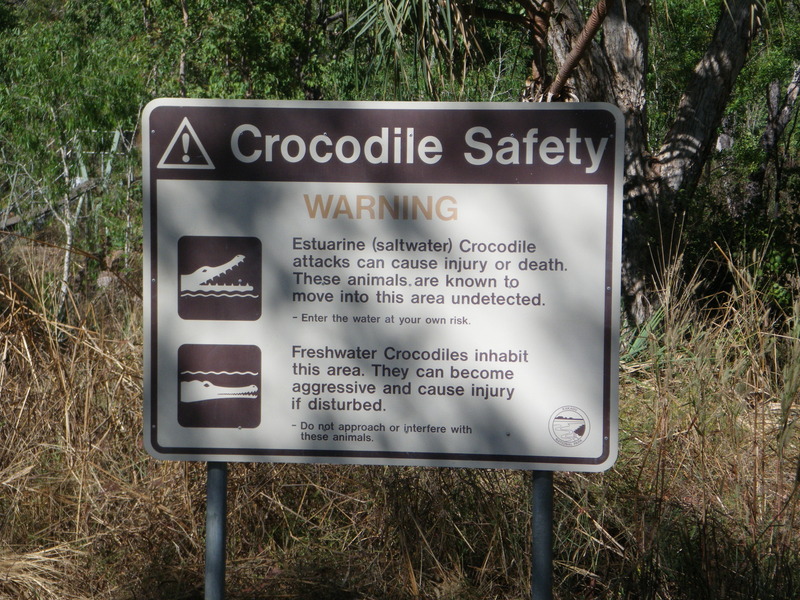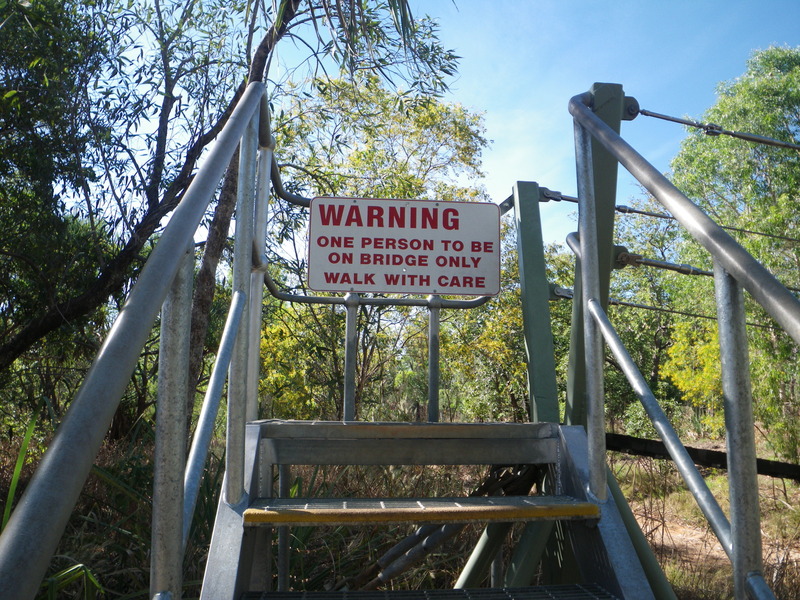 Unlike the freshwater crocodiles (freshies) I saw on the Fitzroy river, saltwater crocodiles can be quite dangerous. They were the ones featured in the movie "Crocodile Dundee". Fortunately or unfortunately, I haven't seen any yet. Perhaps the crocs are only here in the Wet season. The bridge warning was reasonable, on the other hand.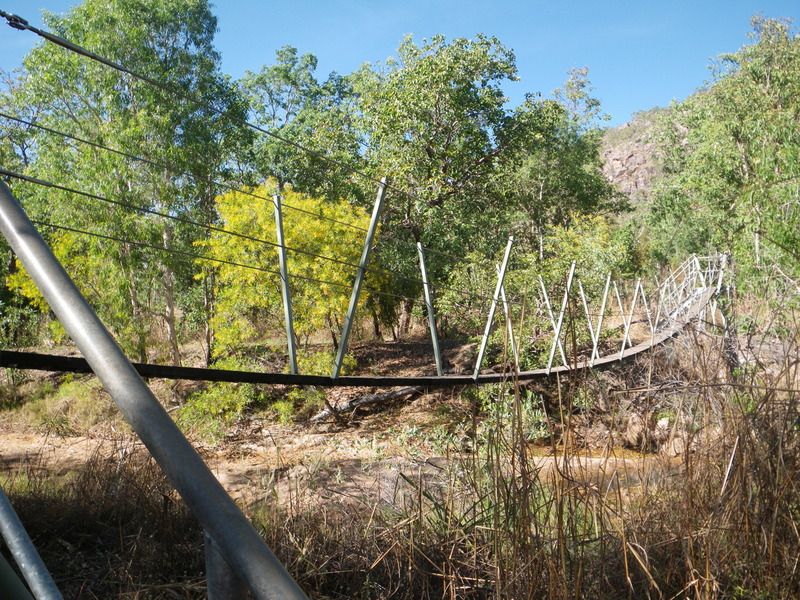 It is a very narrow, unstable bridge, and fun to walk across.
I did see quite a bit of open forest, including some pandanus.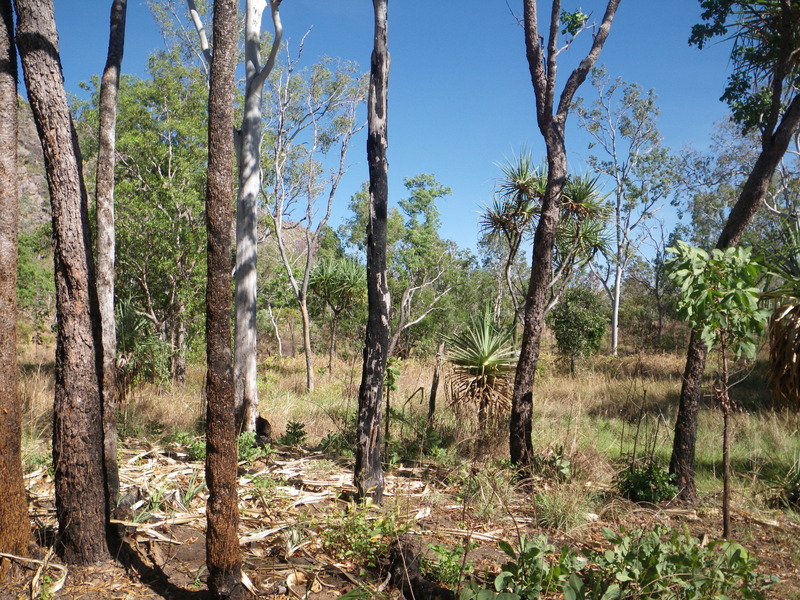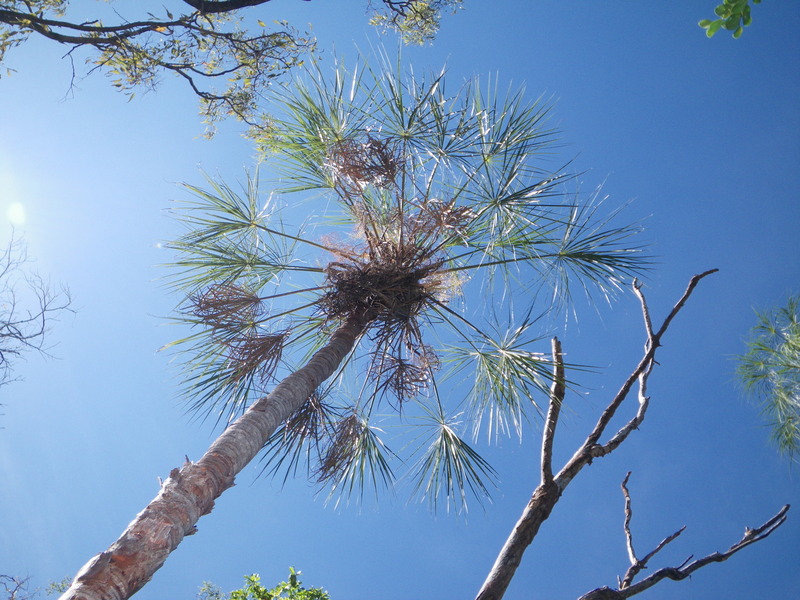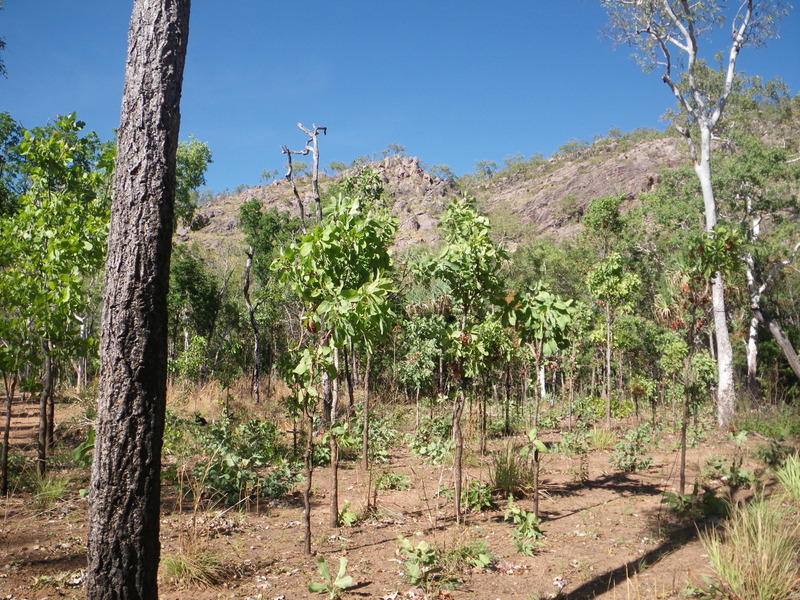 When I got close to the creek, the forest got thicker. I guess this is a monsoonal rainforest.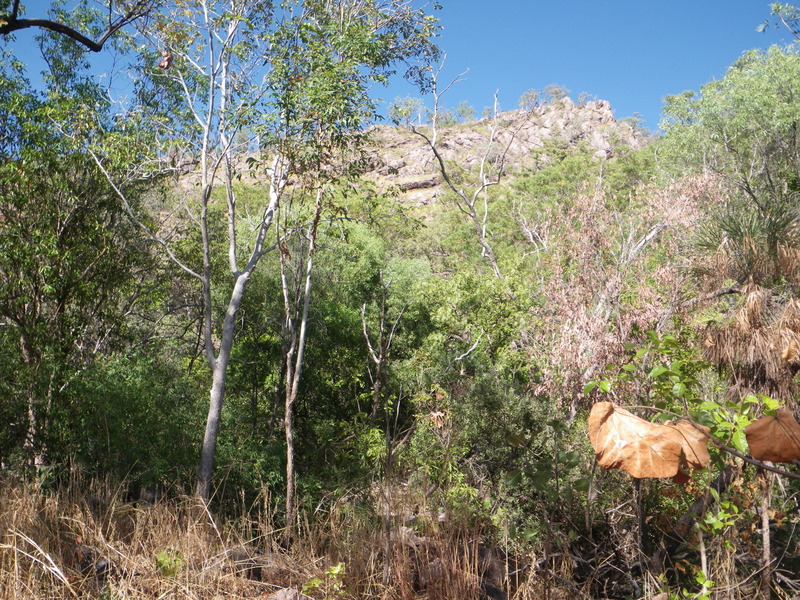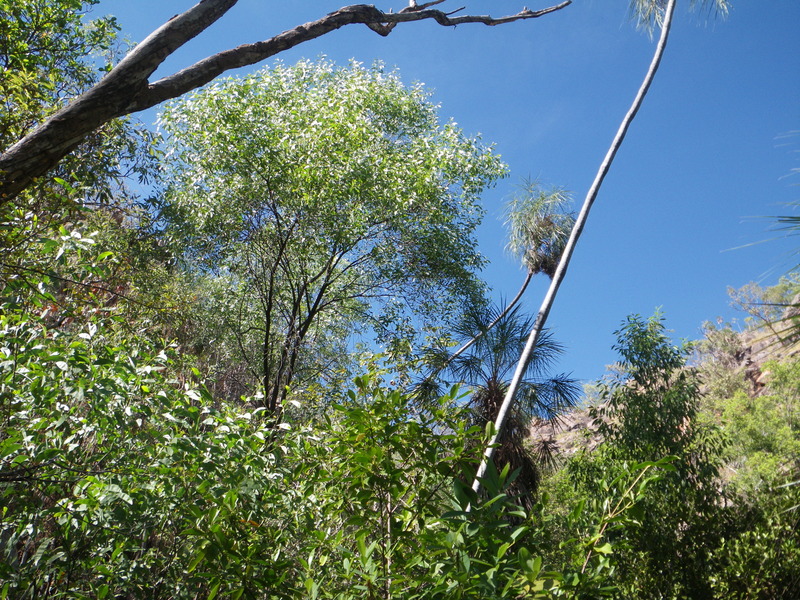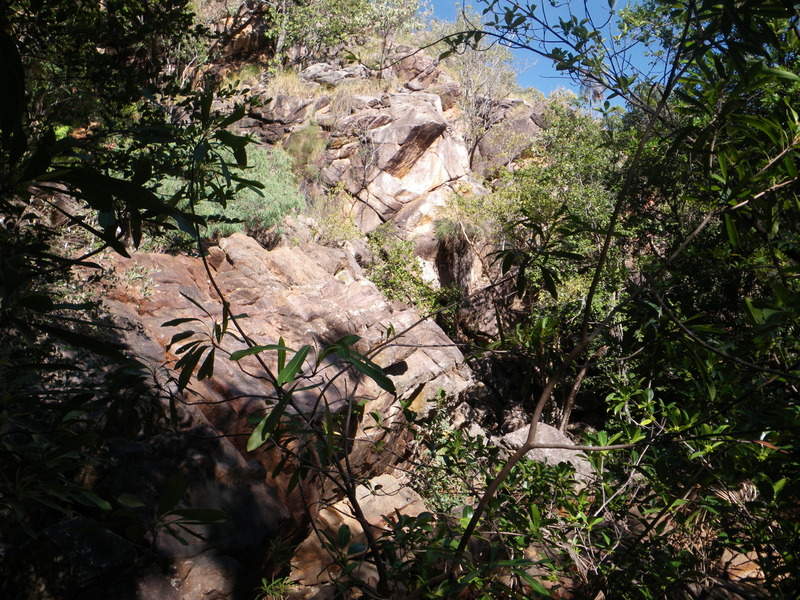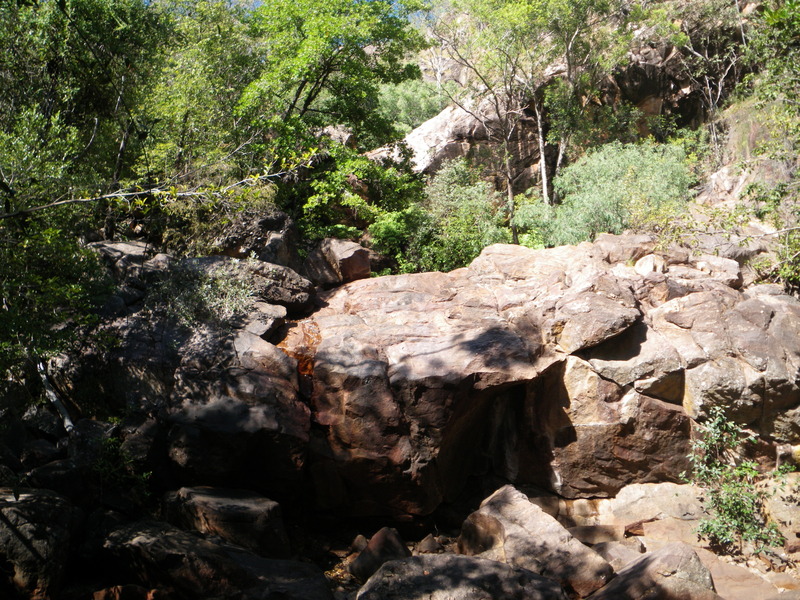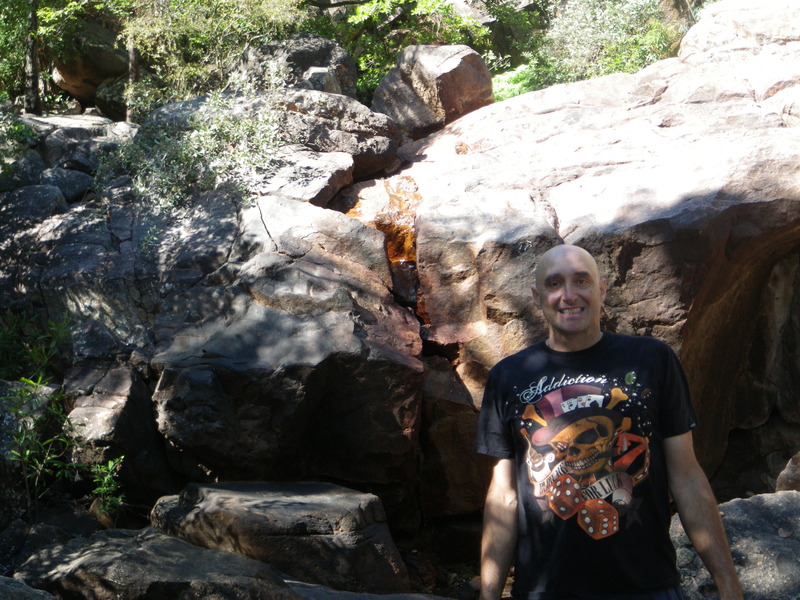 If you look carefully, in the middle of the last two pictures, slightly on the left, is a tiny little waterfall. I expect it is much bigger in the Wet season.
The rocks in this area seem to be conglomerates, including quite a bit of rounded white quartz very firmly attached to the rest of the rock.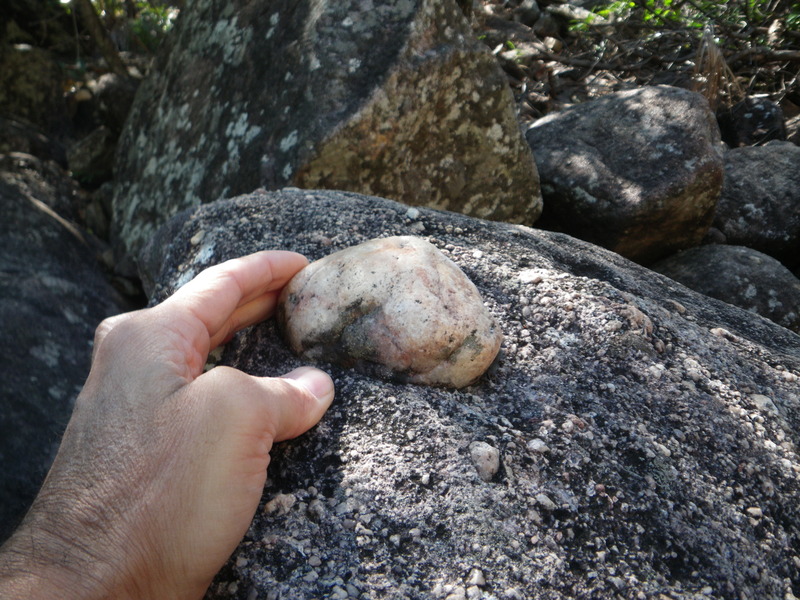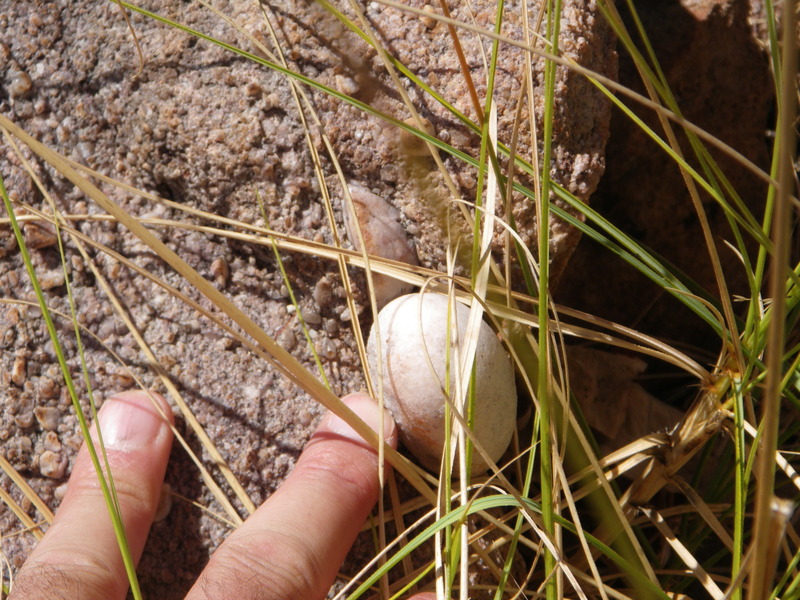 Presumably, in the past there was rock around the quartz, and the softer rock has eroded, leaving the rounded quartz.
Afterwards, I decided to climb the hill behind the waterfall. Probably not a great idea to do it all by myself, but the views were nice.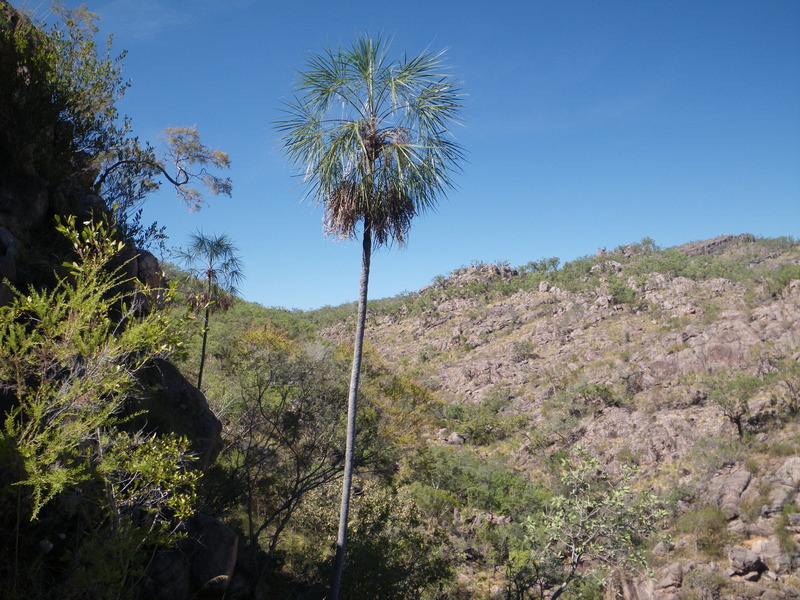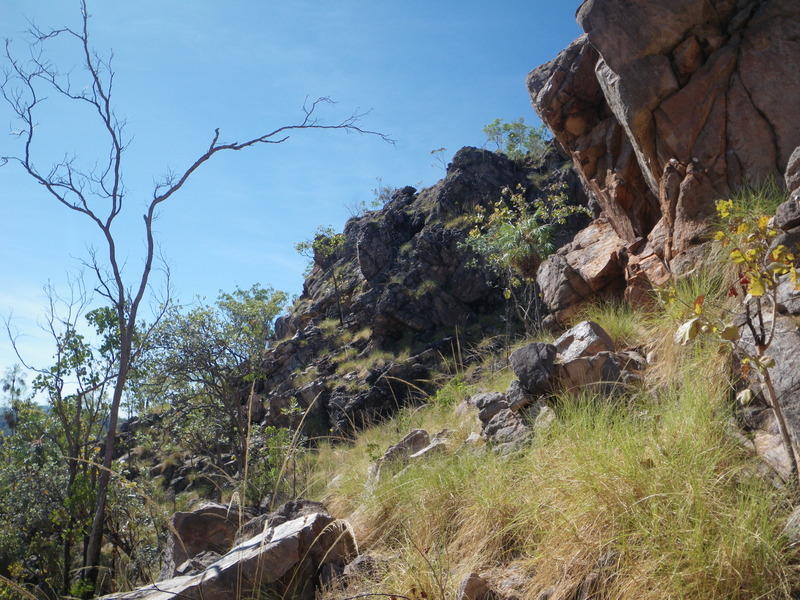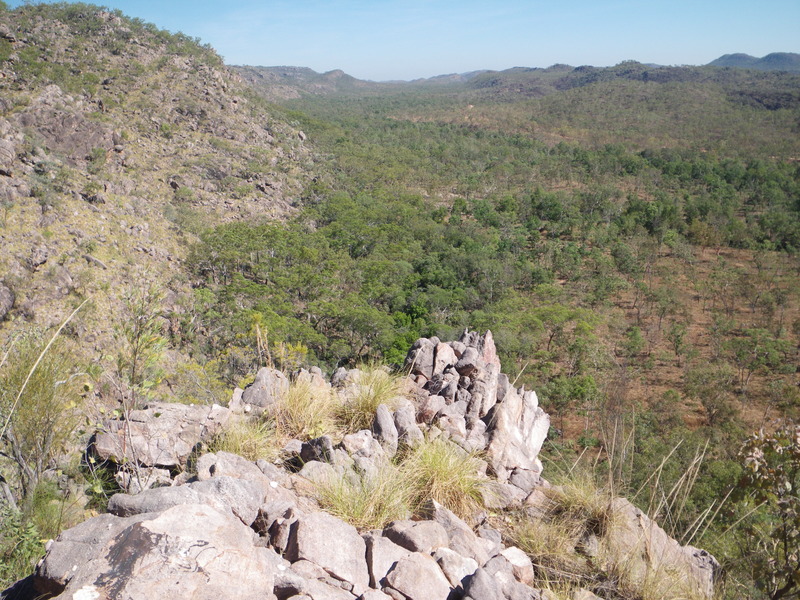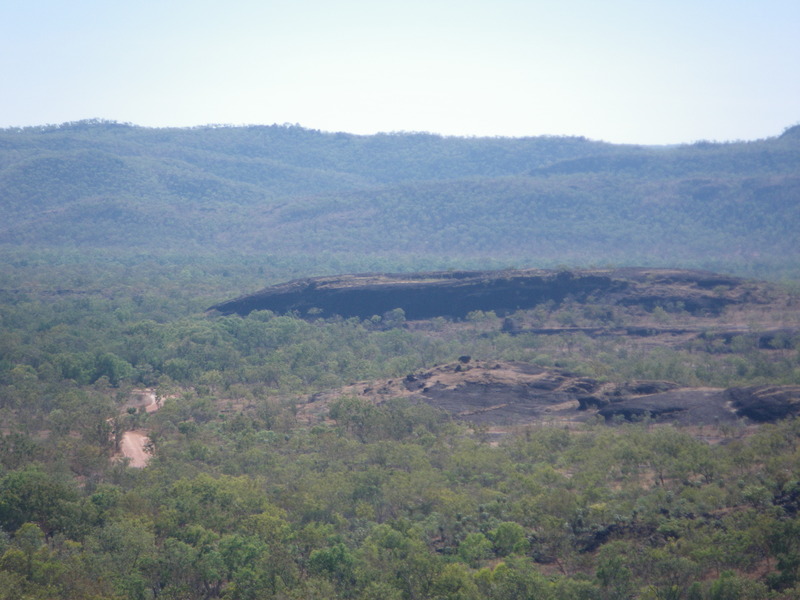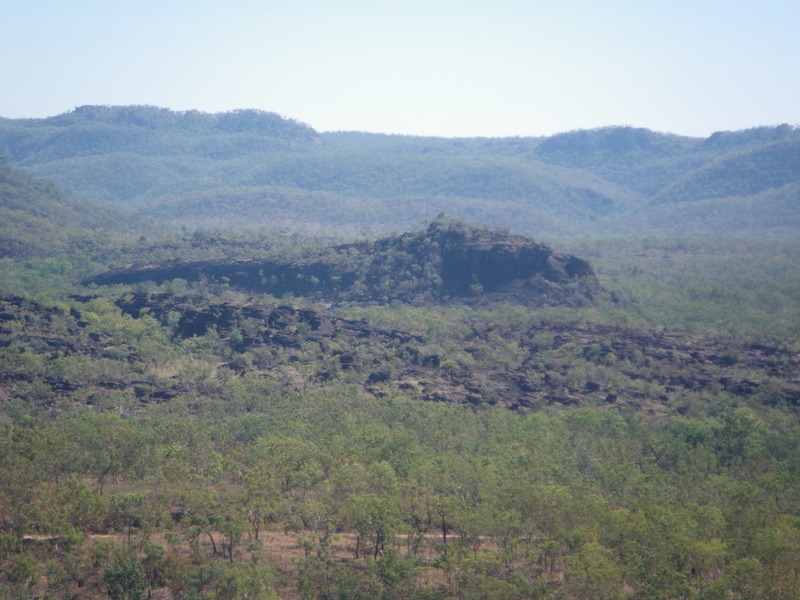 In the last two pictures you can find the dirt road (unsealed road) I took to get here, which continues on. To get here, I drove about 20km on the unsealed road. It was probably about as bad as in Kalbarri national park, but maybe I was better prepared mentally this time, and it did not seem as bad.
In the wet season, I would not have taken this road in a 2WD vehicle.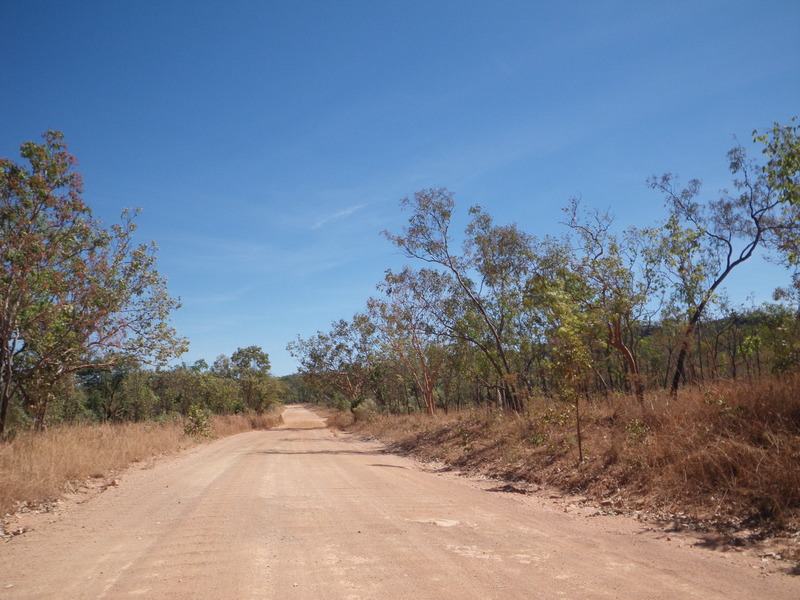 Later, I also hiked out to Yurmikmik lookout, but the views were better from my hill.
I always seem to like these beautiful yellow flowers against the bright blue sky.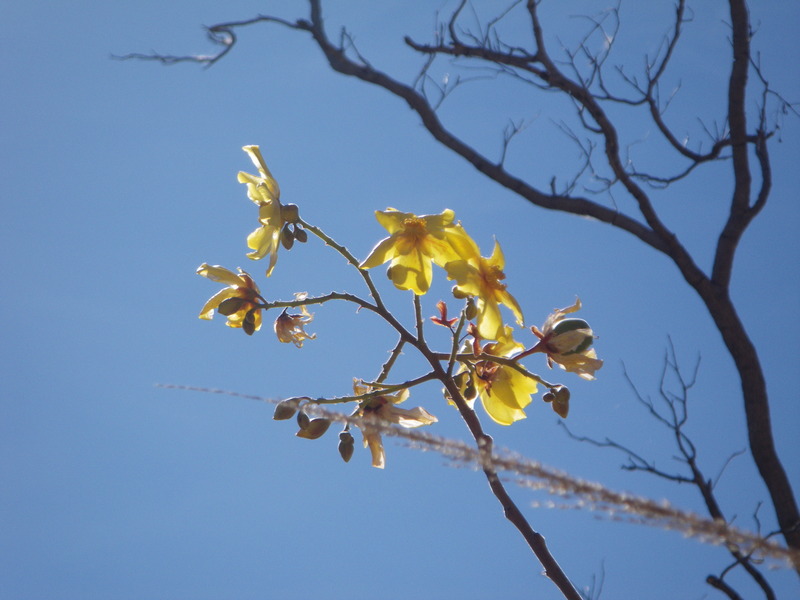 I also saw some interesting birds. There were lots of them, but as is often the case with birds, they were moving a little too fast for me to take good pictures. These two are the best ones I got.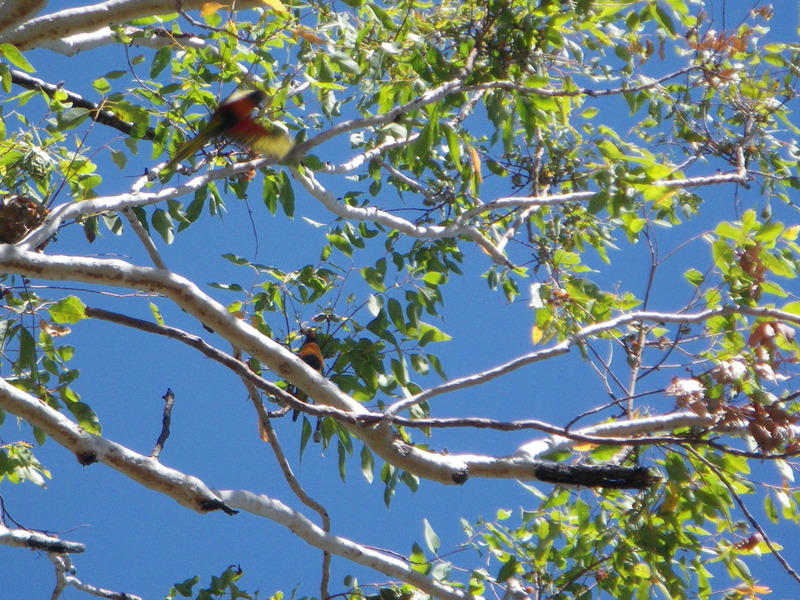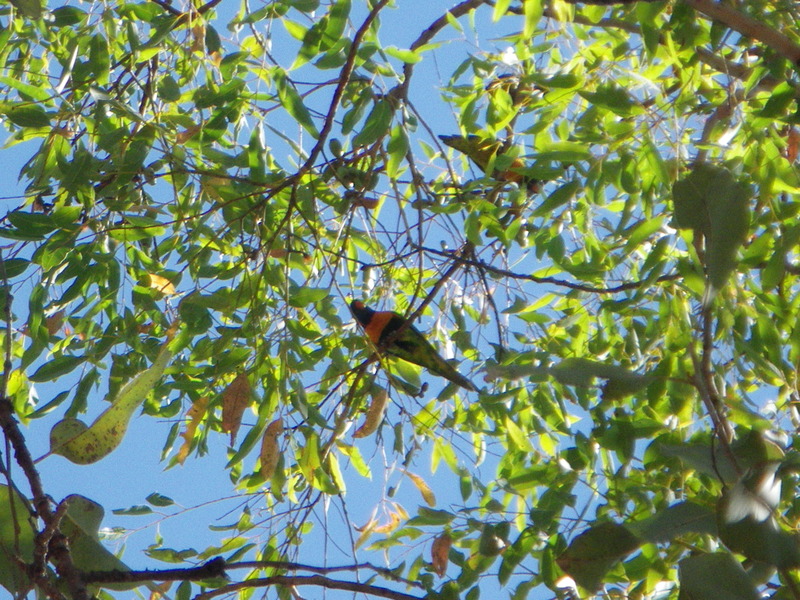 Angbangbang
There is a big rocky hill in Kakadu national park.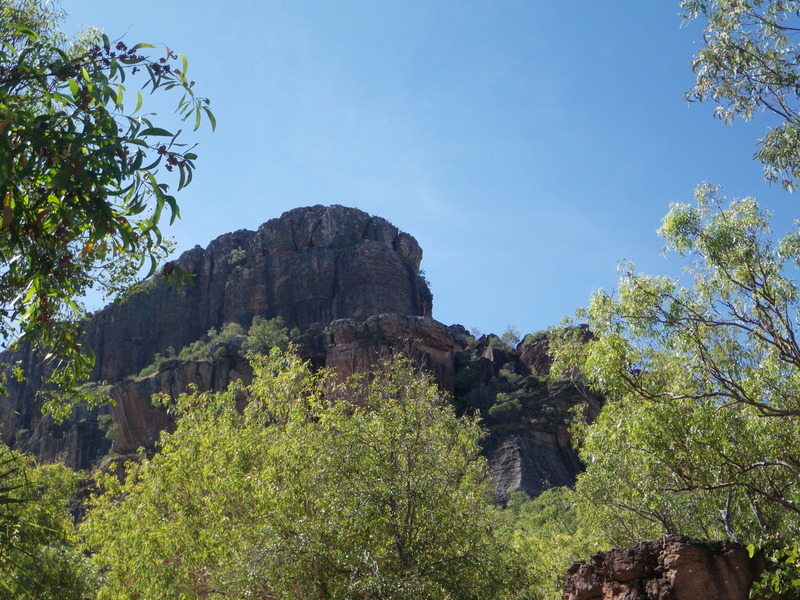 On national park maps, this is shown as Nourlangie rock. But a sign near the rock says the name is a mistake, and refers to another place nearby, Nawurlandja. Instead, the lower part of this rock is called Anbangbang, and the upper part is Burrungui, pronounced "Boo-rong-goy".
I came here because my map said this was one place where I could find aboriginal rock art. And I did!!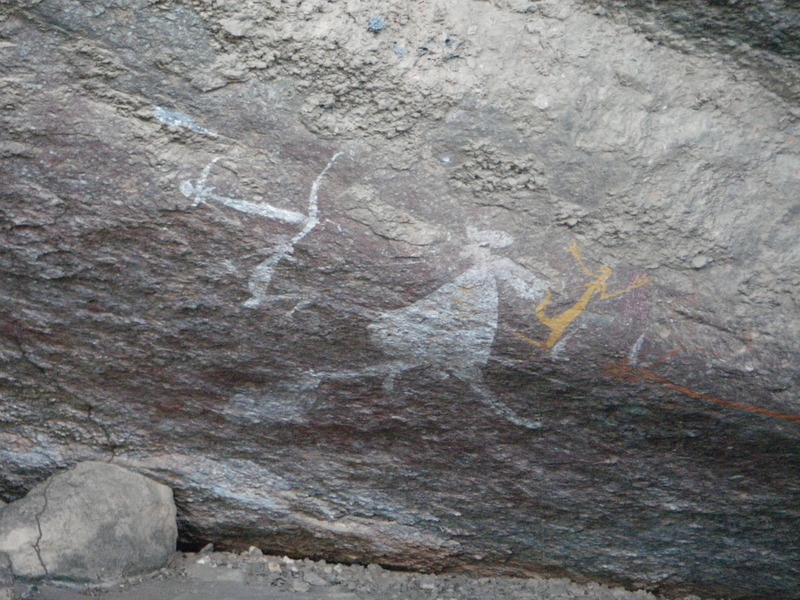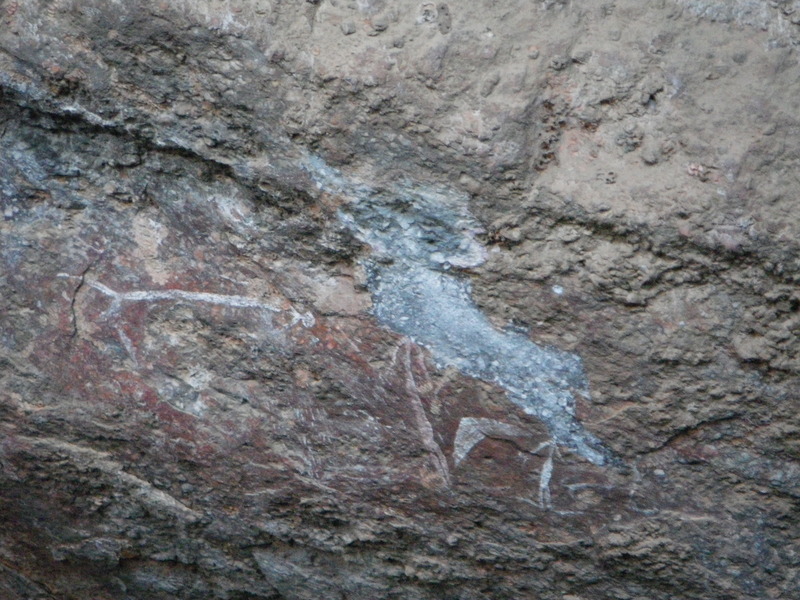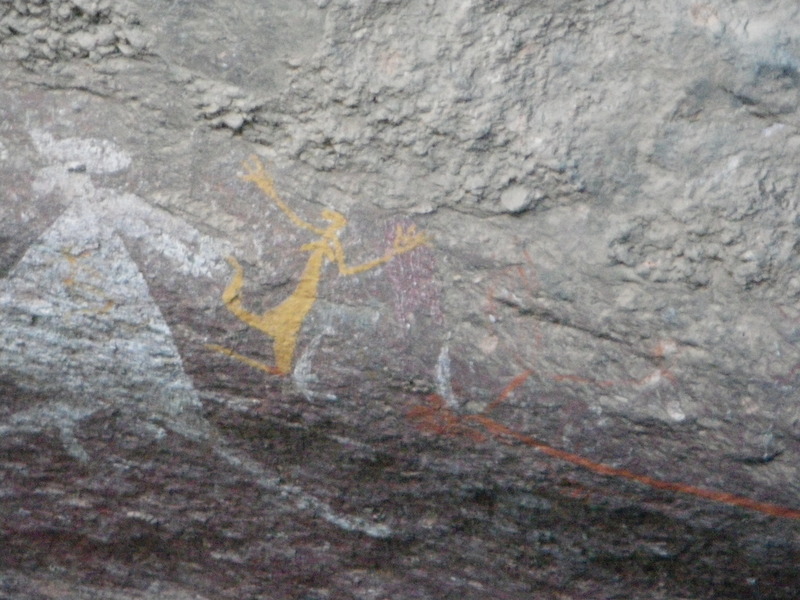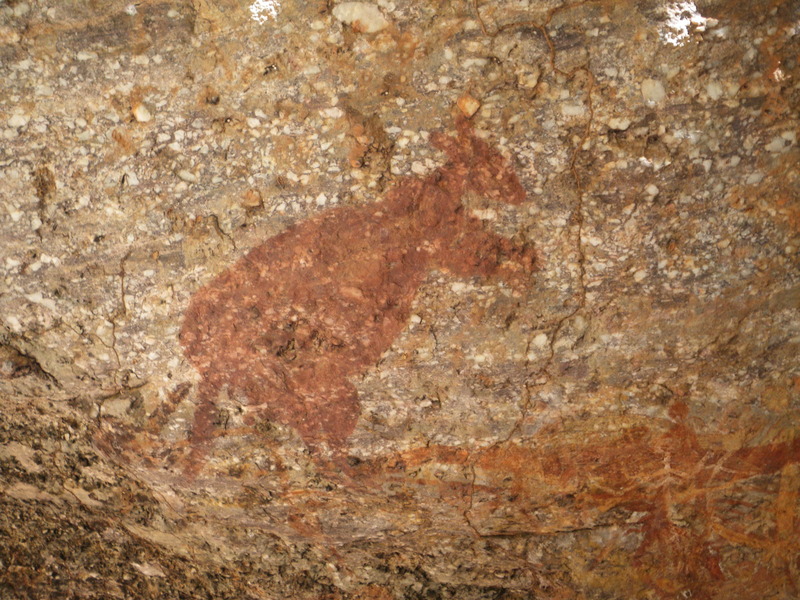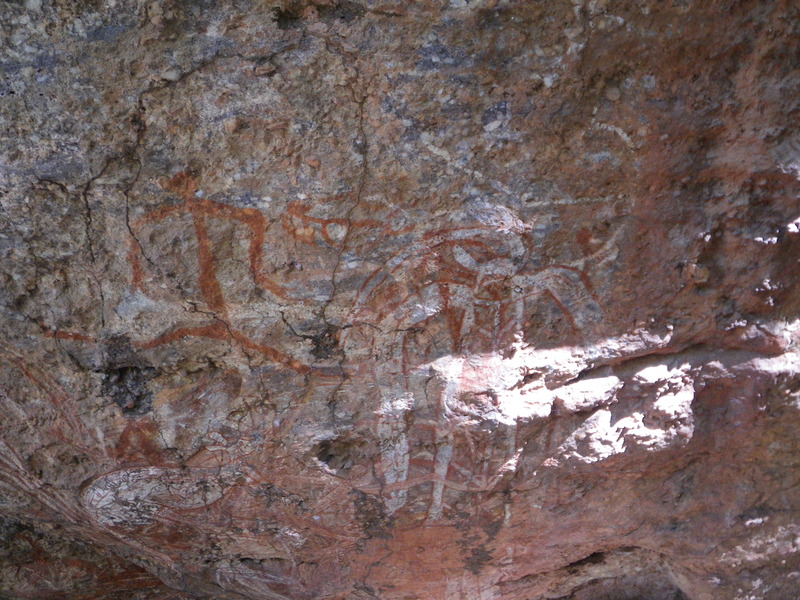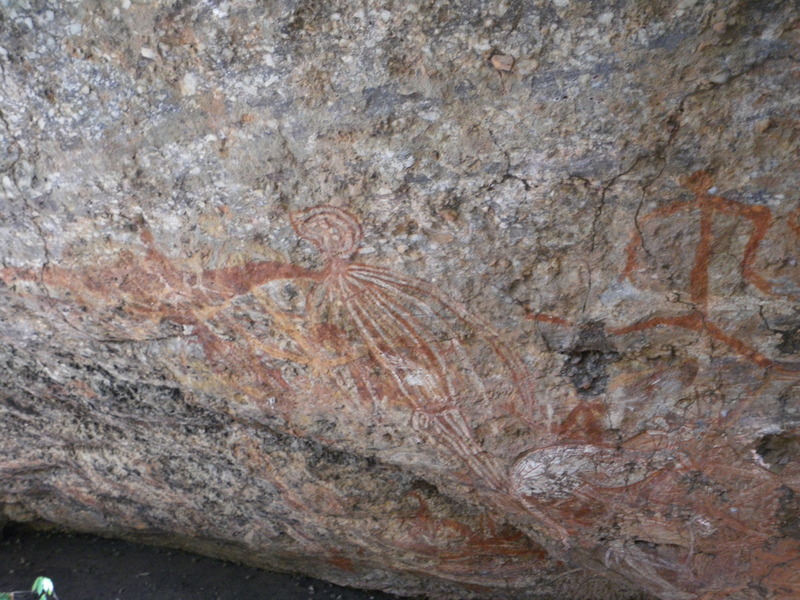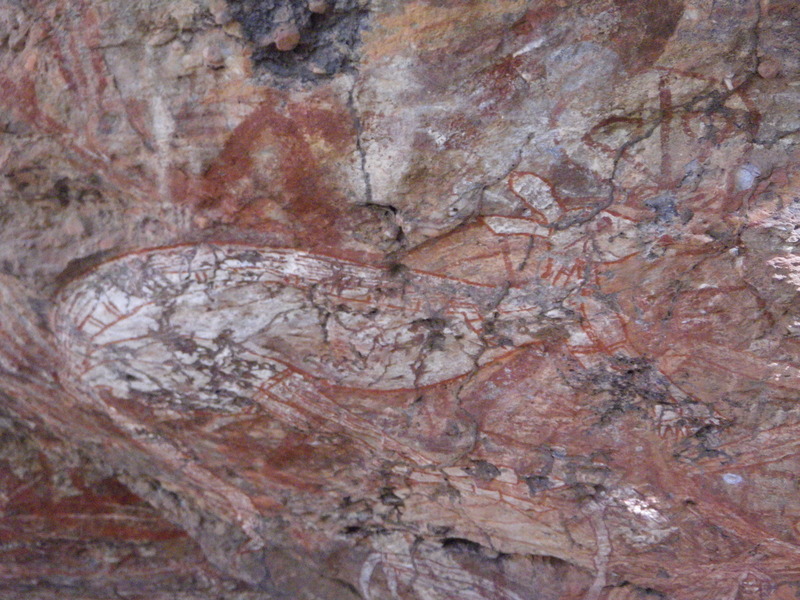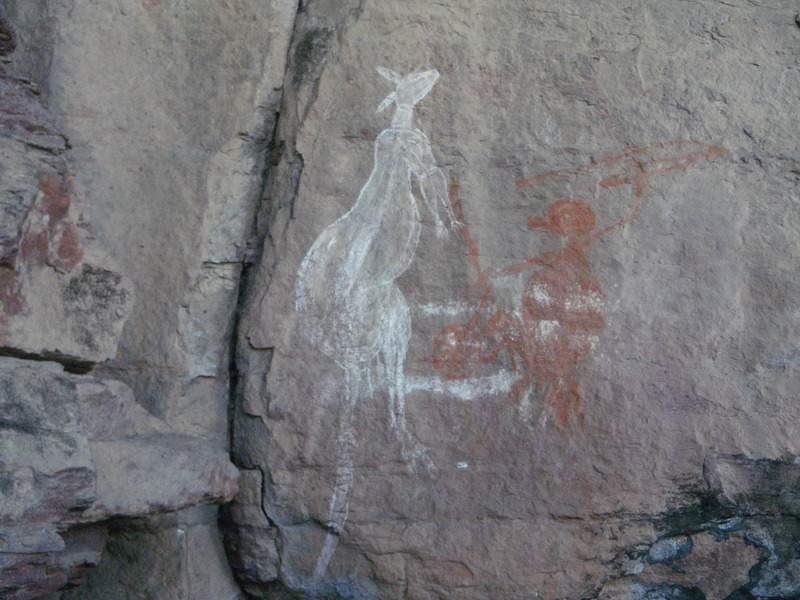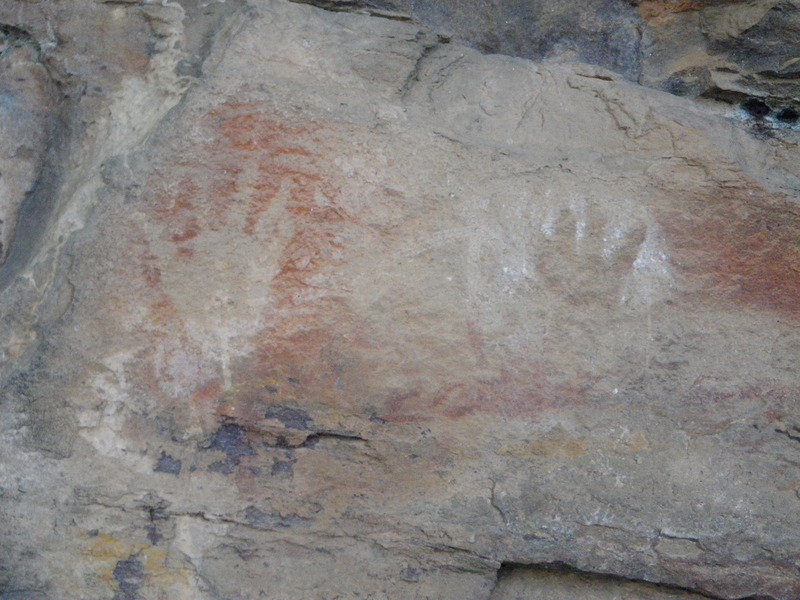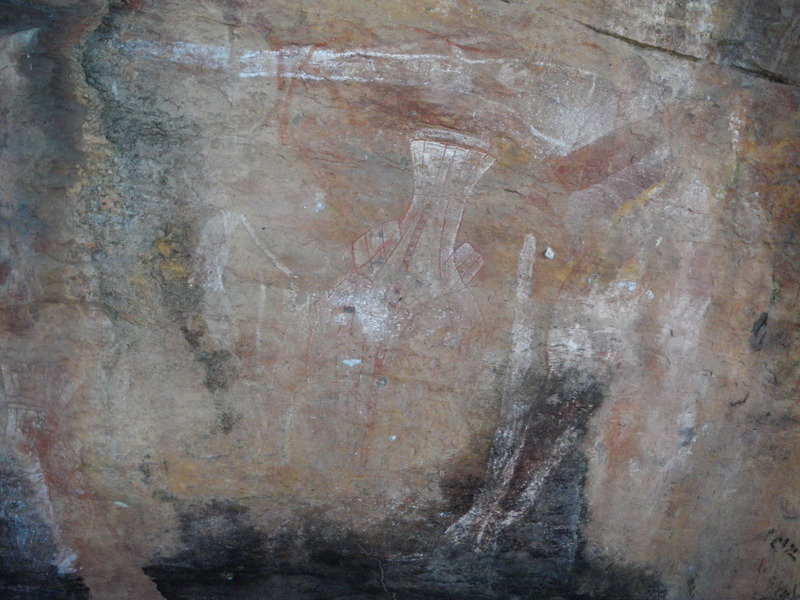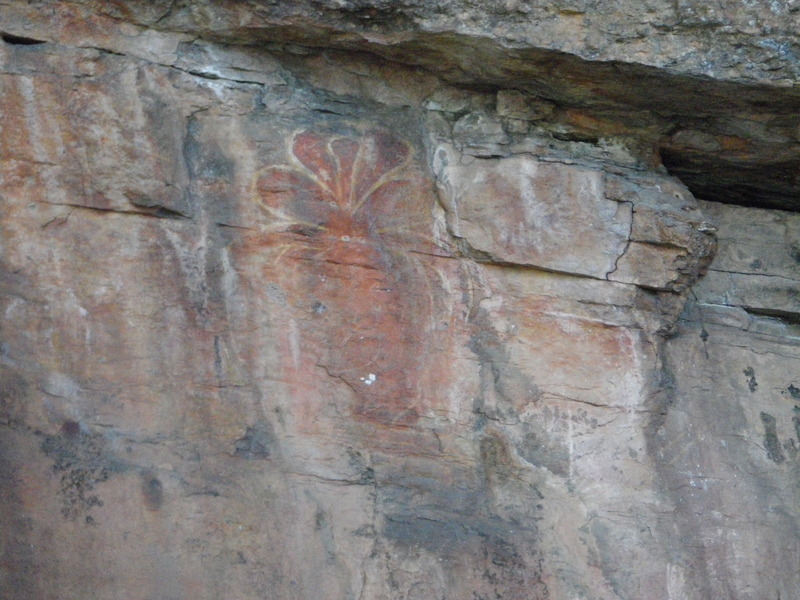 Some of this art is many thousands of years old.
The next few drawings represent a dance.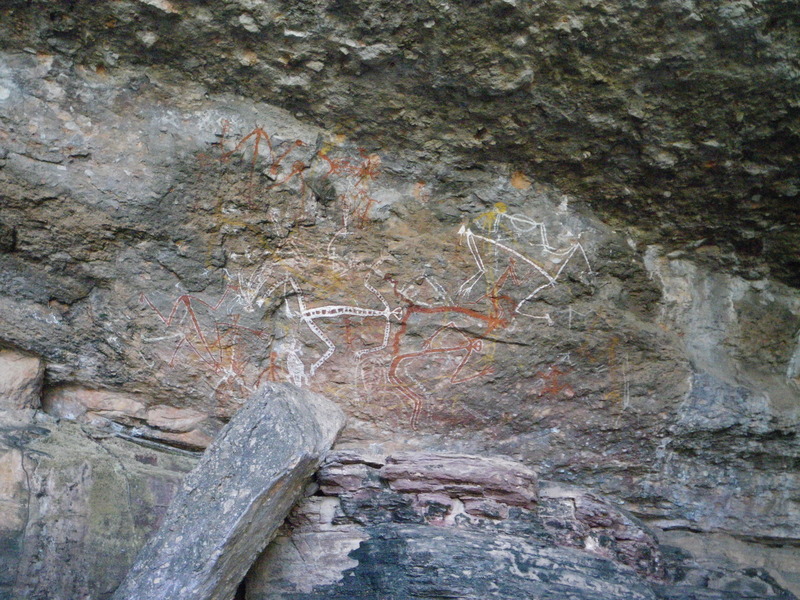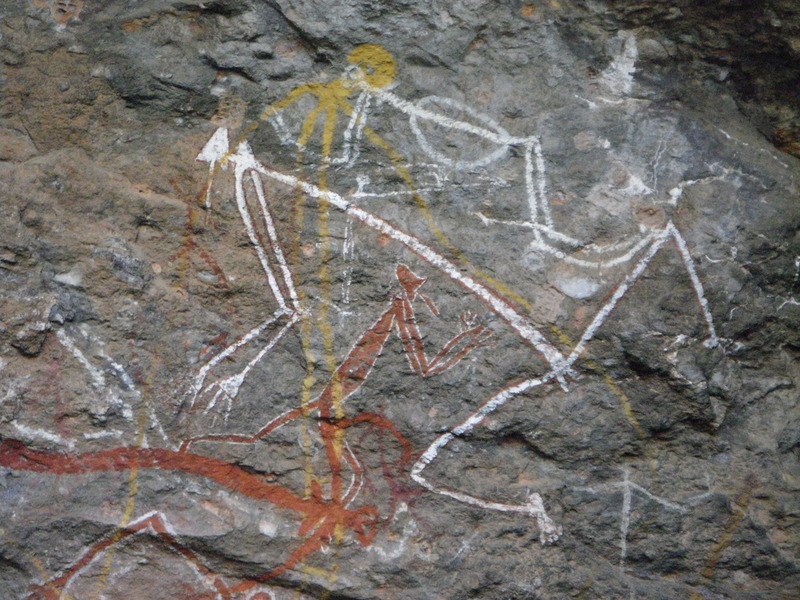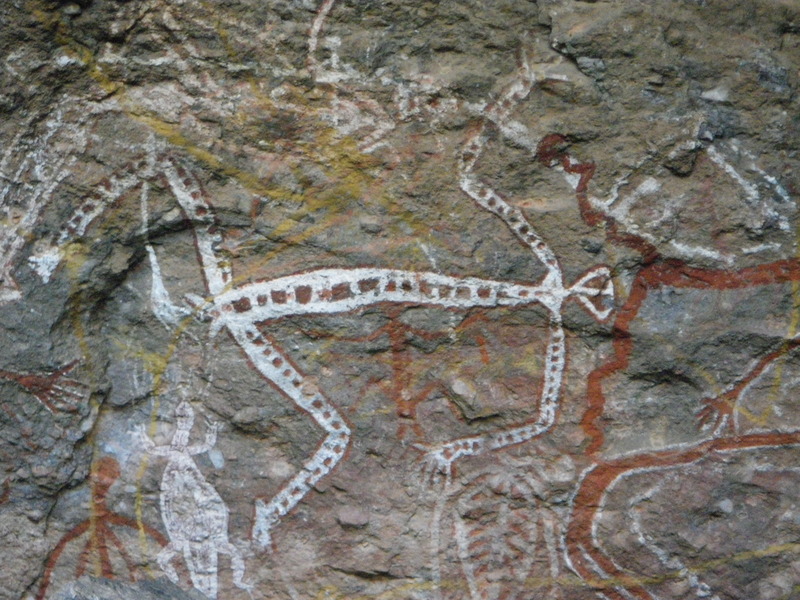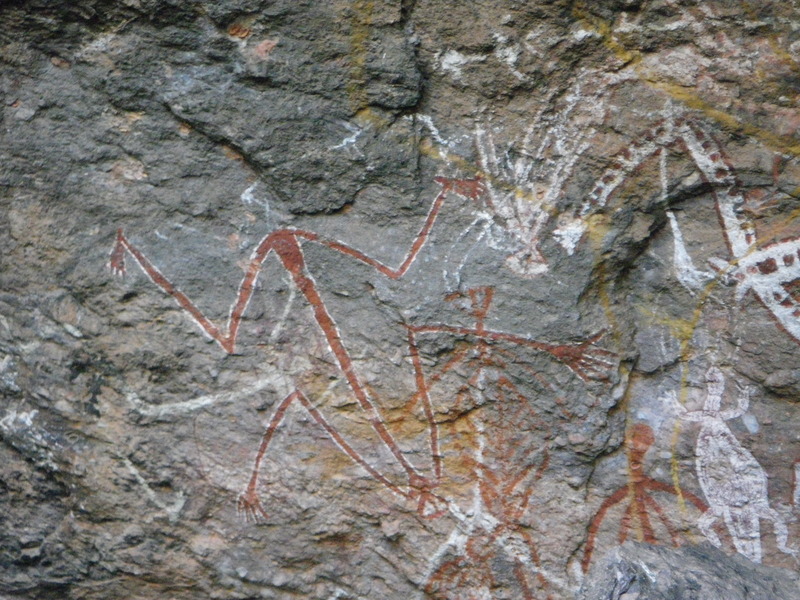 This next picture is of Nabulwinjbulwinj, who according to the sign, is "a dangerous spirit who eats females after striking them with a yam."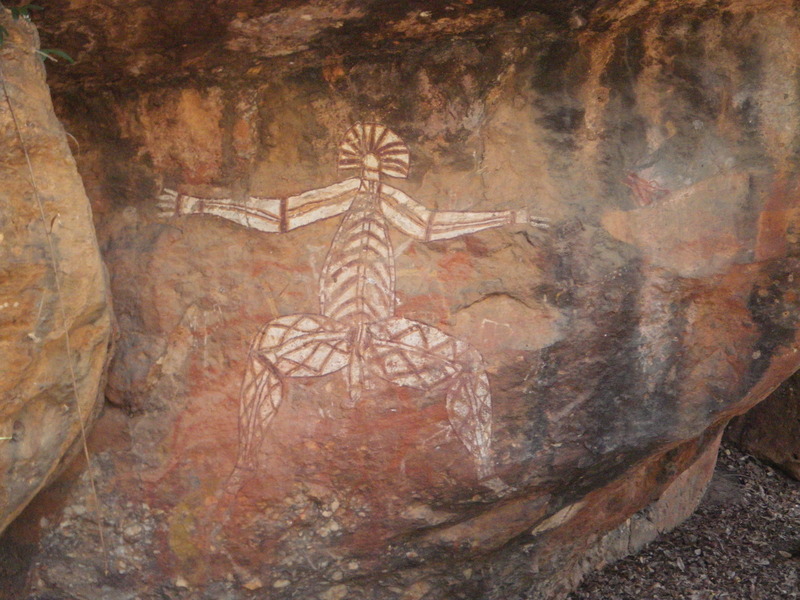 In the next picture, on the right is Namarrgon the lightning man, with lightining going all around his feet and his hands. On the left is Namarndjolg, who with his sister "broke the incest laws... He later became Ginga, the great saltwater crocodile". Below Namarndjolg is Namarrgon's wife Barrginj, who gave birth to the Leichhardt's grasshoppers that appear at the beginning of the stormy season.
In the next picture, below Barrginj, on the left are family groups on their way to a ceremony. On the right you can see Guluibirr, the saratoga fish.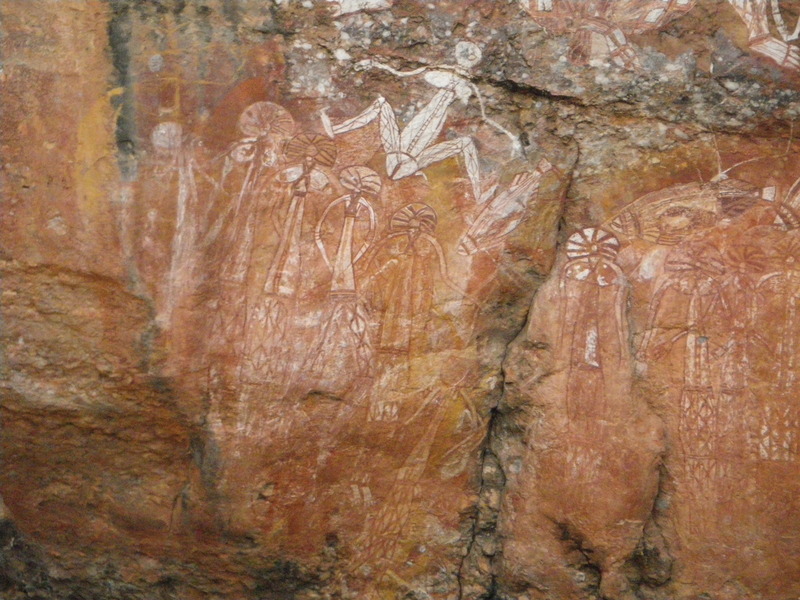 There are supposed to be many places in Australia, and especially in Kakadu and neighboring Arnhem land, with aboriginal rock art. However, much of it is not accessible. These particular rock paintings were made accessible by permission of their aboriginal owners, who also supplied some of the explanations I gave above.
My guidebook said Kakadu national park is the sizeof Belgium. Belgium is actually 50% larger than Kakadu national park, but still, the comparison is impressive.
Bush fire
After Anbangbang, I drove to Darwin and the end of this road trip.
But along the way, I saw several bush fires. Here is one I was able to take a picture of.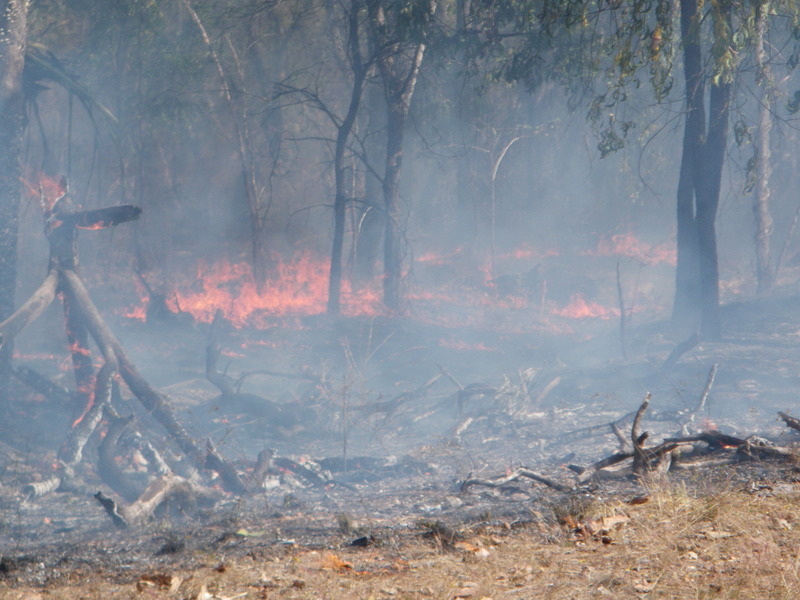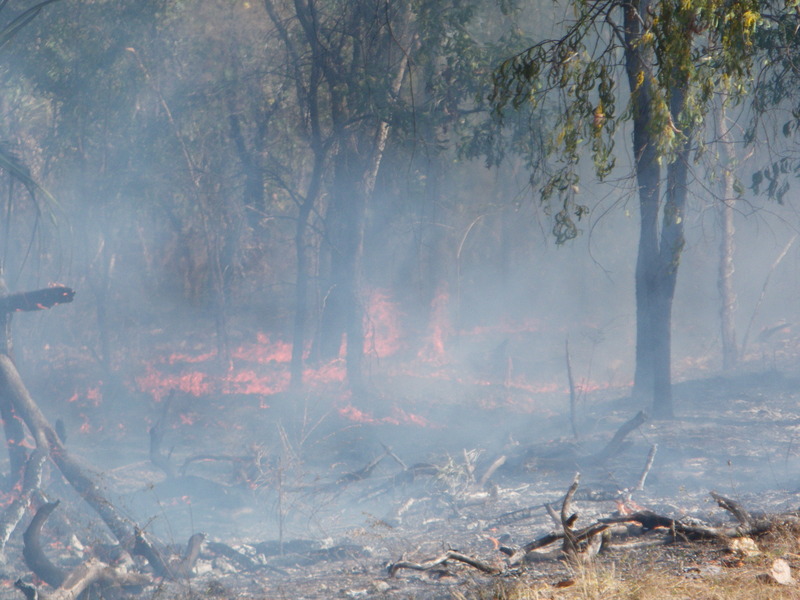 Although I wasn't able to take a picture of it, I saw a pandanus catch fire and burst into flames. I saw several other similar fires along the way to Darwin. Some of these may have been caused intentionally to prevent unintentional and more destructive fires, but some may not have been intentional.
For some of the fires, lots of birds were flying around the fire, presumably looking for small animals escaping. In one case, the birds were flying low across the road, with substantial risk of being hit by cars. I and other drivers slowed down, and we honked to try to get the birds to stay out of the way.
I guess a fire in Australia is a feeding frenzy for birds of prey.
End of Road Trip
Darwin is the end of my road trip. I turned in the car at the airport, with the odometer showing that I had driven 5,524km. That averages to about 502km/day. And it feels like a lot! Maybe some day I will come back to this area, get a 4WD and/or a camper, and take more of my time exploring some of the places I've missed. But for now, I am very happy that the road trip is over, and very pleased for all the places I have seen.
The distance according to google maps was about 4,200km. So I drove about 1,300km more than absolutely required, exploring different places. That averages to about 120km/day.
Unless I made a mistake in my calculations, I spent $767.05 on gas. That means I spent more on gas than I would have expected to spend on an airplane ticket from Perth to Darwin. Assuming an average price of about $1.65 per liter (I had prices between $1.40 and $1.80, but more of the latter), I consumed about 465 liters of "Unleaded 91" or "ULP" fuel. So I averaged about 8.4 liters/100km, which is much better than the average camper or 4WD would have gotten, but still a lot of fuel!
In U.S. units, that is 122.84 gallons for 3,432 miles, or almost 28 miles per gallon.
I remember I used to have a Buick (maybe model year 1972) which got about 10 miles per gallon, and used to think nothing of driving it wherever I wanted, including the 1500+ miles from Boston to Florida. This was many years ago, but my thinking has certainly changed. Now I am very happy that I was able to do this trip, but I am also glad I don't drive all the time!