May 25, Jungmun (Southern Jeju island)
Today I went to the south side of Jeju island. There are many attractions, but I went to Jungmun, which is supposed to have the nicest beach in Korea, Jungmun Saekdal.

The bus doesn't quite go to the beach. So I got off as close as I could, and the first thing I saw were these Dolharubang. They are a symbol of Jeju, so now they are seen just about everywhere. A few dozen of the old ones still exist, but I have not yet seen them, as far as I know. They are statues, but nobody really knows either the origin or the original reason for their existence.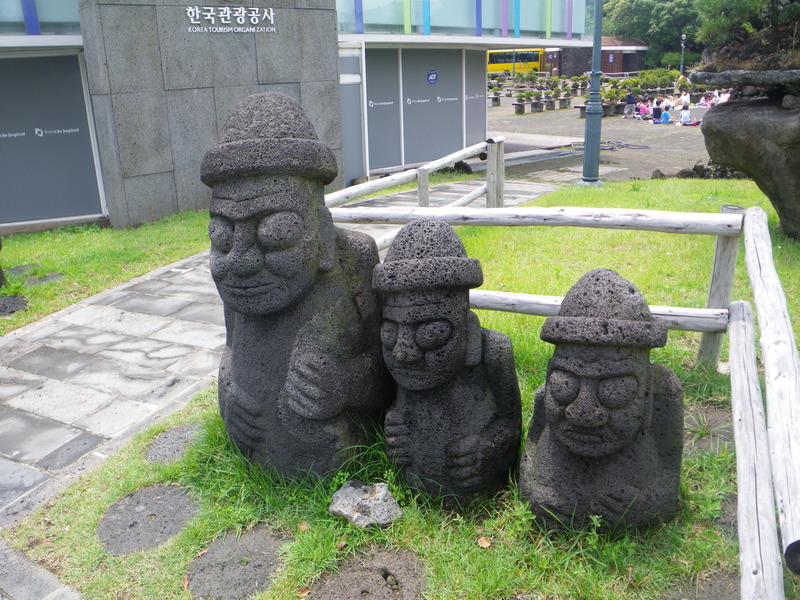 Next I saw a nice waterfall as I was walking along a deep valley,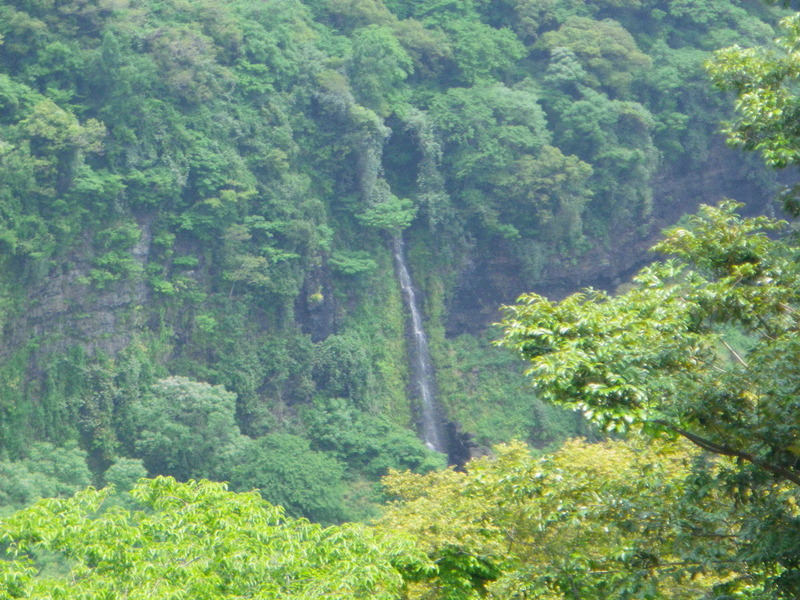 with a nicely decorated bridge across the valley.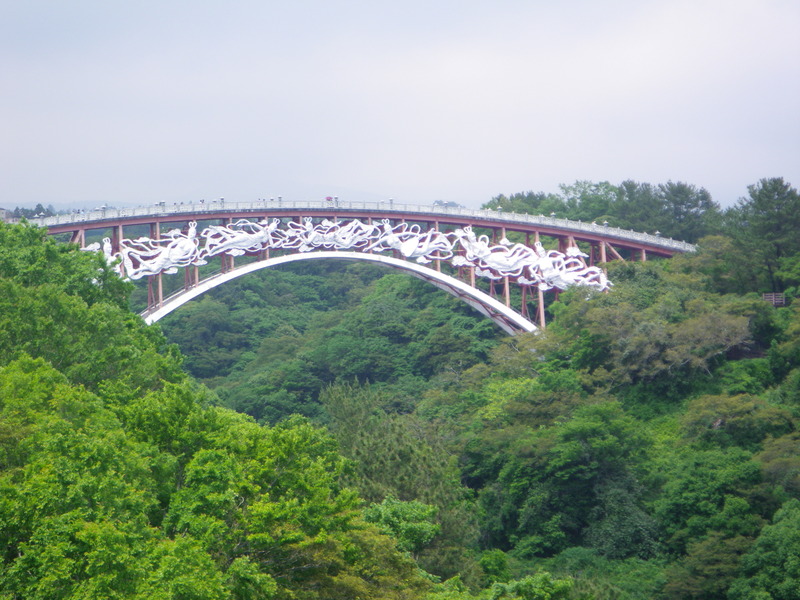 The decoration represents the seven nymphs from heaven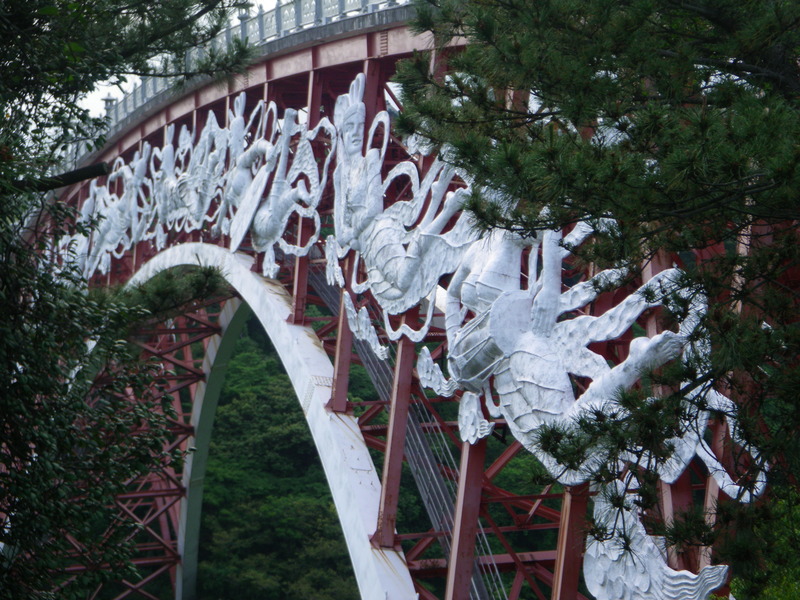 who come to bathe in beautiful Cheonjeyeon waterfall (not to be confused with the nearby Cheonjiyeon waterfall).
Cheonjeyeon actually is three falls. The topmost had no water coming in from the top -- instead, water was pouring in from behind several of the solid-looking basaltic rocks.
Above the falls I found a tree with beautiful lavender-colored flowers.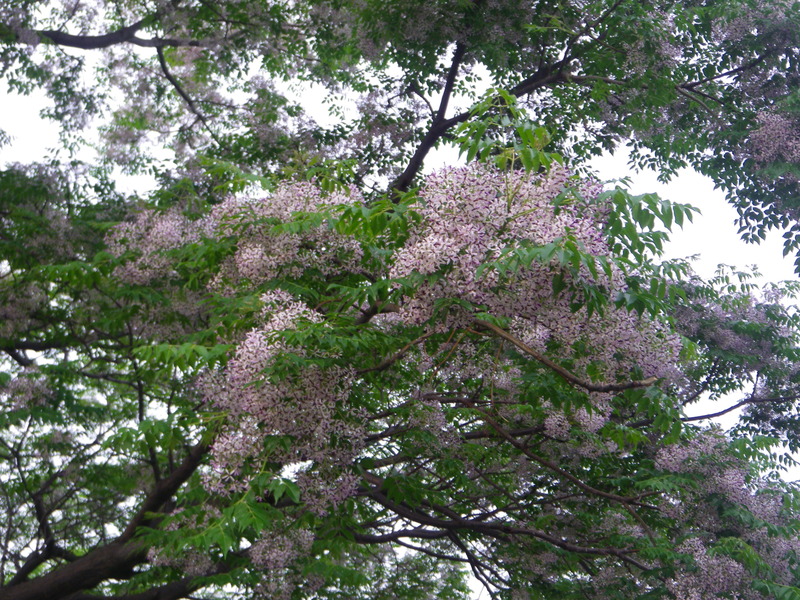 Cheonjeyeon waterfall I actually visited on my way back from the beach, although the first fall I did see on my way down.
After seeing the waterfall, I spotted a bird whose main colors were black and white, with a touch of blue. It is a fairly big bird, and not too scared of people.
Later in the day, I also saw a beautiful pheasant, but I did not get any pictures. I did get a picture of a horse, supposedly a descendant of the horses brought by the mongols during their invasion in 1273. The horses are relatively small, only about as tall as I am.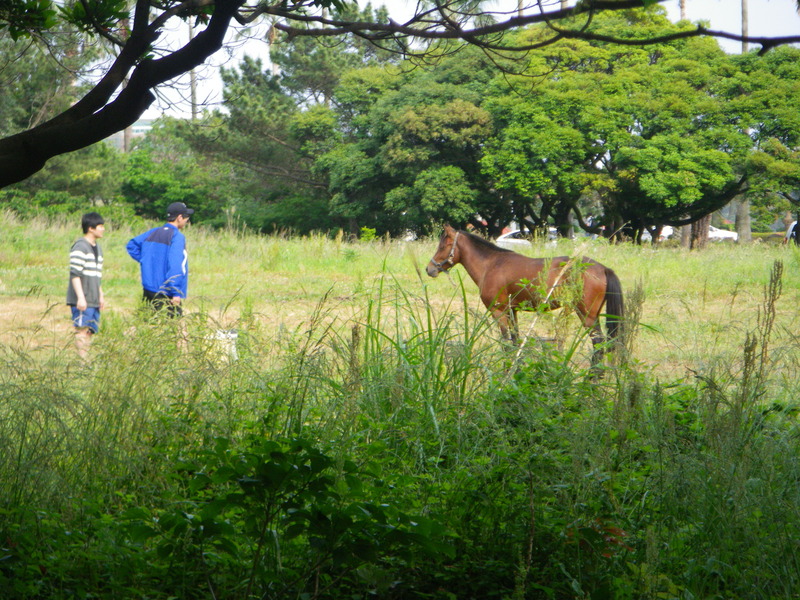 Eventually I made it to Jungmun Saekdal beach, which is indeed quite beautiful.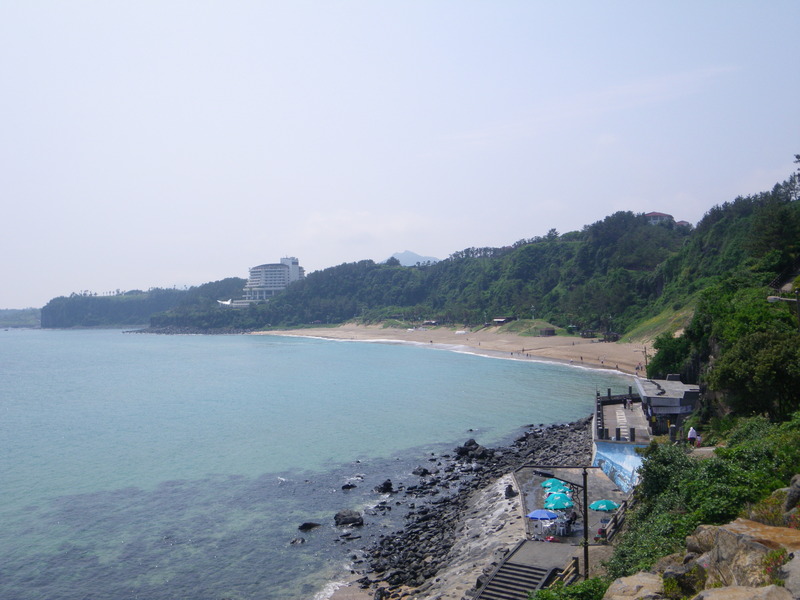 Just possibly it might have been even more beautiful before they built the Hyatt hotel.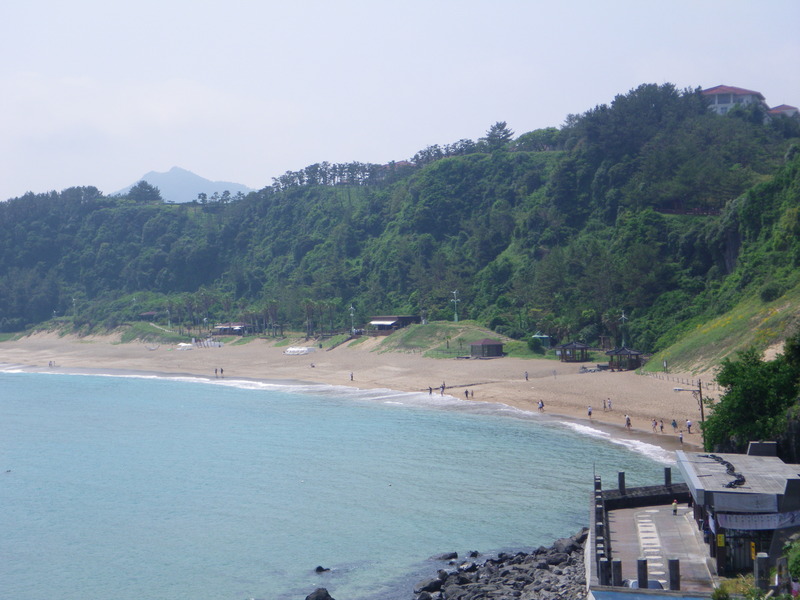 At the end of the beach, there is a rocky area, with lots of basalt pillars, some of which have broken off.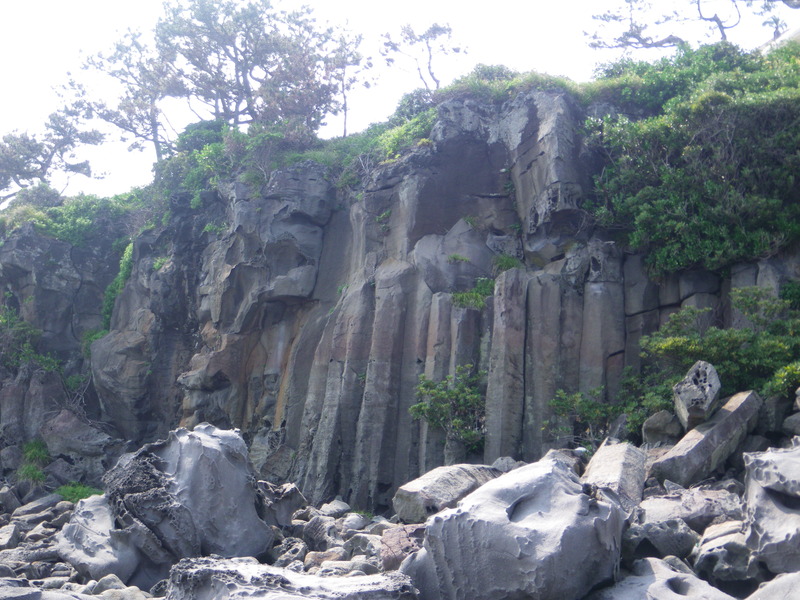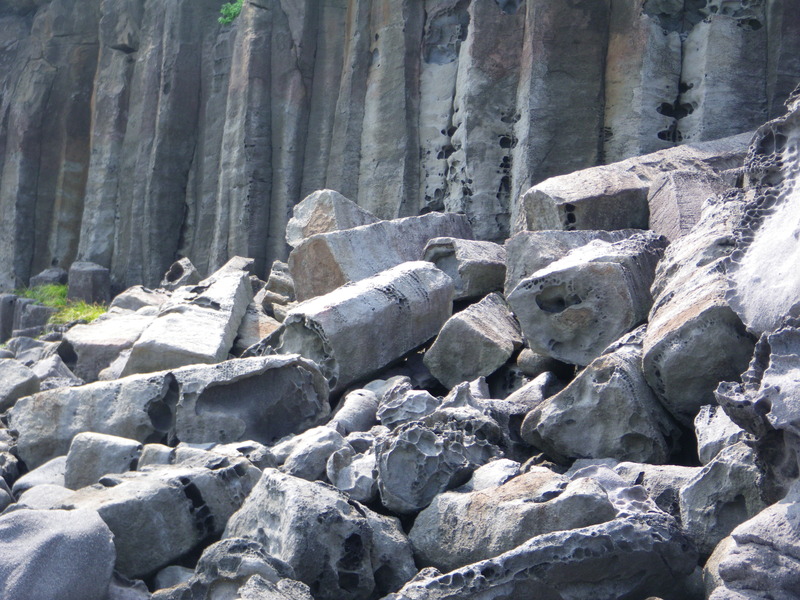 Also a small waterfall, which I was unable to figure out whether it was artificial (from diverting a stream) or natural. Both seemed plausible explanations.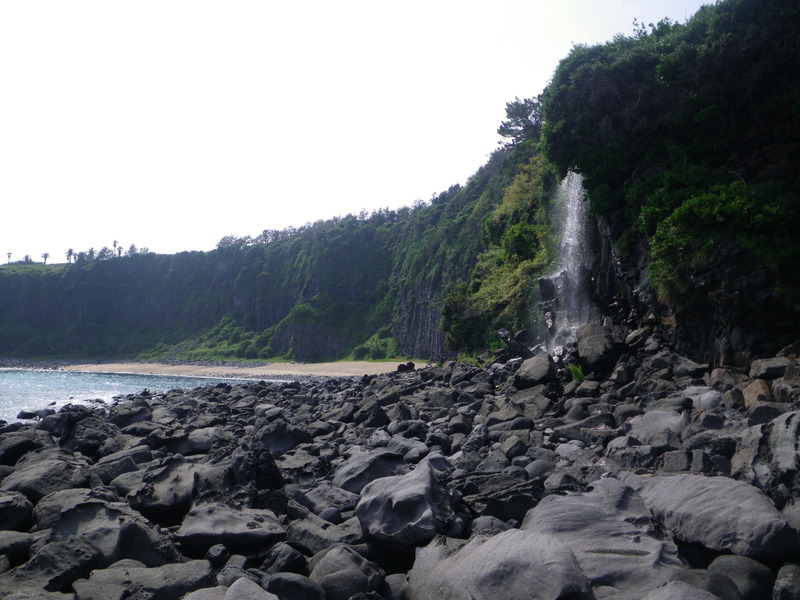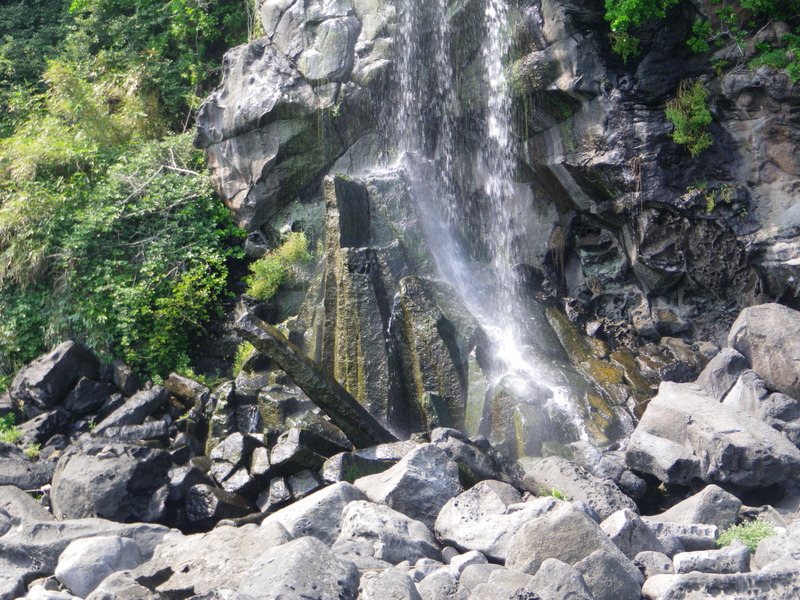 Passing the waterfall leads to another beach, which is just as beautiful.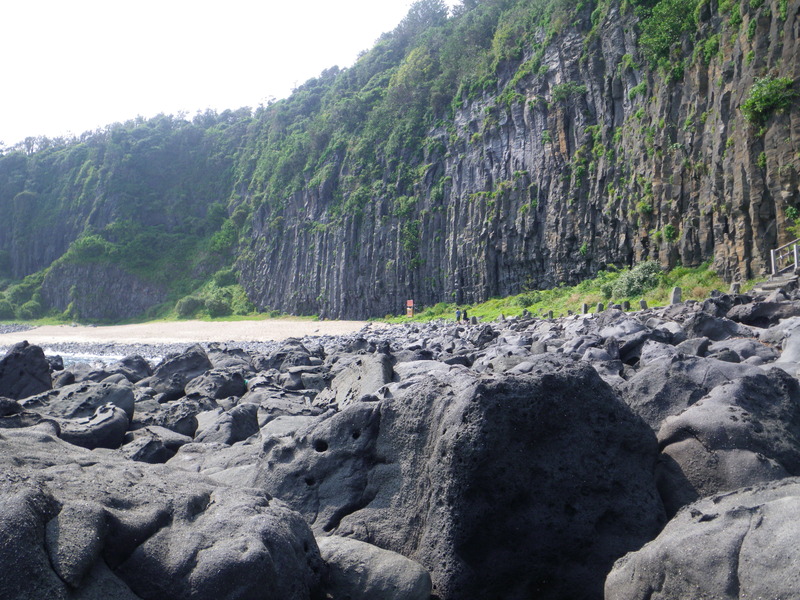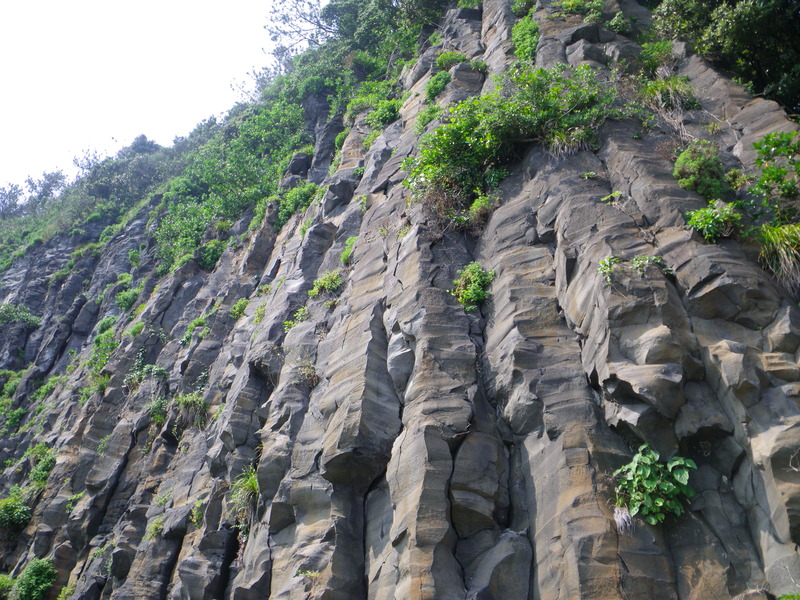 On the way back from the beach, I ate a couple of these tangerines, which are grown on Jeju.