2012 trip
Touching down in Miami on the morning of December 7th brought me to the 7th and final continent on this 7-month trip. This trip is now finished.
Dec 13, Chatham, Massachusetts
Massachusetts is in the North-East of the United States, and is one of the New England states. The South-Eastern part of the state is called Cape Cod. It is a long, low, generally sandy cape that goes first East, then North, then turns back towards the West. The water surrounding it is generally cold, and home to a variety of animals, including seals.
read more
Dec 10, National Cryptologic Museum
I visited the National Cryptologic Museum in Fort Meade, Maryland. It is run by the National Security Agency (NSA), the U.S. agency responsible for electronic spying and monitoring. Although most of the work they do is very secret, the museum is open to all, does not charge admission, and allows pictures.
read more
Dec 5, Iguazu Falls
Iguazu falls are shared by Argentina and Brazil, near the border with Paraguay. The falls are wider and taller than Niagara falls, set in a beautiful rainforest that both countries have protected with National Parks. The centerpiece of the falls is the Devil's throat (Garganta del Diablo), which forms the border between Brazil and Argentina.
read more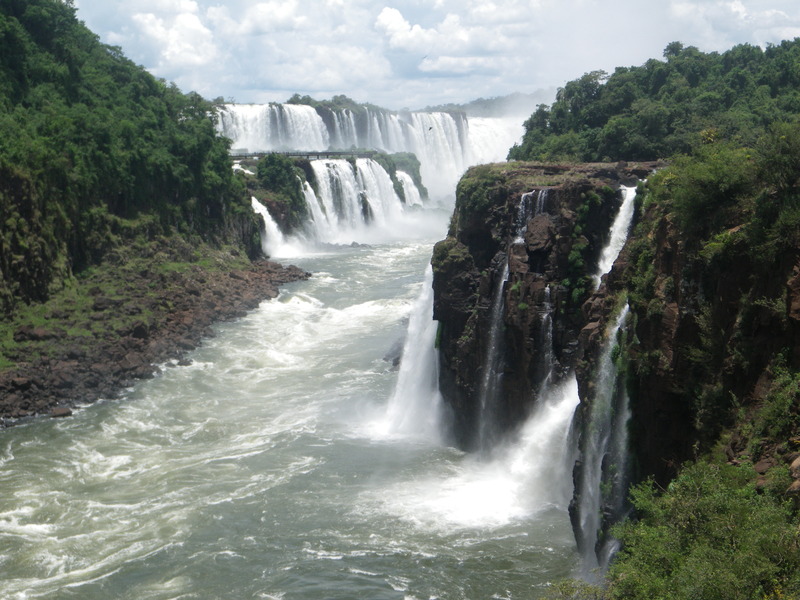 Dec 3, Strait of Magellan
The Strait of Magellan separates Tierra del Fuego from the south American mainland. It was first discovered by European explorers in November 1520, when two ships, under the command of Magellan, explored it while looking for a sea route from the Atlantic to the Pacific. And the Strait of Magellan indeed leads to the Pacific ocean.
read more
Dec 2, Tierra del Fuego National Park
Tierra del Fuego National Park is about 18km from Ushuaia, and preserves some of the coastal ecosystems of Southern Tierra del Fuego. I had a little free time, and I was able to spend two hours in the National park. It had snowed in the mountains the day before, and I really enjoyed the views of the snowy mountains and the green vegetation.
read more
Nov 22-Dec 2, Antarctic Peninsula
In Ushuaia, I boarded a ship bound for the Antarctic Peninsula.
read more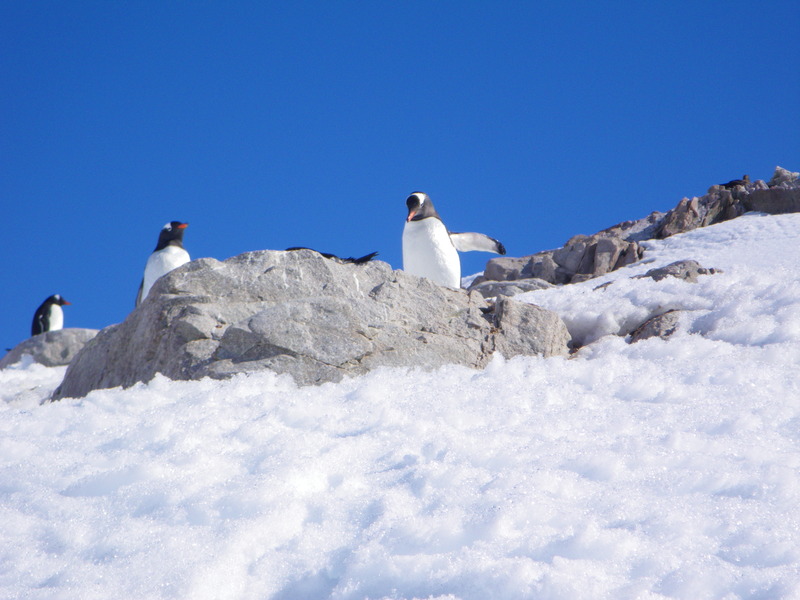 Nov 18-21, Ushuaia, Argentina
Ushuaia is in Tierra del Fuego, a large island at the very southern tip of South America, south of Patagonia and 3,000km south of Buenos Aires. Signs around town talk about this location being "Fin del Mundo", at the end of the world. The city is on the Beagle channel and surrounded by beautiful snow-capped mountains.
read more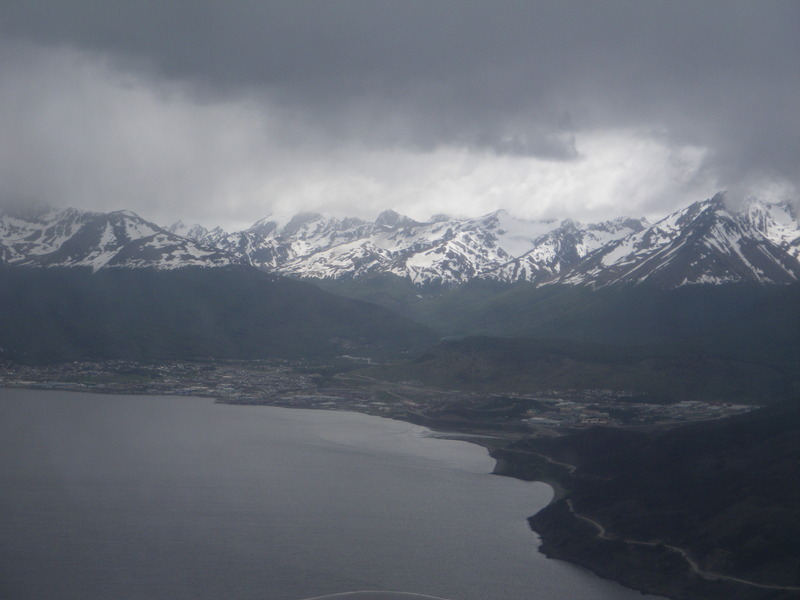 Nov 14-17, Buenos Aires, Argentina
Buenos Aires was founded twice, once in 1536 by Pedro de Mendoza, then in 1580 by Juan de Garay.
read more
Nov 6-12, Lisbon, Portugal
Lisbon has been in existence since at least the 7th century BC (2700 years ago), when it was a trading hub for Phoenicians sailing to the islands of tin in what is now Great Britain. Through the Roman, Visigoth, Arab, and finally Portuguese times, it has continued to be a port city, favored and defined by its sheltered harbor near the mouth of the Tejo (Tagus) river. In the 1400s and 1500s Lisbon oversaw the great Portuguese expansion into Africa, India, China, and Brazil. In 1755, a terrible earthquake and the resulting tsunami struck Lisbon and caused tremendous damage. After mourning their losses, the people of Lisbon redesigned and rebuilt their city afresh.
read more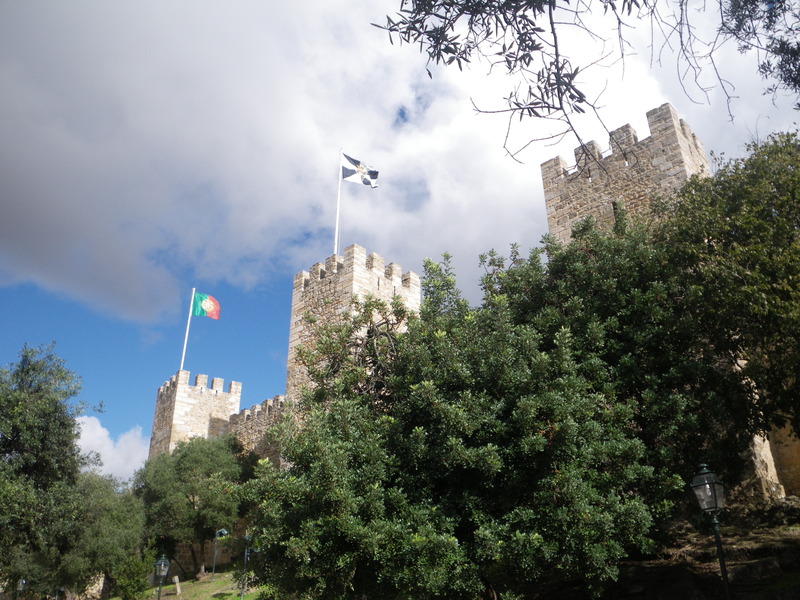 November 2-4, Morocco
I crossed the Straits of Gibraltar to go take a look at Marrakesh.
On my way back, I had a quick look at Tangier.
September 15-22, Albania
On the way back from Albania, we had an afternoon in Corfu, Greece.
read more
Where the Vojussa (Vjosa) river nears the Albanian coast, in ancient times it was navigable for a few kilometers upstream. On the shores of the river was the harbor city of Apollonia. Apollonia flourished until an earthquake in the year 234 AD changed the course of the Vojussa, rendering the harbor unusable and eventually turning the plain around Apollonia into a malarial swamp.
read more
The great Albanian hero, Georg Kastrioti Skanderbeg, had a great castle in the mountains about 20km North of Tirana, Kruje (or Kruja) castle. Although besieged multiple times in this castle by large Ottoman armies, he was always victorious, and preserved Albanian independence for 20 years before his death by malaria.
read more
Durres is the major port city of Albania, and only about 30km from the capital, Tirana. Durres is another ancient city, and Caesar fought Pompey in a battle near Dyrrachium in 48BC. Durres was the start of the Roman via Egnatia, which led all the way to Constantinople and was considered on extension of the Appian Way, which ended in Brindisi, across the Strait of Otranto from Durres.
read more
Berat is a mountaintop castle and a town in a very scenic location where the river Osum cuts between two mountains.
read more
Inland from Butrint is Gjirokastra, birthplace of the Albanian communist ruler Enver Hoxha, and site of a fortress belonging to Ali Pasha.
read more
Lake Butrint is a coastal lake in the Southern part of Albania, connected to the sea by the 2km Vivari channel.
read more
August 5-7, St. Petersburg to Stockholm
Having traveled on land from Beijing to St. Petersburg, I decided to continue travelling along the surface by booking a ferry to Helsinki and on to Stockholm. The ferry is the Princess Anastasia, belonging to the St. Peter Line. Every four days the ship sails from Helsinki to Stockholm, then Tallinn, St. Petersburg, and back to Helsinki.
read more
Aug 30 - Sep 1, 2012, Moscow, and Sep 2-5, St. Petersburg

Moscow and St. Petersburg do not really need an introduction.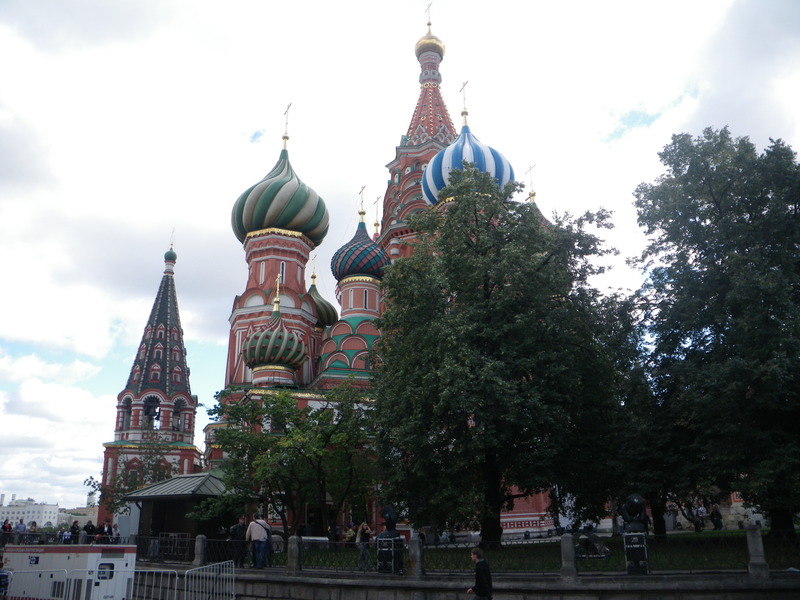 Aug 27, 2012, Ekaterinburg
Ekaterinburg has several historical claims to fame. It was and is a mining center near the mineral-rich Ural mountains. It is the place where in 1918 the communist revolutionaries under the direction of Yakov Sverdlov executed the last Tsar and several members of his family. Sverdlov died in 1919, and in 1924 Ekaterinburg was renamed Sverdlovsk. During the Soviet period many arms factories were located in Sverdlovsk, so the city was closed to foreigners and even to Russians who did not have special permission to visit. In the 1970s Boris Yeltsin was governor of Sverdlovsk. In 1991 the city decided to change its name back to Ekaterinburg, though some traces of the old name remain.
read more
You are also welcome to read about my trip from Ekaterinburg to Moscow, though it is probably less interesting.
August 24-26, Irkutsk to Ekaterinburg
I am on the slow train to Moscow, getting off at Ekaterinburg (also known as Yekaterinburg and Sverdlovsk). Ekaterinburg is near the Ural mountains, so almost in Europe. The trip is 3371km by rail and is taking me about 56 hours, giving an average speed of about 60km/h.
read more
August 22-24, Irkutsk and Listvyanka, Russia
Irkutsk was founded in 1651, and has had a fairly distinguished history since, including both a gold rush and a very destructive fire in the 1880s. About two hours away from Irkutsk, on lake Baikal, is the resort town of Listvyanka. In Irkutsk, Listvyanka is famous because it is on the lake. The lake is beautiful.
read more
August 21, Ulaan Baatar to Irkutsk
It took me two nights and one day to travel by train from Ulaan Baatar, in Mongolia, to Irkutsk, in Siberia, Russia. It could have taken somewhat less, but the train schedule allows 9 hours for the border procedures in crossing from Mongolia to Russia, even though the actual border check took less than an hour on each side.
read more
August 18-20, Ulaan Baatar, Mongolia
Ulaan Baatar is the capital of Mongolia. It is surrounded by mountains, some of them forested. It is much wetter than the desert, and one of the day that I was here, it was rainy and cold, colder than Sydney in winter.
read more
One of the attractions around Ulaan Baatar is the Manzshir Khiid Monastery, which is in the Bogdkhan Ulul Strictly Protected Area, a beautiful, very green and wooded park about 50km from Ulaan Baatar.
read more
August 15-17, Gobi Desert near Sainshand, Mongolia
Sainshand is the capital of the Dornogobi (Easter Gobi) province of Mongolia. It is a stop on the train line from Beijing to Ulaan Baatar, the capital of Mongolia.
read more
August 14, Beijing to Erlian, China
From Beijing there are two lines that go to Siberia. One goes almost straight North, through Manchuria and Harbin. The other goes more West, towards Mongolia and Ulaan Baatar (Ulan Bator). I took the one that goes to Mongolia. My first stop was at Sainshand, Mongolia, the capital of Dorngobi province, at the edge of the Gobi desert. The entire trip from Beijing to Sainshand took about 21.5 hours, including several hours at the border, in Erlian.
read more
August 8-14, Beijing and Kunming, China
I went to Beijing, I saw the Forbidden City and I climbed the Great Wall. Not very original, but I enjoyed it nonetheless.
read more
Kunming is in Yunnan, one of the provinces in the South of China. Kunming has a population of only 6.5 million people, amounting to about 0.5% of the population of China. Kunming is known as "Spring City". It is near the tropic of cancer and about 1,900m above sea level, and the temperature is supposed to be even throughout the year. It was certainly pleasant while I was there.
read more
August 6th, Bukit Timah, Singapore
One of my reasons for stopping at Singapore was to visit Bukit Timah Nature Reserve, a park that I've heard a lot about but that I haven't been able to visit my previous time in Singapore. What sets it apart from other areas of Singapore is that it is uncut forest, and so a very well preserved native rainforest.
read more
August 3rd, Great Barrier Reef
Port Douglas is relatively near the Great Barrier Reef, a coral reef that extends all along the North-Eastern coast of Australia. As experienced a sailor as James Cook, who sailed across most of the world multiple times, almost lost his ship Endeavour on one of the reefs here.
read more
August 1st and 2nd, Port Douglas, Queensland, Australia
Port Douglas is North of Cairns, and at 16 degrees South latitude, is very much in the tropics. Port Douglas got its start in a gold rush in the 1870s, but by the 1960s was reduced to a very small town. By the 1980s, tourism had taken off, and Port Douglas is now a flourishing tourist town, bordered on the East by beautiful 4-mile beach.
read more
July 26-31, Sydney, Australia
Sydney has a harbor which many years ago was described as one of the finest natural harbors in the world. Across part of the harbor is the Harbor Bridge. It offers good views of the Sydney Opera house.
read more
July 23-25, Darwin, Australia
Darwin is named after Charles Darwin, who stopped here in the 1840s aboard the ship, Beagle, that also took him to the Galapagos. The name was changed to Darwin in 1911, prior to that the town was called Palmerston. Palmerston is still the name of a suburb of Darwin.
Like Broome, Darwin is built on a complicated peninsula with lots of little capes and beaches between them. Unlike Broome, the cape is within a large complicated gulf, almost fractal in appearance, and from downtown Darwin it is hard to see the open ocean.
read more
July 12 to July 24, Perth to Darwin, Australia
I have driven from Perth, Western Australia, to Darwin, Northern Territory. It is over 4,000km.
July 21th, Katherine to Kakadu.
July 20th, Kununurra to Katherine, Northern Territory.
July 19th, Fitzroy Crossing to Kununurra.
July 18th, Derby to Fitzroy Crossing.
July 17th, Sandfire roadhouse to Derby.
July 16th, Roebourne to Sandfire roadhouse.
July 15th, Exmouth to Roebourne.
July 14th, Carnarvon to Exmouth.
July 13th, Geraldton to Carnarvon.
July 12th, Perth to Geraldton.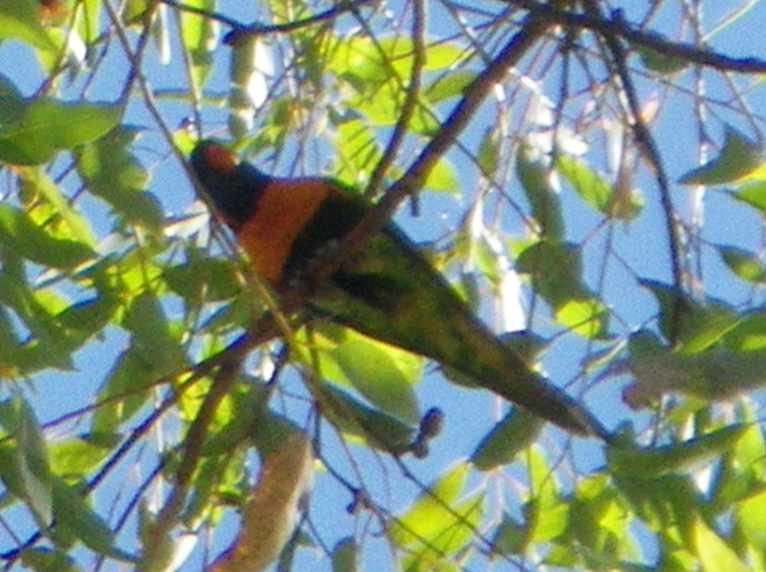 July 10 and 11, Perth and Fremantle, Australia
Yesterday and today I visited more of Perth, and the neighboring port city of Fremantle (home of the America's cup in 1989). Altogether I visited parts of the town and the maritime museum in Fremantle, a wonderful art gallery in Perth, and the Perth mint.
read more
July 9, Perth, Australia
I had never been in Australia before, and this is the Southernmost place I've ever been.
read more
June 30-July 7th, Phuket, Thailand
July 4-6 I attended a conference in Patong on the island of Phuket.
July 2nd I visited several spots in Phuket, including Khao Phra Thaew Royal Wildlife and Forest Preserve, and today I went to the Phi-Phi islands.
read more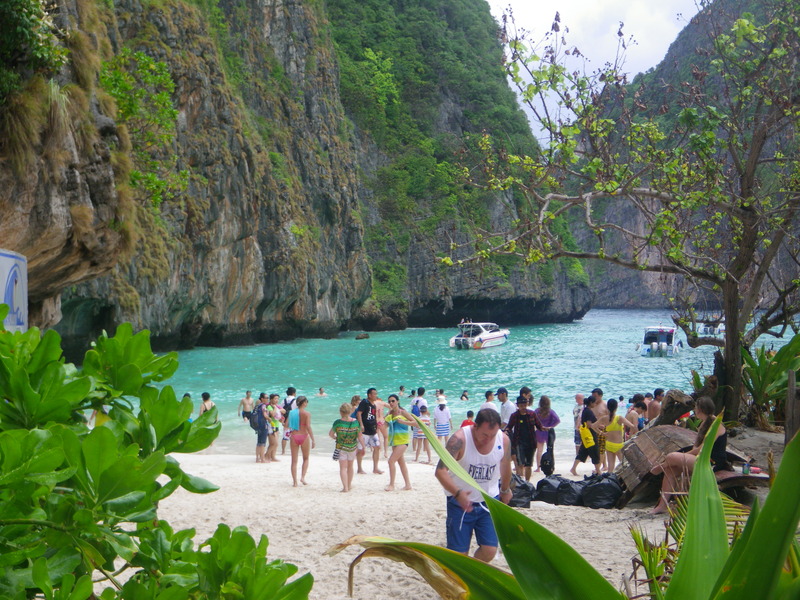 June 21-24, Luan Prabang, Laos
Luang Prabang has been a city for over a thousand years. Most of this time it has been a royal capital.
read more

On June 25th, I took a trip up the Mekong, and on June 26th, I went to Kuang Si waterfall
June 16-17, Khao Yai National Park
Khao Yay means big mountain. It is the oldest national park in Thailand, established in 1962, and only about 150km from Bangkok.
read more
June 10-12, Kanchanaburi
From June 10-12, I visited several areas near Kanchanaburi: the bridge over the river Kwai, some museums in Kanchanaburi itself, and Erawan Waterfall in Erawan National Park.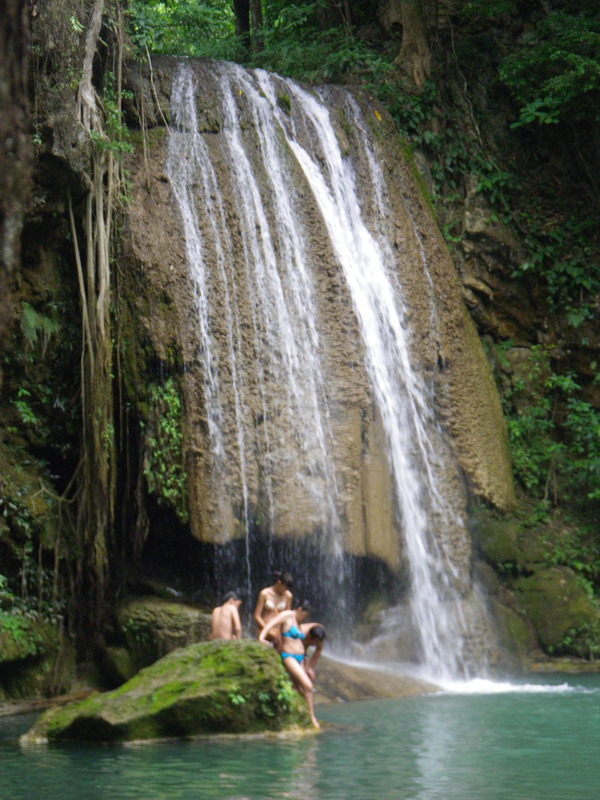 Thailand
I am staying in Bangkok, getting some work done as well as visiting tourist attractions. So far I have visited Wat Phra Kaew, Ayuthaya, Pattaya, and taken several canal boats.
I did not see the Transit of Venus, because it was cloudy.
Sun May 27, Haein temple
I decided to leave Jeju island a day early so I could go see the famous woodblocks at the Haein temple, not too far from Daegu.
read more
Sat May 26, Jeju island
The original three inhabitants of Jeju came out of 3 holes in the ground. After seeing those three holes in the ground, I went to a beautiful area on the south shore of Jeju.
read more
May 25, Jungmun (Southern Jeju island)
Today I went to the south side of Jeju island. There are many attractions, but I went to Jungmun, which is supposed to have the nicest beach in Korea, Jungmun Saekdal.
read more
Thu May 24, Seongsan Ilchulbong
At the Easternmost end of the island of Jeju is a tuff cone called Ilchulbong, Sunrise peak, near the village of Seongsan.
read more
Wed May 23rd, Jeju Island
This afternoon I was running errands and eventually went to a place in downtown Jeju city (Jeju-Si) where you can see a rock on the seashore that supposedly resembles a dragon's head.
read more
Tue, May 22, Jeju Island, South Korea
Yesterday I arrived in Jejudo (Jeju island), and determined that this morning I would climb Hallasan (Mt. Halla).
read more
May 21, 2012, solar eclipse
Although the eclipse was total in some places, it was partial here.
read more
Sun, May 20, Gyeongju
Today I visited sites around Gyeongju proper, particularly the royal tumuli (burial mounds), the oldest observatory in East Asia, and the Gyeongju national museum.
read more
Sat, May 19, Gyeongju
Today I went to visit the Bulguk-sa temple and the Seokguram Grotto, both dating to the 8th century AD, in the kingdom of Shilla.
read more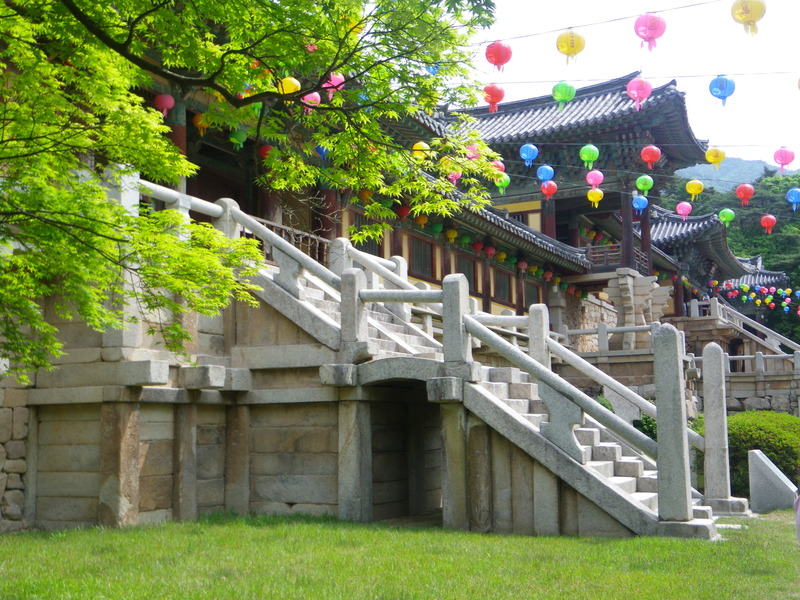 Fri, May 18, Seoul to Gyeonju
In the morning, I took the slow train from Seoul (leaving at 9:40) to Gyeongju, in the south. Billed as a "museum without walls", it is a former capital of the Shilla kingdom.
read more
Thu, May 17, Seoul, South Korea
I have spent the last couple of days visiting 3 royal palaces and one village of traditional houses, hanok.
read more.

Temporarily you can watch some videos of the changing of the guard.
Tue May 15 -- Arrival in Seoul
Arrived in Seoul around 5:30pm, one day later than I left Honolulu....
read more.